As some of you who follow me on Instagram may already know, I decided to do a Whole 30 during the month of May. I've seen different bloggers posting about it, and I was inspired to try it for myself!
In case you've never heard of it, Whole 30 is a challenge to eat clean for 30 days (you can read the official rules HERE). Now, as much as I love the idea of not eating a single bit of junk for a month, I knew from the get-go that this wasn't realistic for me. For one thing, I do not want to inconvenience others. If I'm at someone else's house I do not want to insist on only eating "approved" foods. I don't have any (known) food allergies, so I don't feel right making others cater to me. Secondly, I love doing things with family. I'm not going to sit at home or refuse to eat a meal with someone just because I'm on a special "diet."
Here are my modified rules:
* If I'm at someone else's house, I will eat what they offer. However, I will try to make good choices (e.g. I won't have three servings of dessert).
* I won't cut out ALL dairy. I love my butter and can't give it up. Besides, I buy pasture butter, which I consider to be a superfood.
So I won't be doing my Whole 30 as the creators specify, but I will try to follow their principles.
I planned out a 2-week rotating meal plan. To makes things super simple, I'm having leftovers from supper for all of my lunches.
And without further ado, here are my meals from Week 1: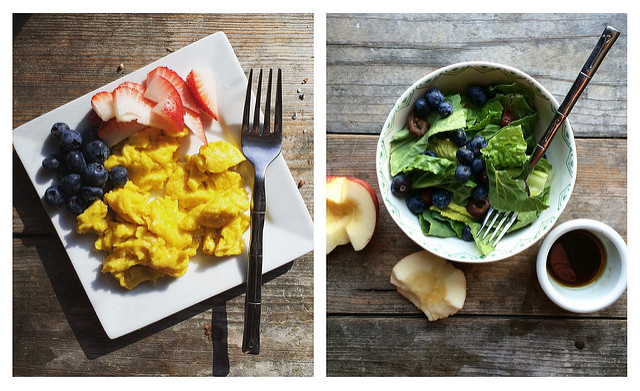 DAY 1
Breakfast: Scrambled eggs with fruit.
Lunch: Salad (greens with fruit and a ginger dressing) and an apple.
Supper: Venison Stew
I didn't have a lot of food made up the first day, so I was pretty hungry. I had to scrounge for snacks.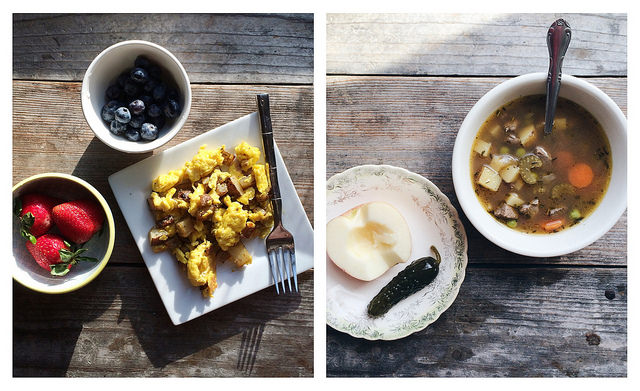 DAY 2
Breakfast: Scrambled eggs with potatoes and a side of fruit. You'll be seeing a lot of scrambles in this post…
Lunch: Leftover venison stew.
Supper: Chicken Salad. We were gone all day and supper was very late, so I forgot/was too tired to take pictures.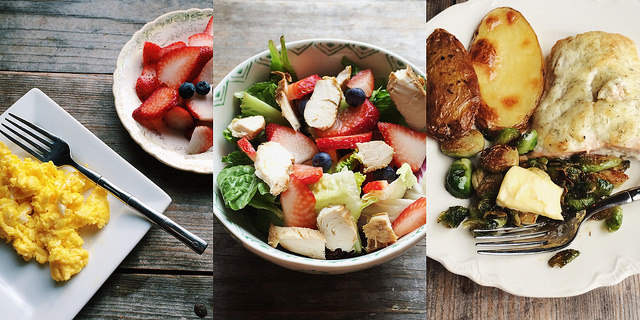 DAY 3
Breakfast: Another scramble with fruit.
Lunch: Leftover chicken salad. Delicious.
Supper: Baked salmon with coconut oil potatoes and Brussels sprouts.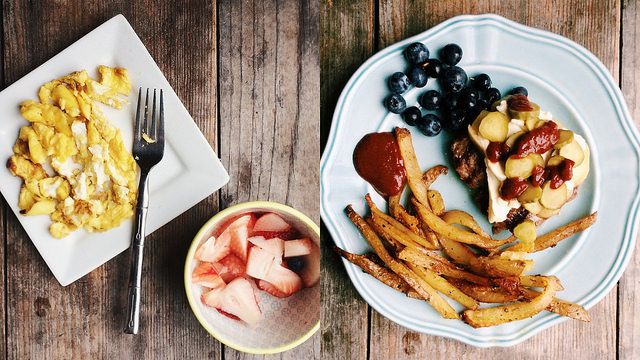 DAY 4:
Breakfast: (Surprise!) Scramble with fruit.
Lunch: leftover salmon and potatoes.
Supper: Burgers with cheese (a bit of a cheat), mayo, homemade ketchup and pickles with oven fries (another "sort of" cheat) and a side of blueberries.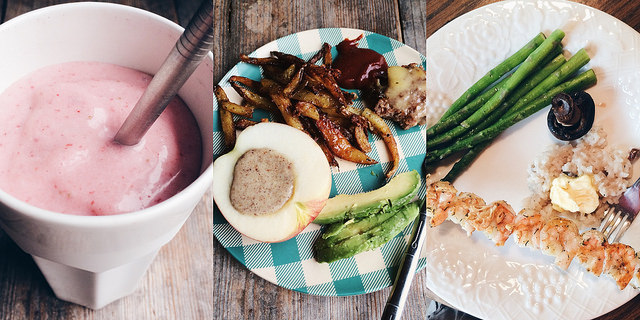 DAY 5:
Breakfast: Strawberry and banana coconut milk smoothie (I couldn't finish it all before lunch).
Lunch: Leftover burger and fries with half an apple filled with (homemade) almond/sunflower seed butter and avocado.
Supper: FIRST CHEAT MEAL! My sister invited us over for supper, which consisted of grilled shrimp, asparagus, and mushroom risotto (made by yours truly). We also had chocolate blackberry mousse cups and they were AWESOME. I was a good girl and didn't go back for seconds.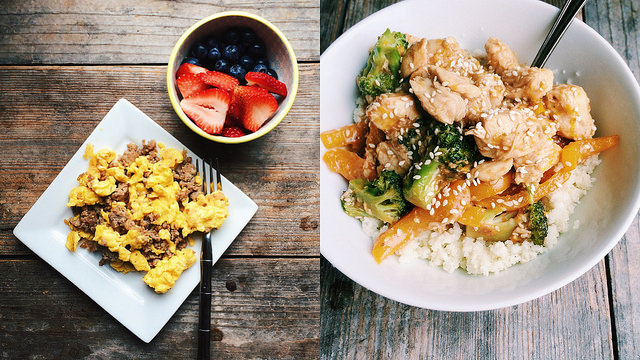 DAY 6:
Breakfast: Scrambled eggs with (homemade) breakfast sausage and fruit.
Lunch: Orange chicken and broccoli stir fry (I added a bell pepper) with cauliflower "rice."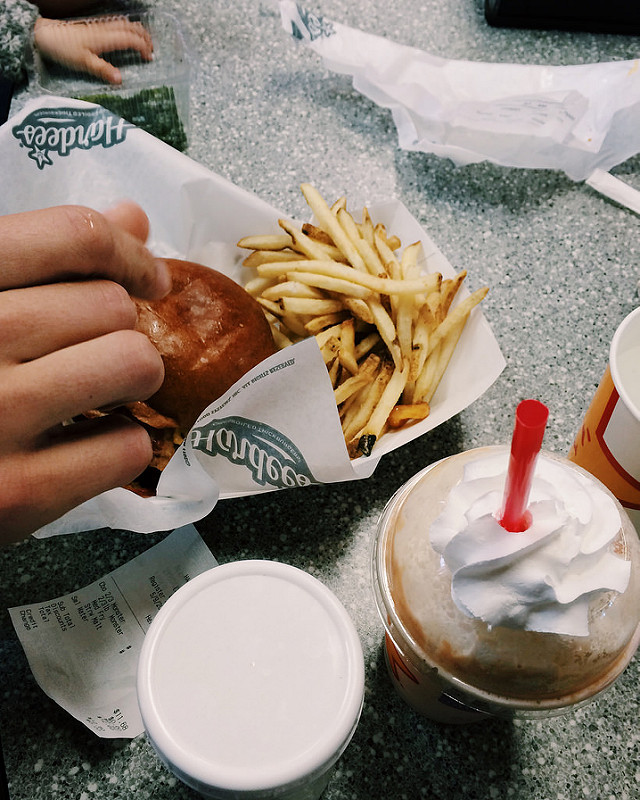 SUPPER?
We were invited to eat out with our family at one of our favorite fast food restaurants: Hardee's. I had a bite of Reuben's burger, a few fries and a few sips of strawberry malt. I was actually really full from lunch so the food wasn't that appealing.
I filled in the cracks later on with blueberries and cream, an apple with almond butter, and an orange.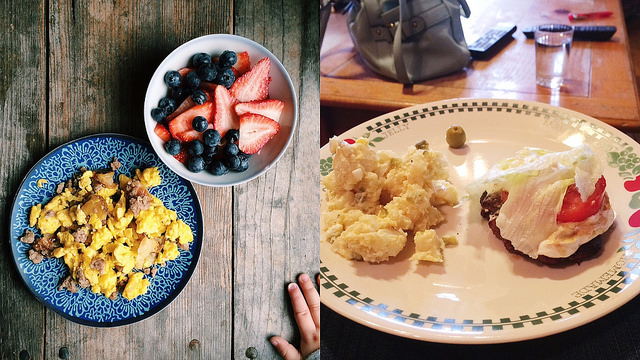 DAY 7:
Breakfast: Scramble with breakfast sausage and fruit. As you can see, I have to share about half of my fruit with Helen.
Lunch: We had lunch with our families! We were having burgers, and I was a good girl and didn't take a bun. But I DID have a couple of chips.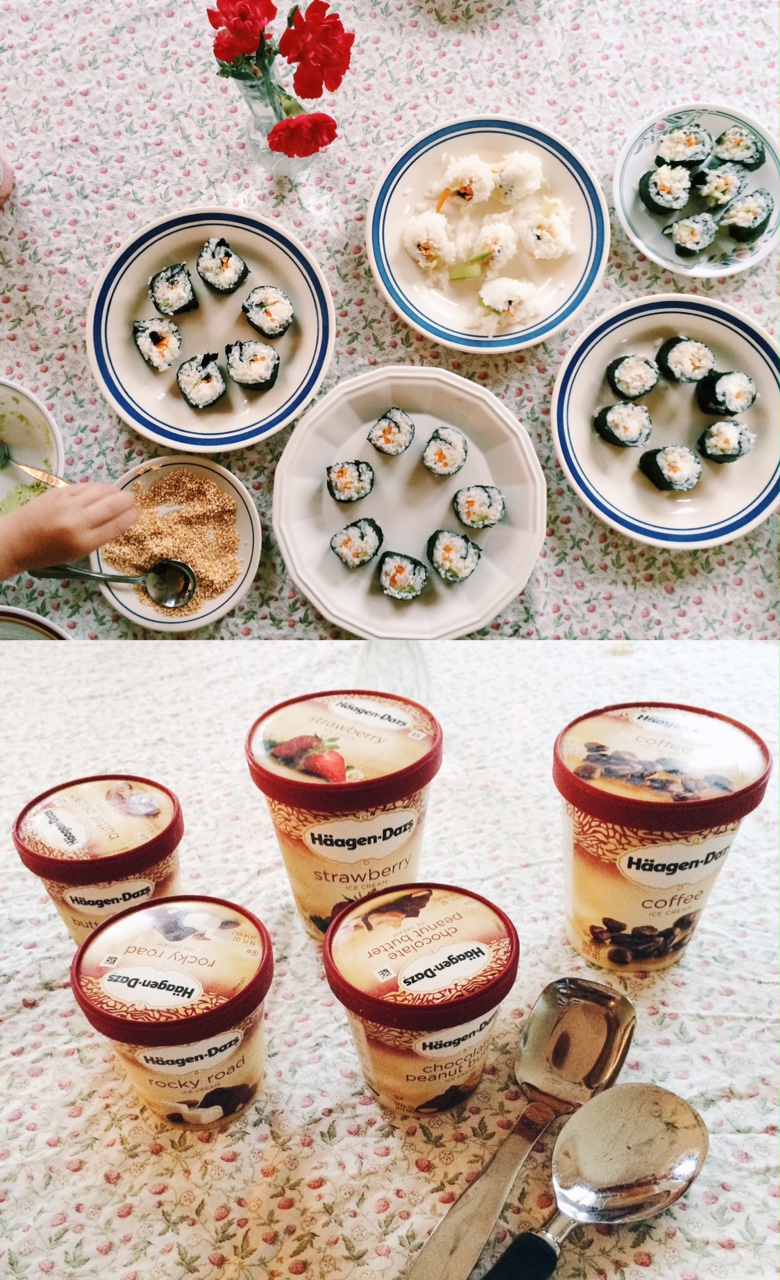 Supper: We were celebrating my sister's birthday, so we made sushi! It was delicious.
Dessert: Instead of cake, we had Häagen-Dazs ice cream. So creamy and good.
In addition to these meals, I had snacks of apples with almond butter, dates, pickles, and other fruit.
I'm pretty proud of myself for finishing Week 1. I had a couple of slip-ups the first few days (I absentmindedly ate a crumb from Reuben's toast, forgot and put honey in my tea, etc.), but when eating at home I've stuck to the plan pretty closely.
Here are a few things I've learned so far:
* I eat without thinking a lot more than I realized. I've had to catch myself multiple times when I automatically reach for "forbidden" foods.
* Fruit is essential to survival. I don't know how I'd eat eggs for breakfast without it.
* I find that I can eat more of foods that would normally turn me off (e.g. plain avocados or cold salmon). I must just be hungry enough that anything appeals to me!
* On a similar note, I tend to eat more at meals because I know I'll get super hungry and want to cheat if I don't.
Let me know if you would be interested in seeing my 2-week dinner meal plan.
PS: This is the last day to vote in the Marx Foods Food Photography Contest. If you wish, you can head over to my photo and give it a like to vote for me!
Voting has ended, and I made to the final three! I'll let you guys know if I'm chosen for the winner (fingers crossed).