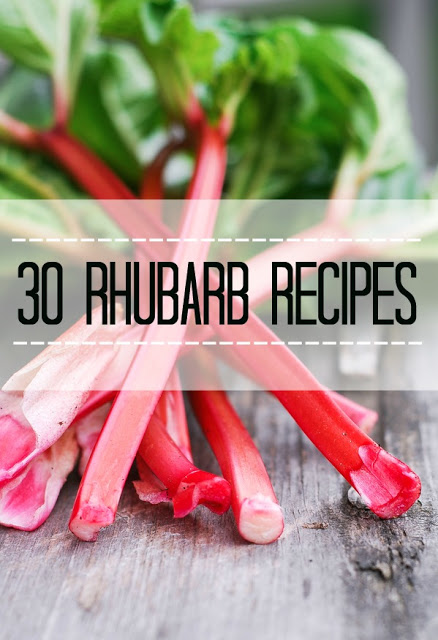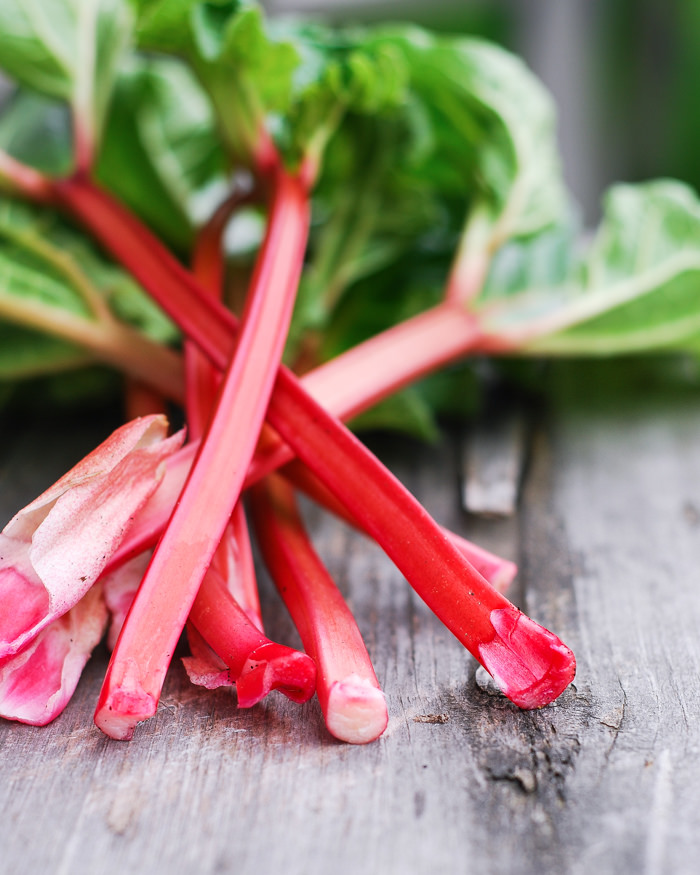 Here in northern Minnesota, the growing season is quite short: it starts late and ends early. Any hearty plant that appears early is appreciated.
Rhubarb is one of those awesome plants that comes back every year. It requires very little upkeep. It's there waiting for you to harvest once it has a chance to grow when the weather warms up.
It contains calcium, vitamin K, manganese, and other good vitamins/minerals/antioxidants/good-for-you-stuffs. Read more about its health properties here and here.
It's tangy and colorful and is scrumptious in baked goods.
It's easy to freeze for use later in the year as well.
Here are some recipes to get you started:
[NOTE: I would probably modify many of these recipes by using organic sugar, reducing the sugar, using healthy flours and fats, etc. You can read about my take on health HERE]

[DRINKS]
Lacto-Fermented Rhubarb Soda
Strawberry Rhubarb Lemonade
Rhubarb Cordial
[CONDIMENTS]
Rhubarb Vanilla Bean Jelly
Balsamic Roasted Strawberry Rhubarb Preserves
Rhubarb Butter
Honey Sweetened Rhubarb Fig Jam (pectin free)
Rhubarb and Vanilla Jam
Rhubarb Curd (recipe in German)
[BREAKFAST]
Goat Cheese Vanilla Bean Pancakes with Strawberry Rhubarb Syrup
Roasted Blueberry and Rhubarb Crepes
Strawberry Buttermilk Pancakes with Elderflower and Poached Rhubarb
Strawberry, Rhubarb, and Mascarpone Crepes
Nutty Rhubarb Oatmeal
Mascarpone Rhubarb Stuffed French Toast
[DESSERT]
Rhubarb Upside Down Cake (by Yours Truly)
Coconut Flour Rhubarb Upside Down Cake
Rhubarb Bread Pudding with Creme Anglaise
Raspberry Rhubarb Tart
No-Bake Rhubarb Cheesecake Parfaits
Rhubarb Galette
Rhubarb Custard Crumble Tart
Rhubarb Crumble Muffins
Rhubarb Crunch (by Yours Truly)
Rhubarb Tart
Rhubarb and Vanilla Sponge Pudding
Rhubarb Danish
Lemon Rhubarb Ricotta Pound Cake
Old-Fashioned Rhubarb Pudding Cake
Rhubarb Custard Crepe Cake
Have you ever eaten/cooked with Rhubarb? If so, what's your favorite thing to make with it?