This healthy dalgona coffee is made with grass-fed milk and honey!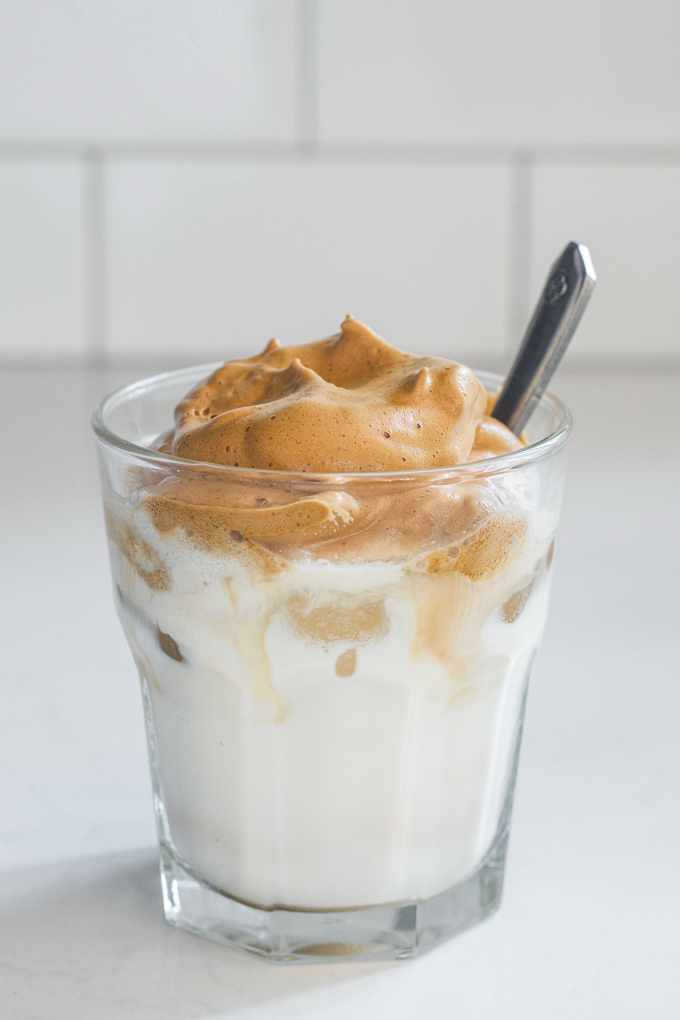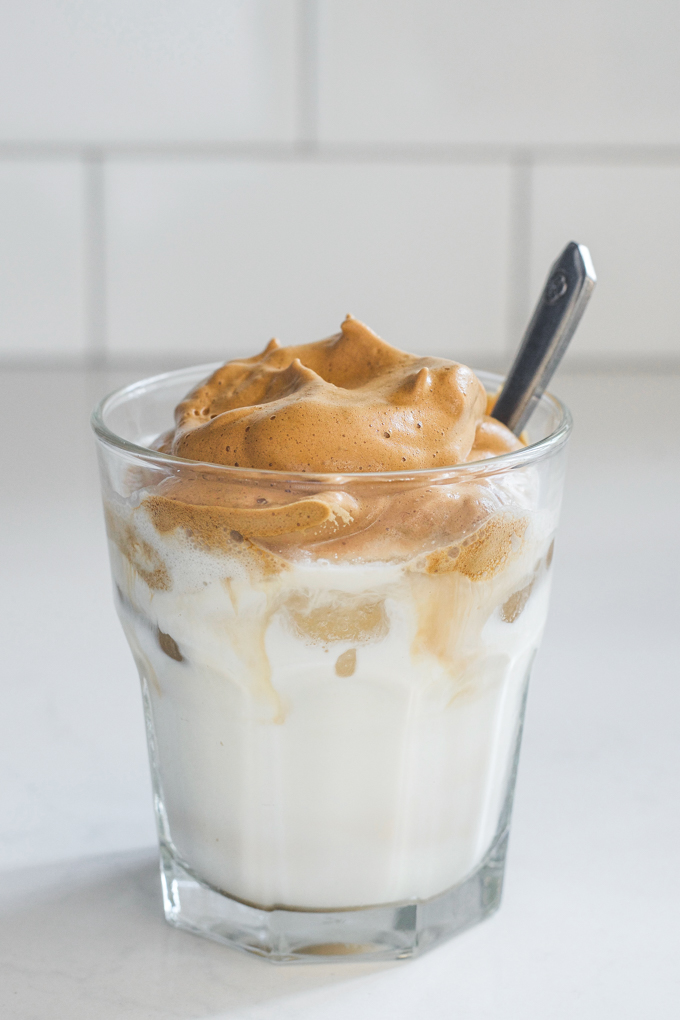 If you've been on the internet at all the past few months, you've probably heard of dalgona coffee (AKA whipped coffee). It took the world by storm and for good reason: it's really fun, it's dead easy to pull off, and it's delicious!
Today I'm going to show you how to make a healthy version of dalgona coffee with honey! But first, let's answer a few questions…
What is Dalgona Coffee?
Dalgona coffee is equals parts instant coffee, sweetener (originally sugar), and hot water whipped together. It forms an almost marshmallow fluff consistency. You scoop it over a glass of milk to serve it.
Where Did it Originate?
Whipped coffee has been around for years, and different countries have their own version of it. But it went viral recently in South Korea because of a TV show episode where actor Jung Il Woo tried it at a convenient store restaurant. It was on that episode that the whipped coffee drink got the name Dalgona (달고나) because it resembled a Korean candy/cookie of the same name.
What Does it Taste Like?
It tastes like really intense, fluffy coffee. If you take a taste of it plain, it might stun you. Not to worry – it gets mellowed out by the milk!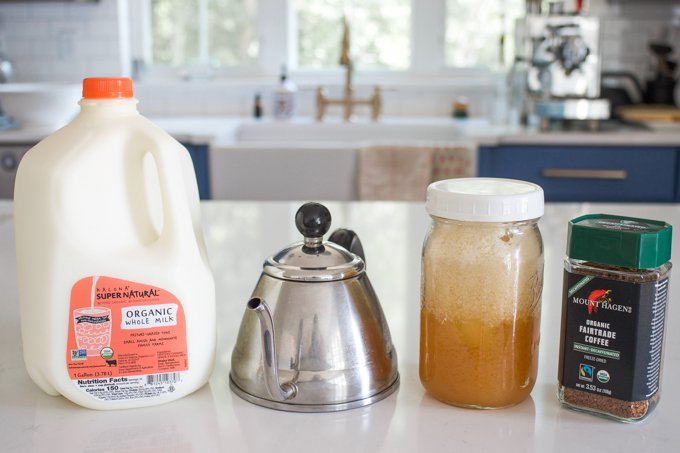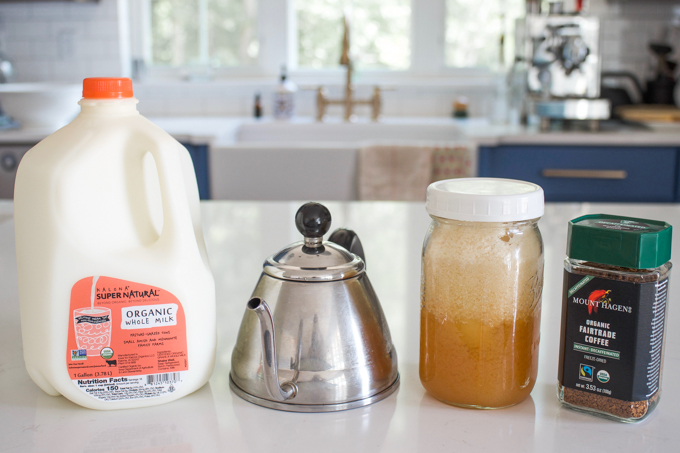 What are the Ingredients?
You only need four simple ingredients to make Dalgona Coffee: hot water, sweetener of choice, instant coffee, and milk.
Can You Make Healthy Dalgona Coffee?
Yep! You don't have to follow the original recipe exactly to get amazing results. Here are my swaps to make a healthier option: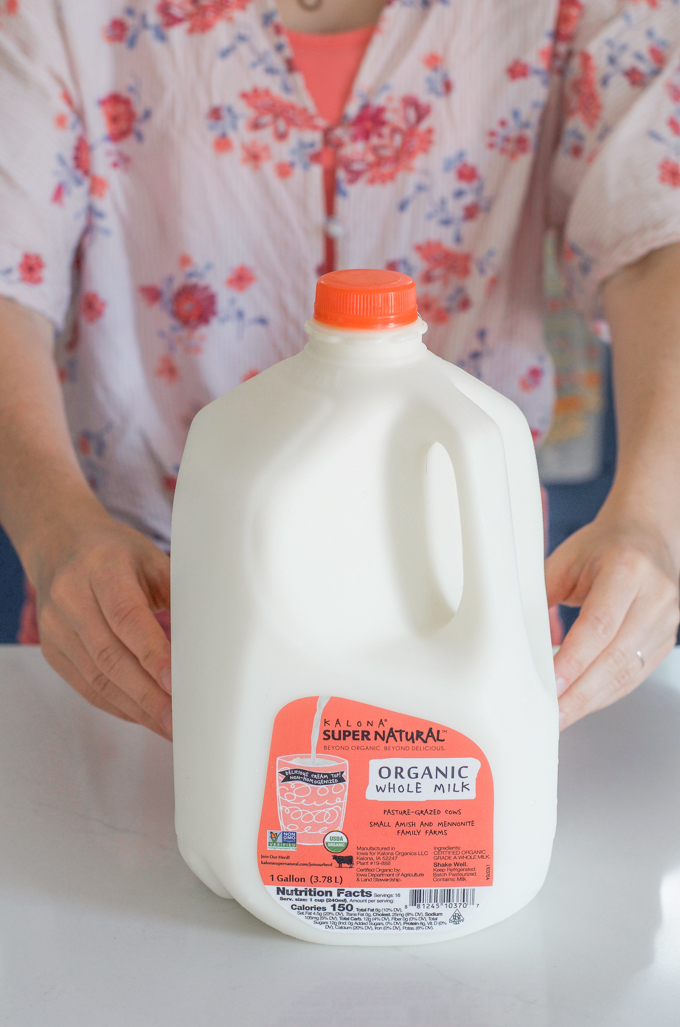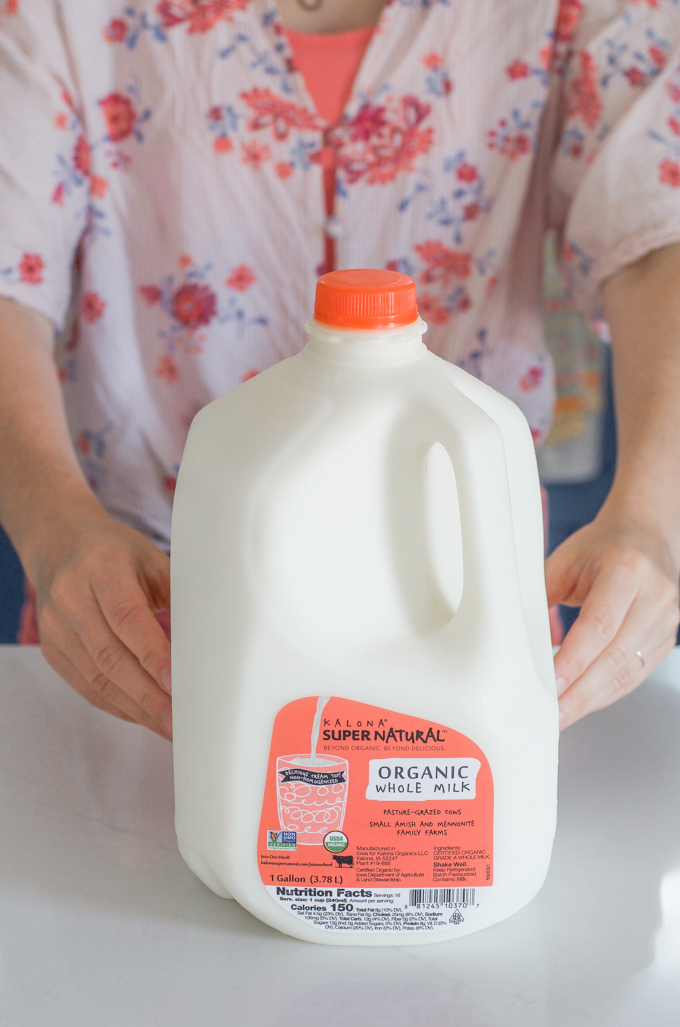 1) Use High Quality Milk
First of all, you'll want to swap out conventional milk for a healthier option.
I personally love Kalona SuperNatural organic whole milk. It's grass-fed, batch pasteurized, and non-homogenized. It's what I buy for my family every week!
You can read more about the benefits of grass-fed dairy vs conventional dairy in my post here.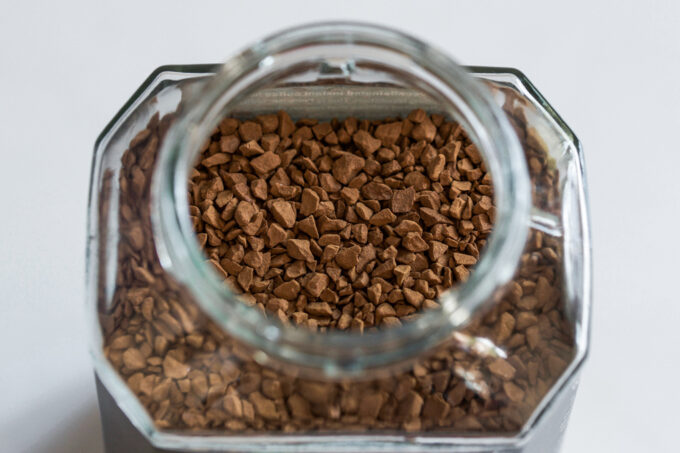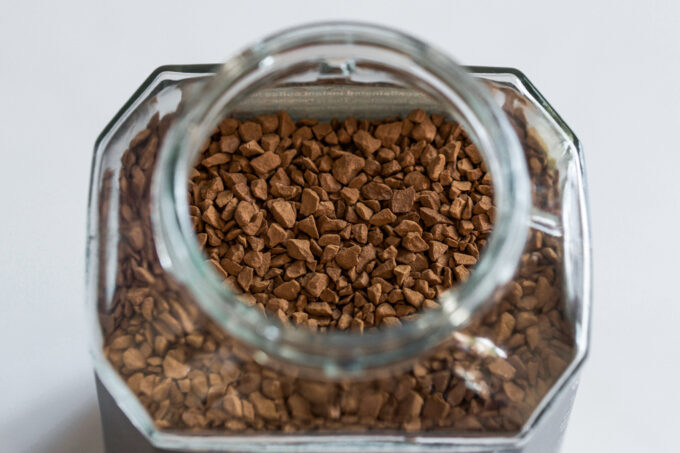 2) Use Organic Instant Coffee
Did you know that you can buy organic, freeze-dried instant coffee? I found two options at my local health food store. You don't need to get the ultra cheap version to make Dalgona Coffee, trust me.
The reason it's important to buy organic is because conventional coffee is produced with pesticides and herbicides. Not something I prefer to consume on a regular basis.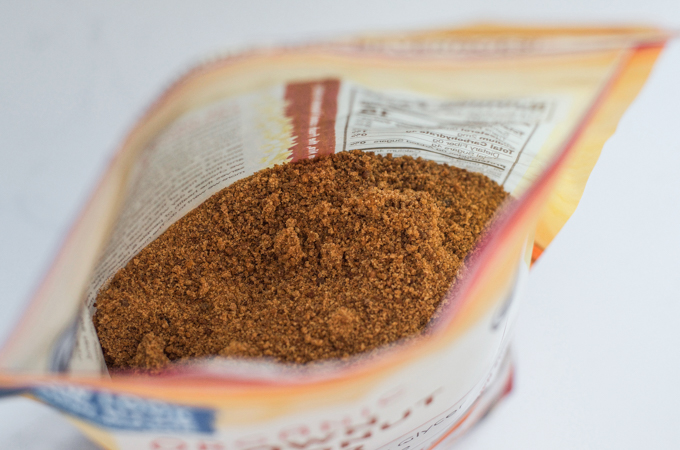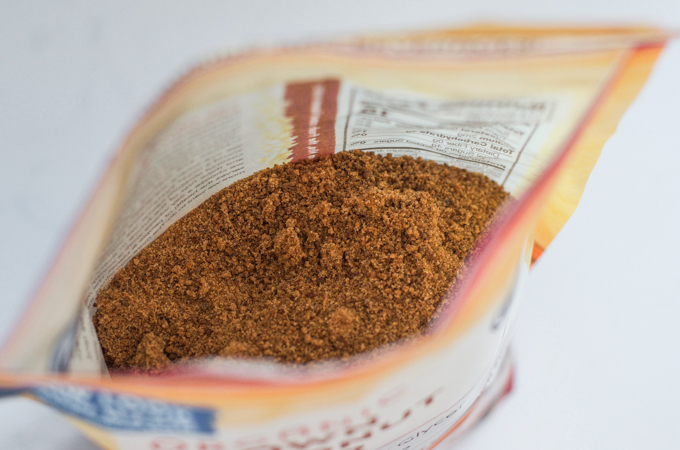 3) Use a Healthier Sweetener
Just like you don't need cheap instant coffee, you don't have to use white sugar. I have successfully used coconut sugar and honey, and I've seen people use powdered monkfruit sweetener as well. My personal favorite is honey because it whips up really well! I think it works better than white sugar.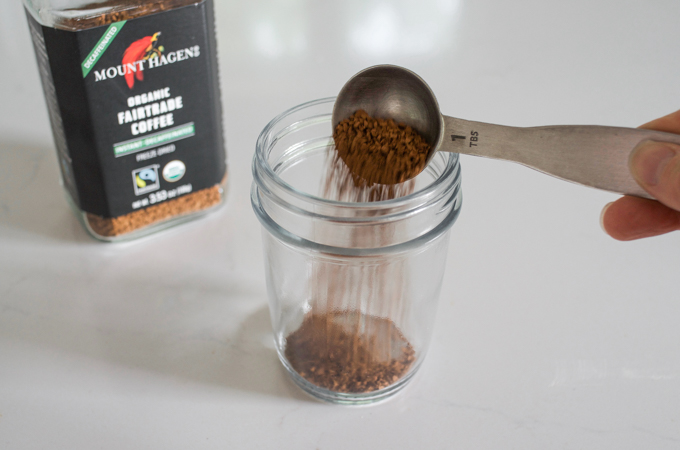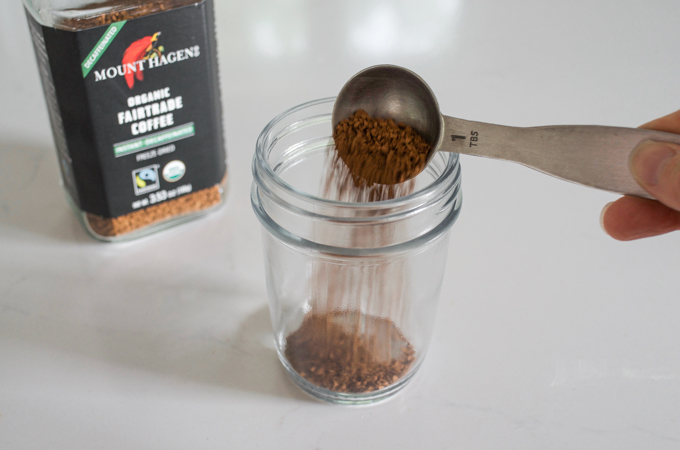 Okay, let's make some healthy Dalgona Coffee with Honey!
First, I'm going to show you how to make a single serving.
Place a tablespoon of instant coffee into a small jar.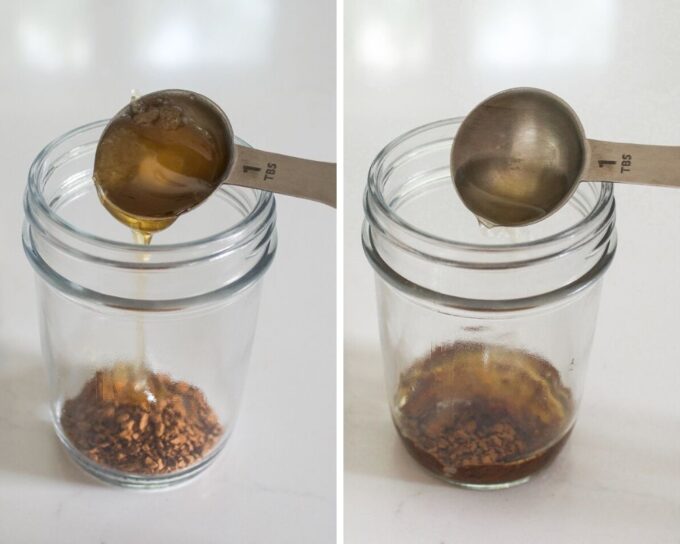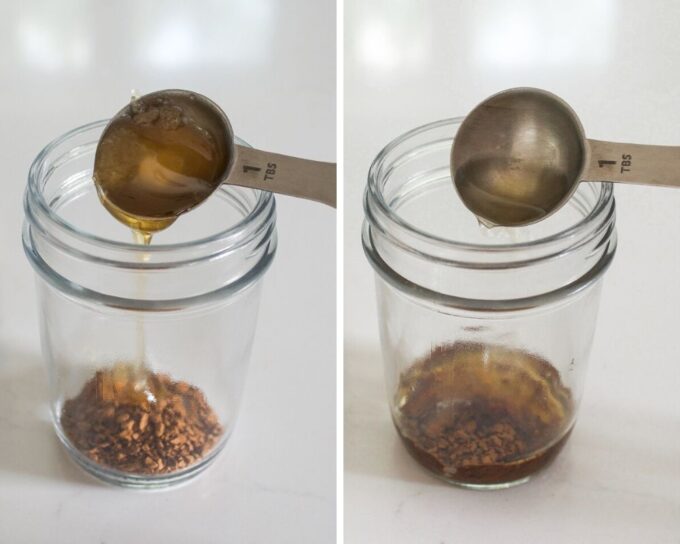 Add 1 tablespoon of honey and 1 tablespoon of hot water.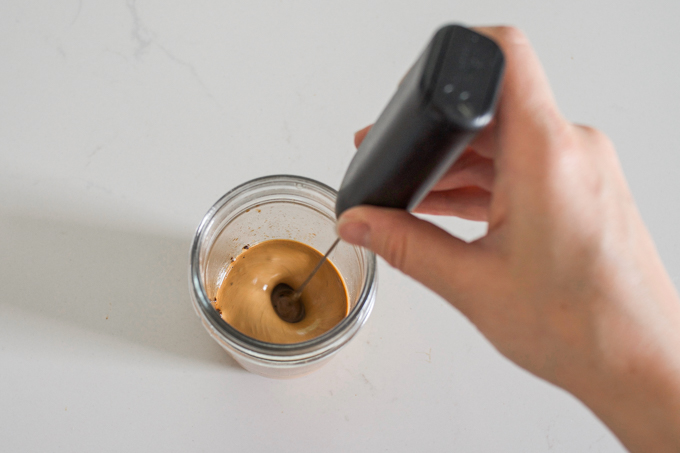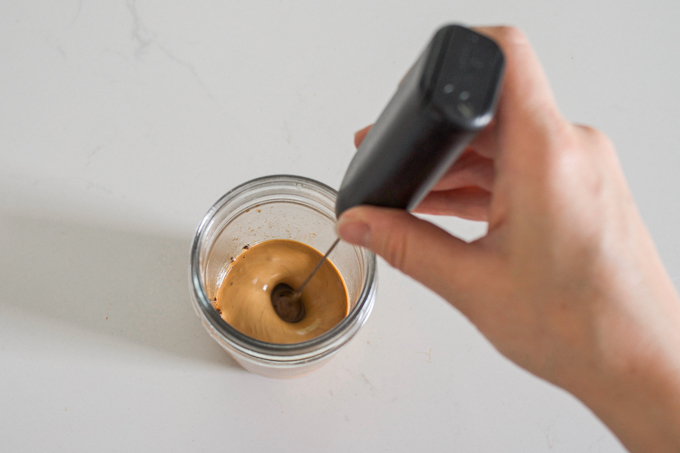 Whip the mixture with a handheld milk frother. It is possible to whip Dalgona Coffee by hand, but it can take a really long time. In fact, it's supposed to take 400 strokes. A handheld frother makes shorter work of it.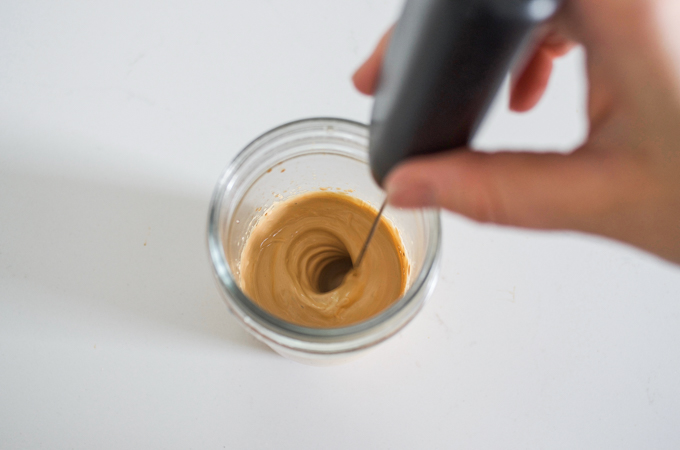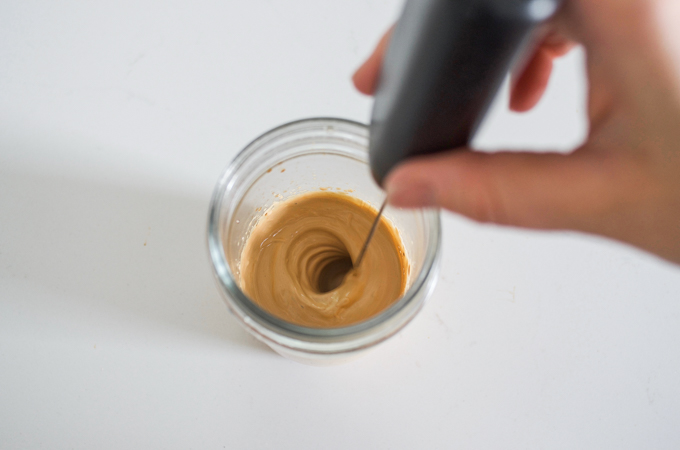 Keep whipping until it's quite thick and pale colored.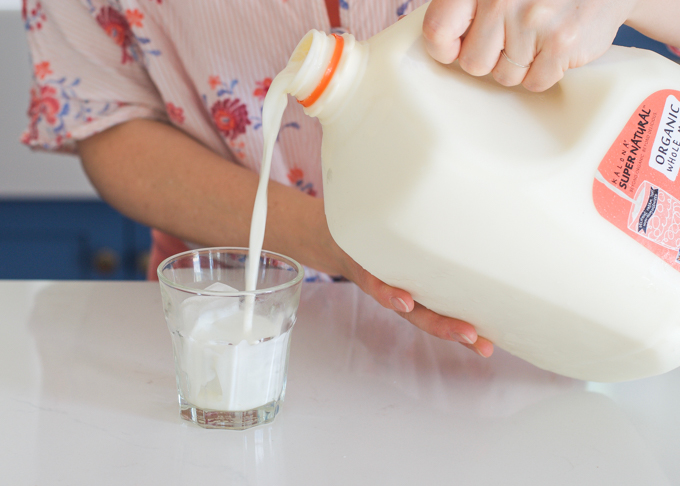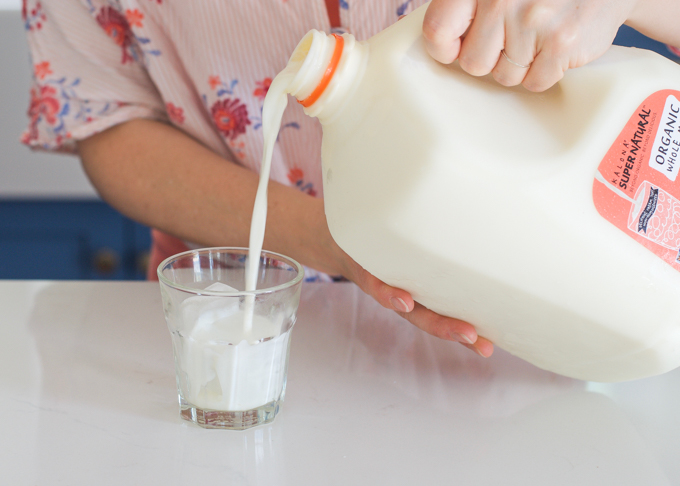 Pour some milk into a glass…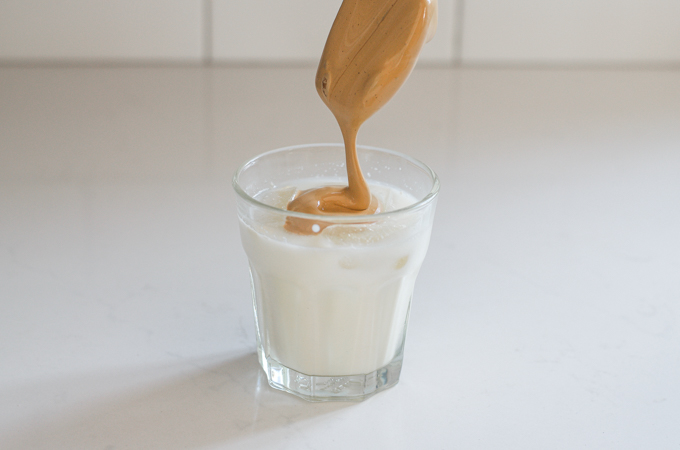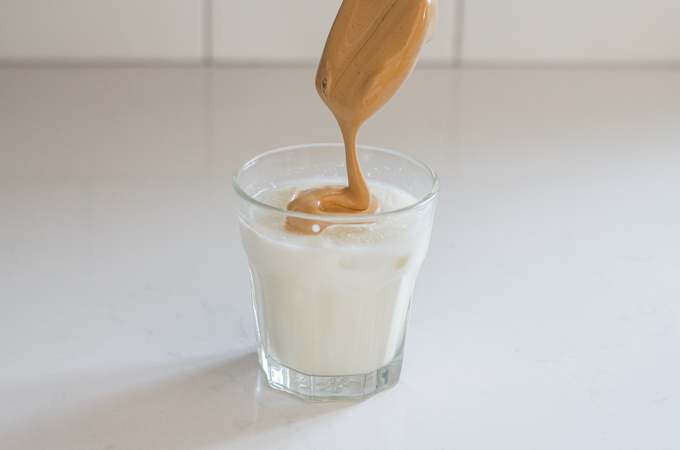 …and drizzle the whipped coffee on top!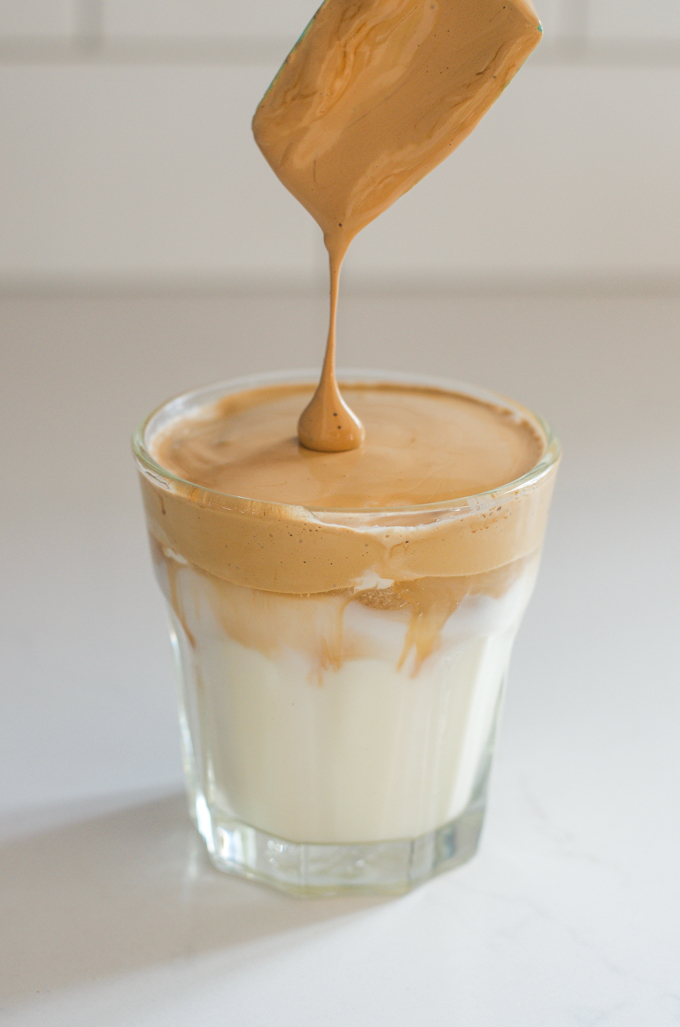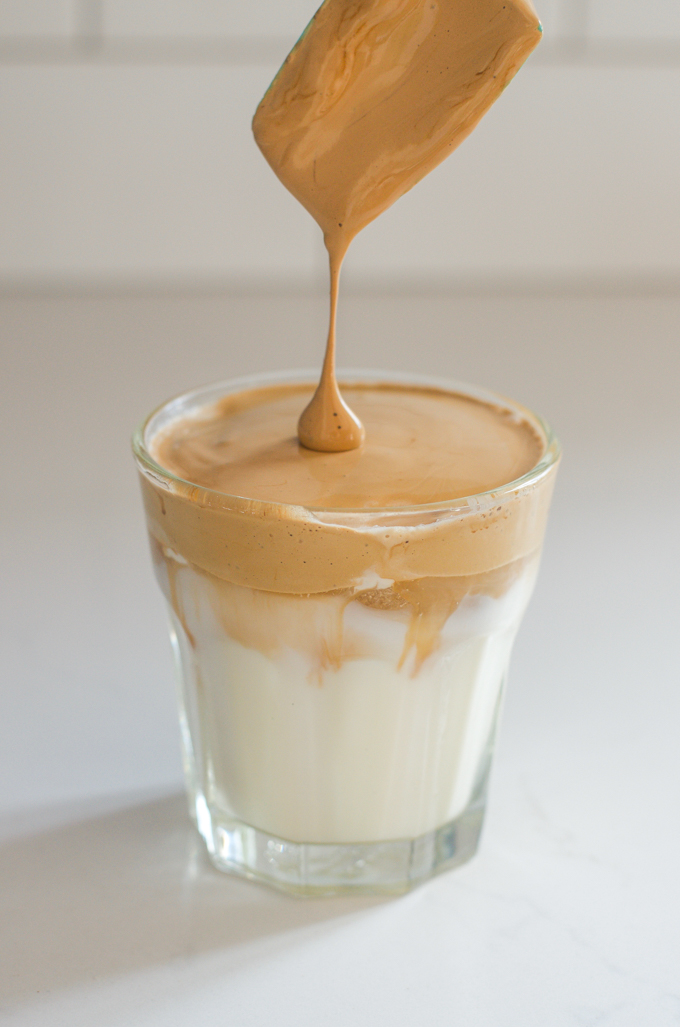 It's beautiful.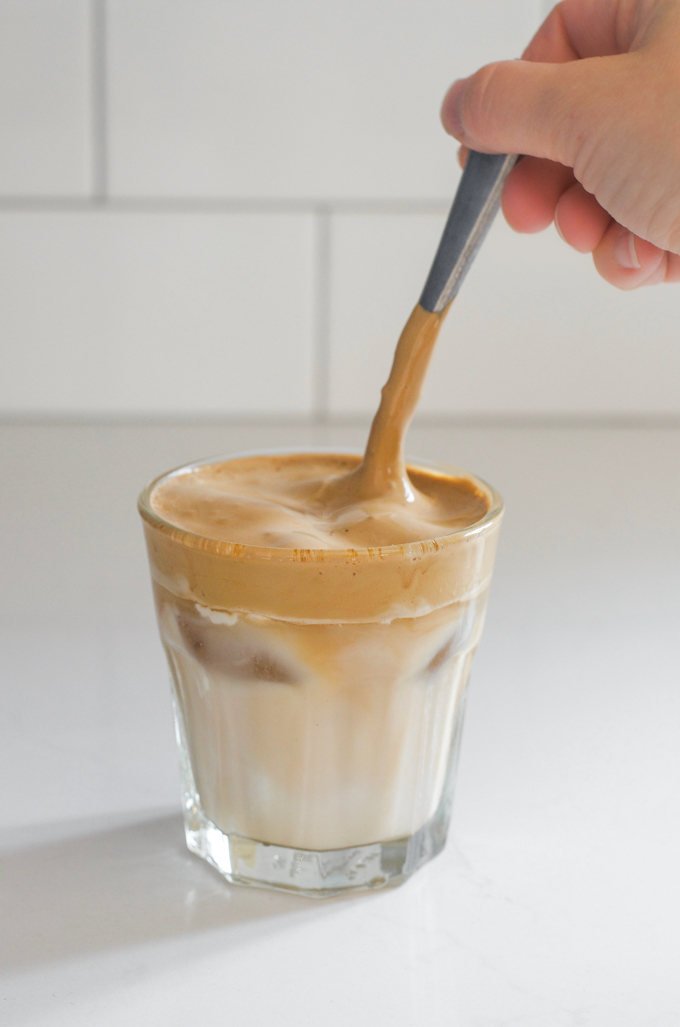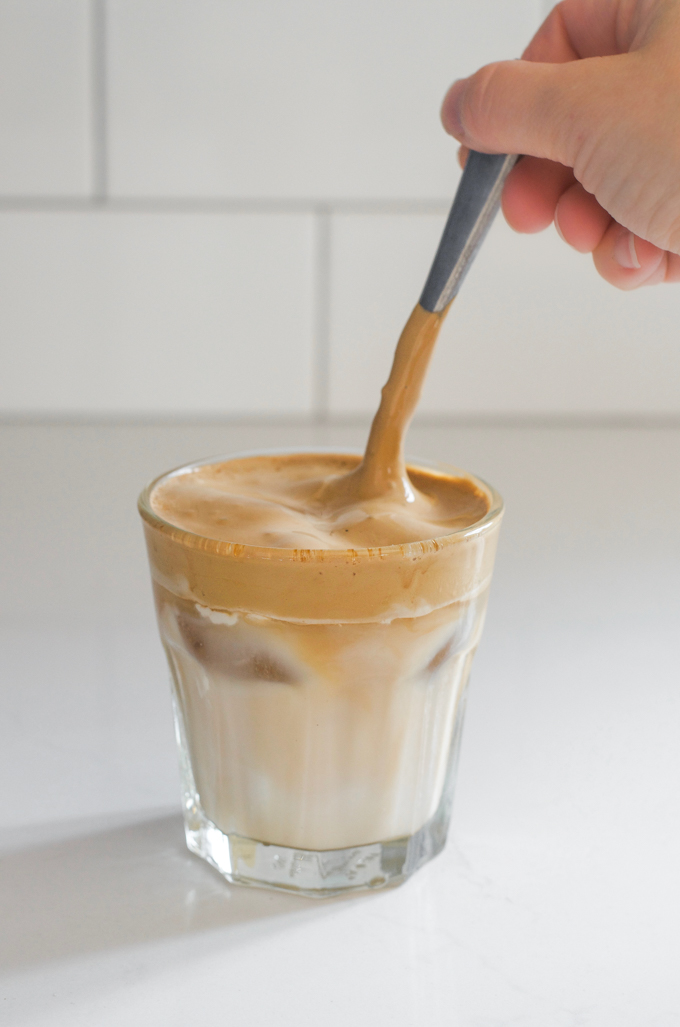 I like to drink my Dalgona Coffee with a spoon. That way I can dip down into the milk and still get some of that whipped goodness. You can also use a straw, but I find that it's more frustrating unless you mix it all together.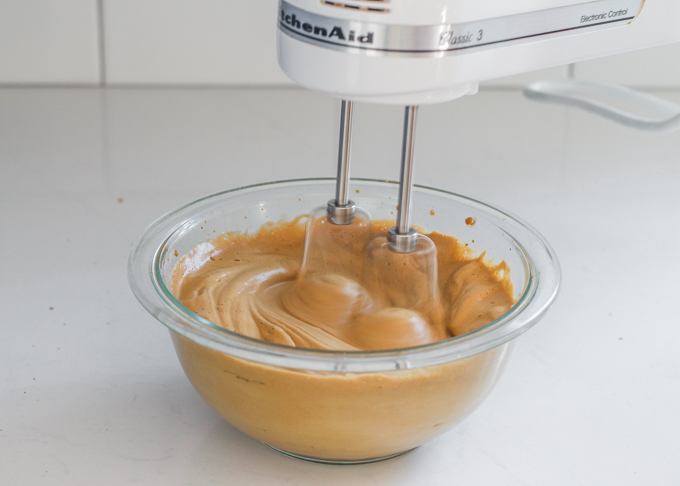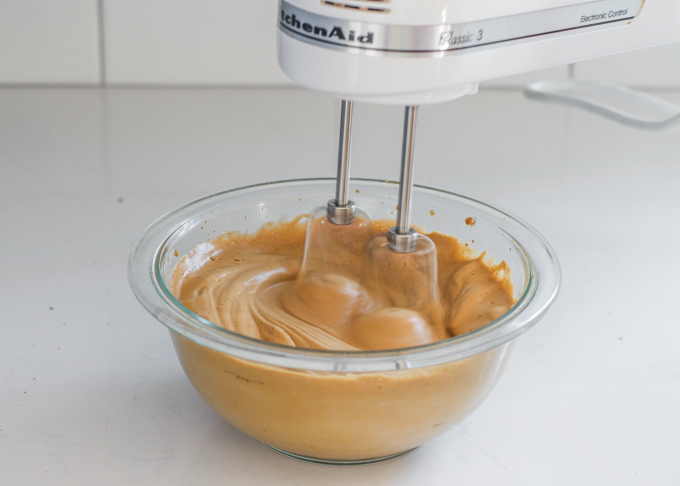 Making a Larger Batch
If you want a really fluffy whipped coffee, I recommend using a hand mixer. You'll need to mix up a larger batch, though. But the result is a much thicker consistency than what you can achieve with a handheld frother. You can get it to achieve stiff peaks!
Mix up too much at once? No worries! It actually stores in the fridge really well. It will keep for about 3 days in the fridge. Just give it a quick whisk before serving if it has separated.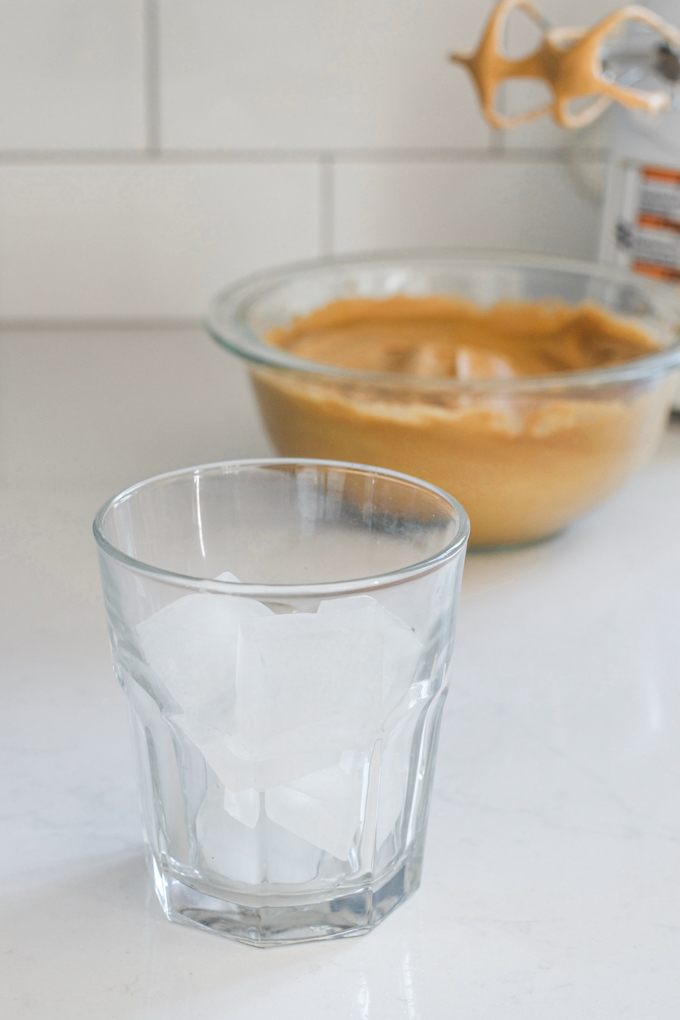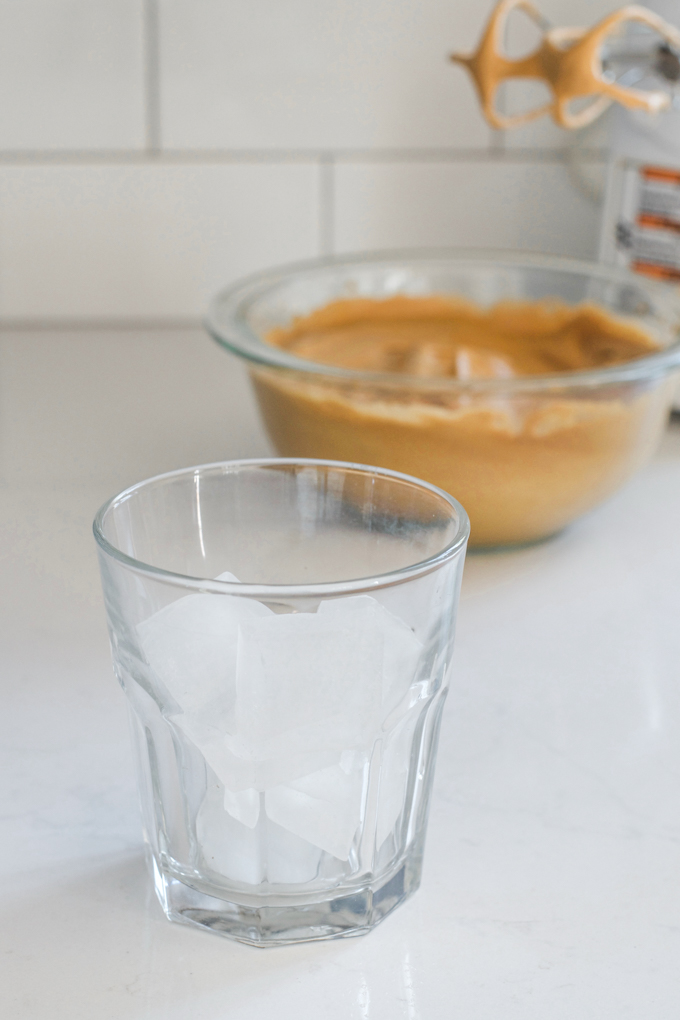 Dalgona Coffee Upgrades
You can totally enjoy your whipped coffee as is. But here two ways you can upgrade it!
1) Add Ice
Put a few cubes of ice in your cup before pouring in the milk. This will make it icy cold!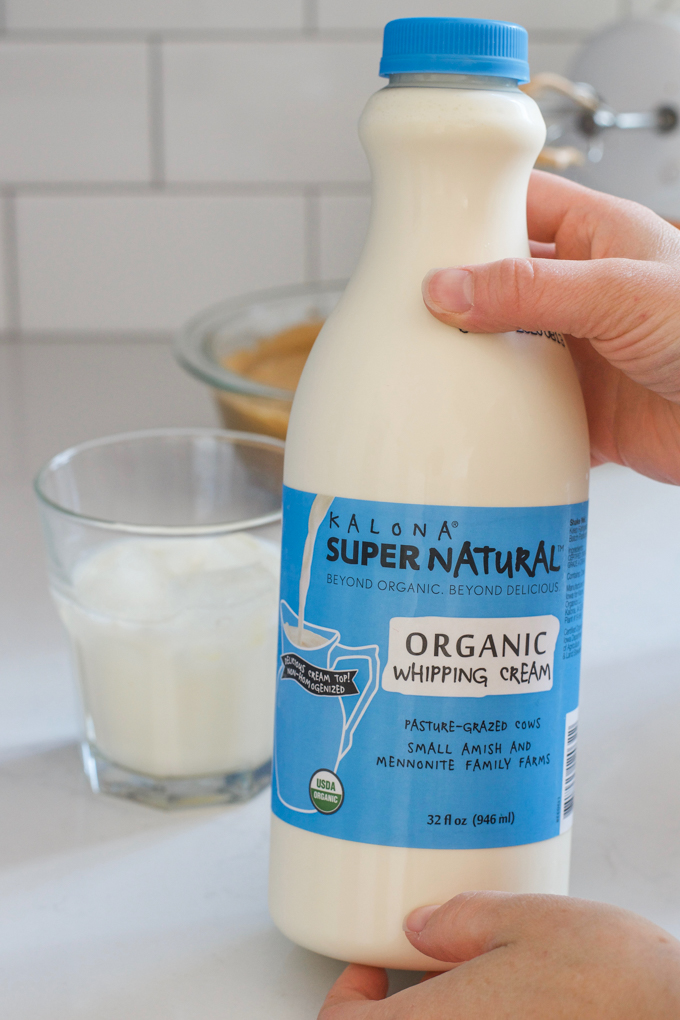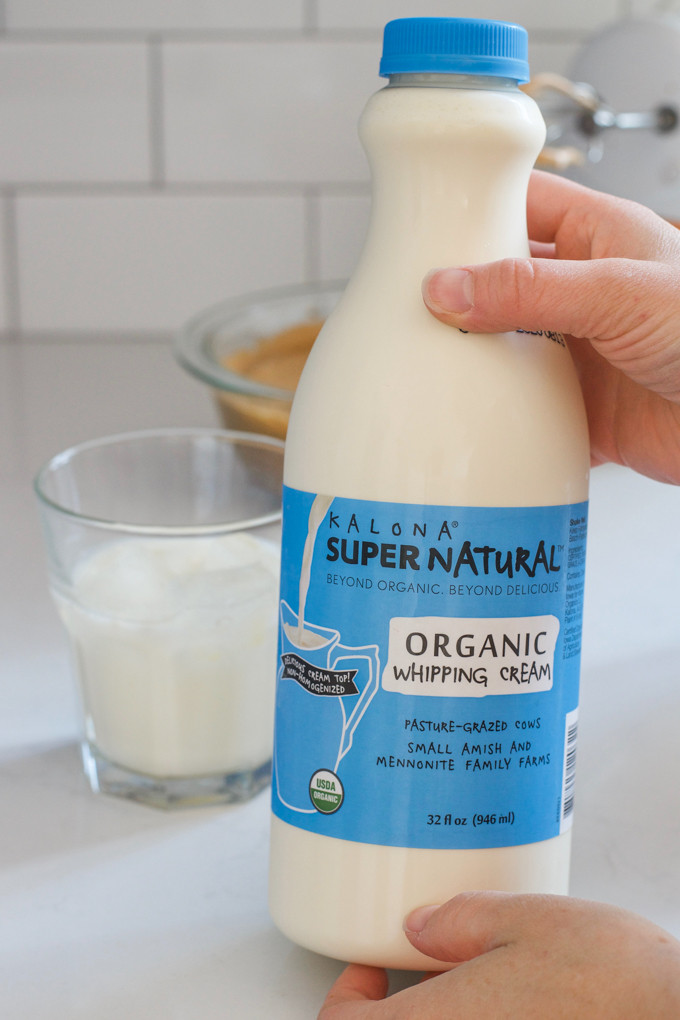 2) Add a Splash of Cream
To make your Dalgona coffee extra creamy, pour a little cream into the milk!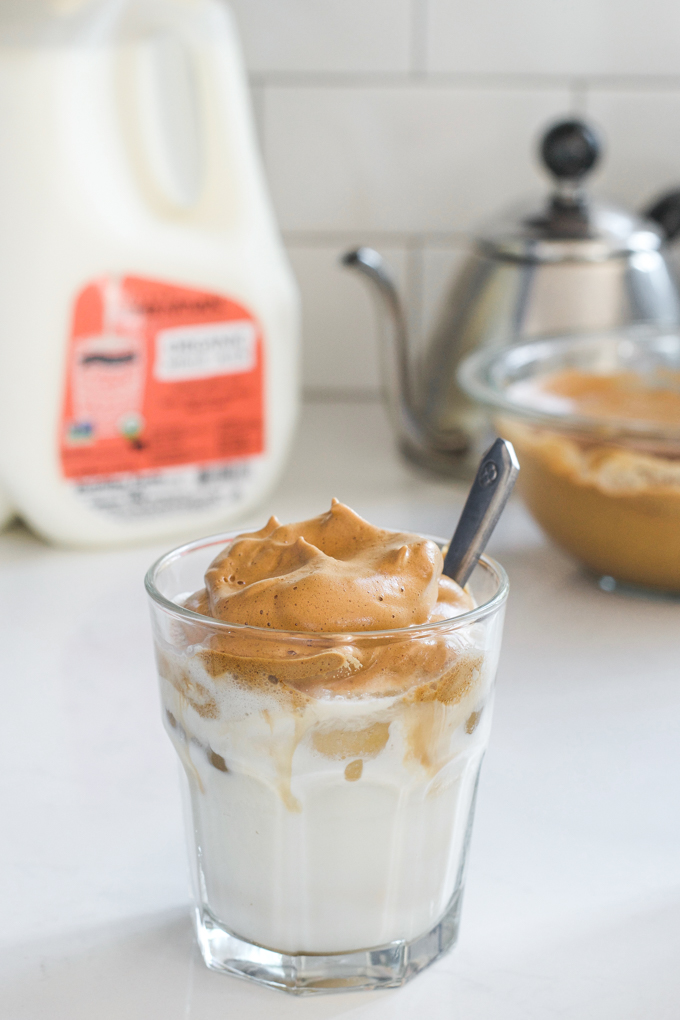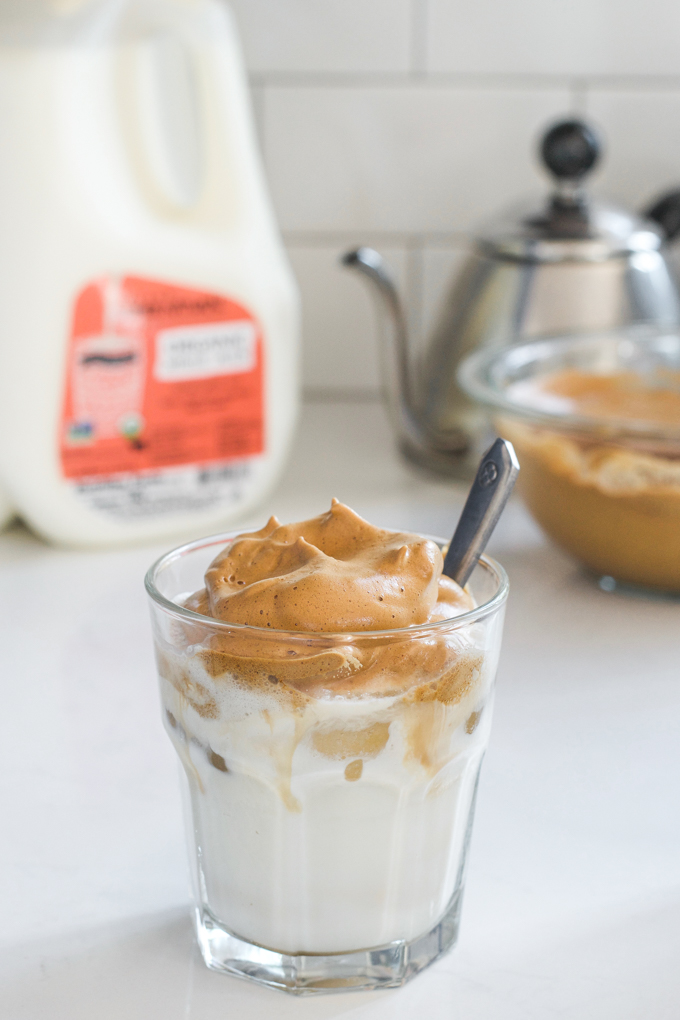 Have you tried Dalgona coffee? What did you think of it?
Thank you to Kalona SuperNatural for sponsoring this post. I adore their milk!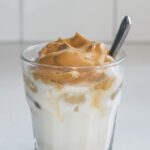 Healthy Dalgona Coffee with Honey
You can make a healthier version of whipped coffee by using honey instead of sugar!
Ingredients
For a Single Serving:
1

tbsp

organic instant coffee

1

tbsp

honey

1

tbsp

hot water

8

ounces

Kalona SuperNatural whole milk
For a Larger Batch:
3

tbsp

organic instant coffee

3

tbsp

honey

3

tbsp

hot water

24

ounces

Kalona SuperNatural whole milk
Instructions
For a Single Serving:
Place the instant coffee, honey, and hot water in a small cup or jar. Using a handheld milk frother, beat the mixture until it thickens and turns pale. You may not be able to achieve stiff peaks.

Pour the milk into a cup. Spoon the whipped coffee mixture on top.
For a Larger Batch:
Place the instant coffee, honey, and hot water in a medium bowl. Beat with a hand mixer until stiff peaks form.

Pour the milk into 3 cups. Divide the whipped coffee mixture evenly between the three cups.
Recipe Notes
You can add ice to your cup before pouring the milk on top for an extra icy beverage.
A splash of cream in the milk makes it nice and rich.
You can make up a larger batch of the topping and store any leftovers in the fridge. Simply give it a whisk before serving if it separates.