My 5 Step Winter Skin Care Routine for Dry Skin is super simple, affordable, and easy to implement!


I have resisted starting a skincare routine for so long. My excuses were: I didn't know where to start. The choices were overwhelming. It was too expensive to purchase all the products I needed at the same time. Would it even be effective? 10 steps for a skincare routine seems excessive.
But I was sick of dry, itchy, flaky winter skin. So I decided to experiment with a simplified routine and see if I could make a difference by being consistent with it. I'm so happy I took the plunge, because my skin has been so much happier this winter.
So without further ado, here's my simple, 5 step winter skin care routine for dry skin!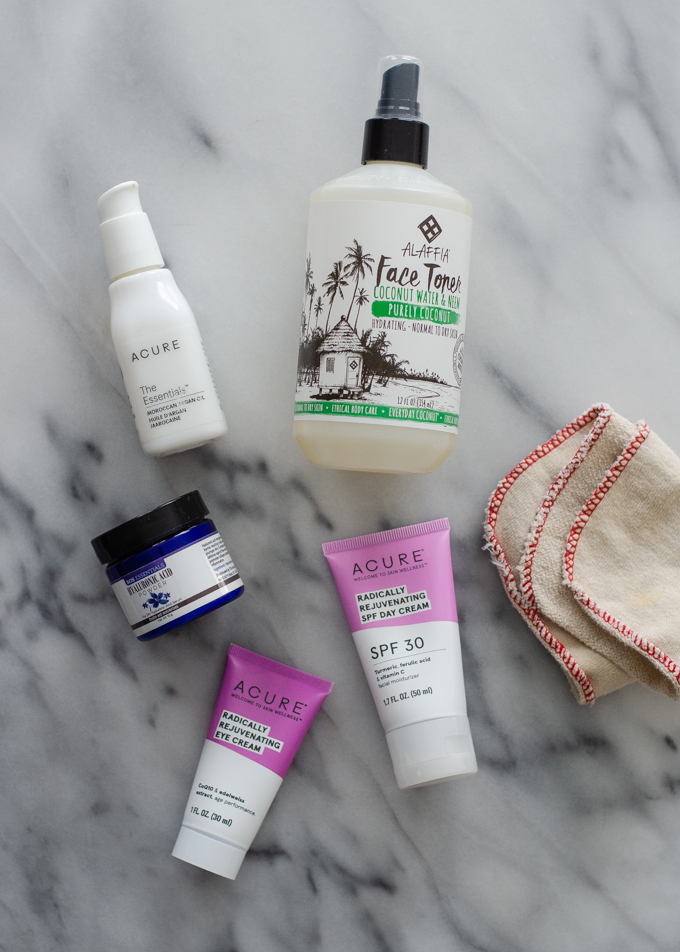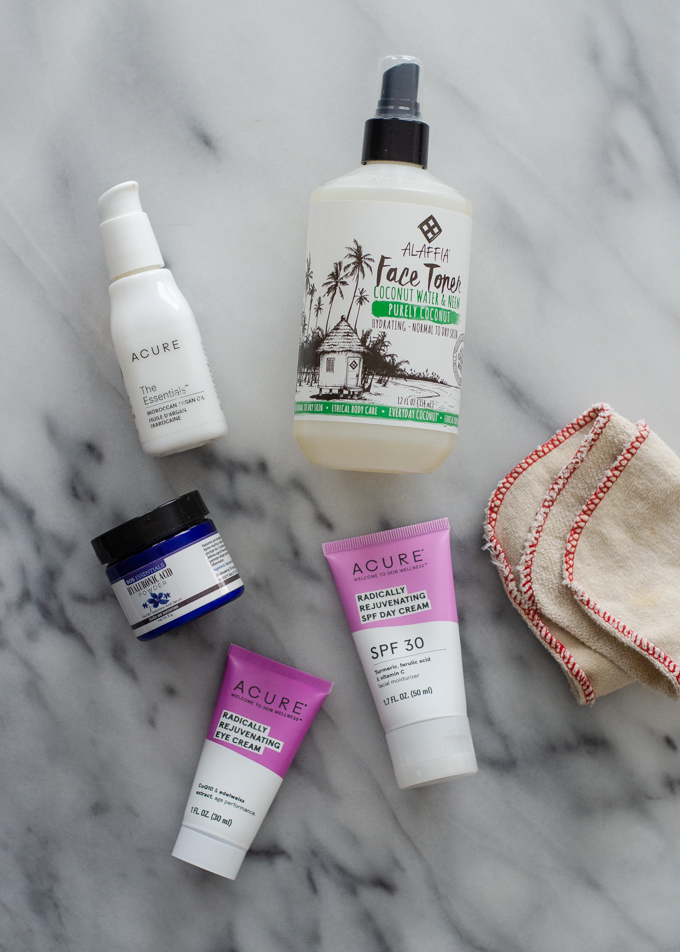 My 5 Step Winter Skin care Routine: AM
Step 1: Double Cleanse
Double cleansing simply means cleaning your face with an oil-based cleanser, and following it with a water-based cleanser. I keep it simple by oil cleansing with avocado oil, then washing my face with a warm wet exfoliating wash cloth. I sometimes skip the cleansing step if I didn't wear makeup the day before and my face still feels clean.
Here's a quick tip: I saved an empty argan oil bottle and filled it with avocado oil. It's thrifty, and the jar dispenses the right amount of oil. Win win! By the way, I no longer use argan oil to cleanse my skin since it's a polyunsaturated oil and it can go rancid easily. I prefer avocado oil, and I'm planning on purchasing some marula oil once this bottle runs out.
Step 2: Tone
I resisted this step for a while, because I didn't see the point. When I realized that it helps your other skincare products absorb into your skin better, I was on board! I've been using organic rose water for a while, and I recently switched to Alaffia Coconut and Neem face toner.
Step 3: Serum
A serum is a concentrated skincare product that targets certain problems. I use a homemade hyaluronic acid serum (more on that below) in the morning. Hyaluronic acid can help your skin to hold moisture and thus improve hydration.
Step 4: Eye Cream
Step 5: Face Moisturizer
I used to just rub an oil all over my face for moisturizer. But the problem is the oil wouldn't ever quite absorb fully, so my face was always a bit greasy. And then if I ever wanted to apply eye makeup, it would run. Boo. So I decided to try an actual moisturizer, and I'm so glad I did. I've been using the Acure Radically Rejuvenating SPF Day Cream, and it's nice and light but hydrating. Now, I'm not a fan of daily SPF, but I figured that since I can't make vitamin D from the sun during the winter in northern MN, it would be fine. I'll be switching to something without SPF in the spring, though.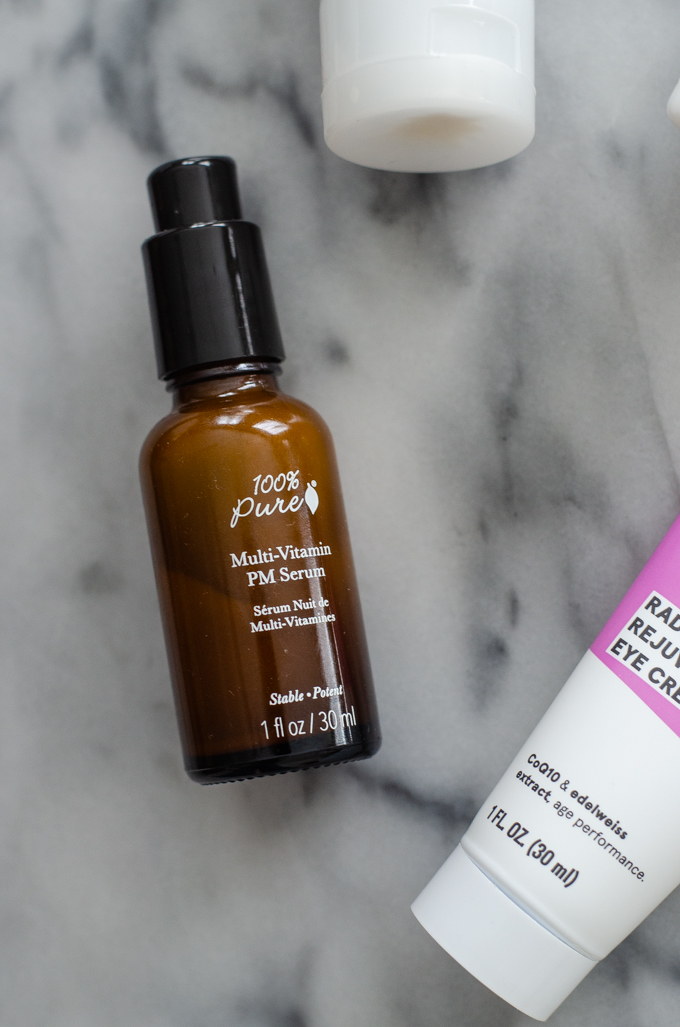 My 5 Step Winter Skin care Routine: PM
In the evening I do the same thing as my morning routine, but I switch out the serum for my 100% Pure Multi-Vitamin PM Serum. This is on the expensive side, but I bought it on sale and it's lasted me for quite a while. If you're looking to save money, you can always use the hyaluronic acid serum again.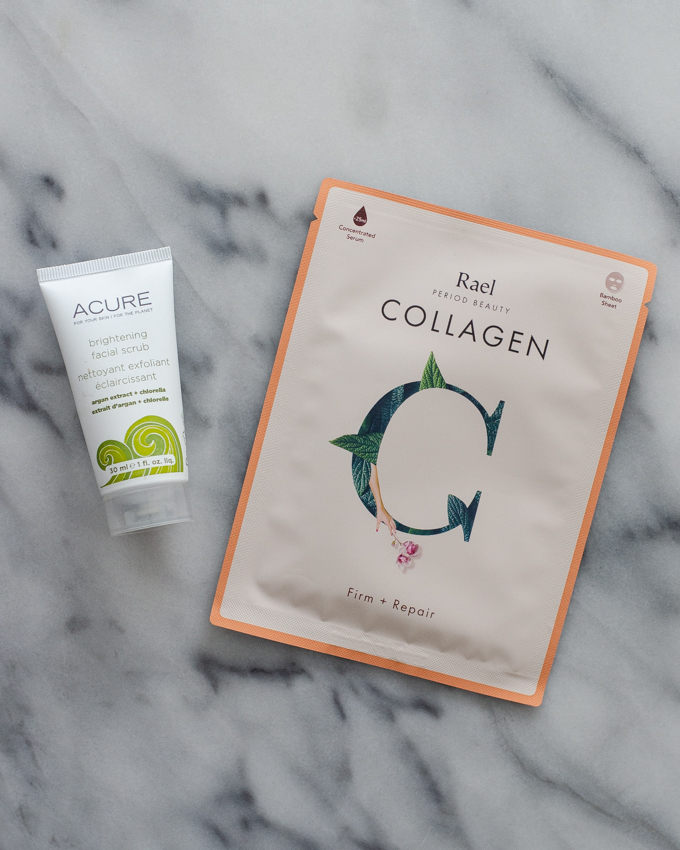 Once a week, I like to exfoliate my face and apply a face mask. I'm using the Acure Brightening Facial Scrub (I can't find the one I have here, but this is their updated product). But you could just use sugar or a homemade exfoliant if you prefer. This is less messy – I keep it in my shower. I've been enjoying the Rael collagen face masks. For a special treat, I like the 100% Pure Green Tea Water Bomb Face Mask (I put it in the fridge after the first use and apply it a second time). These snail secretion ones are nice as well.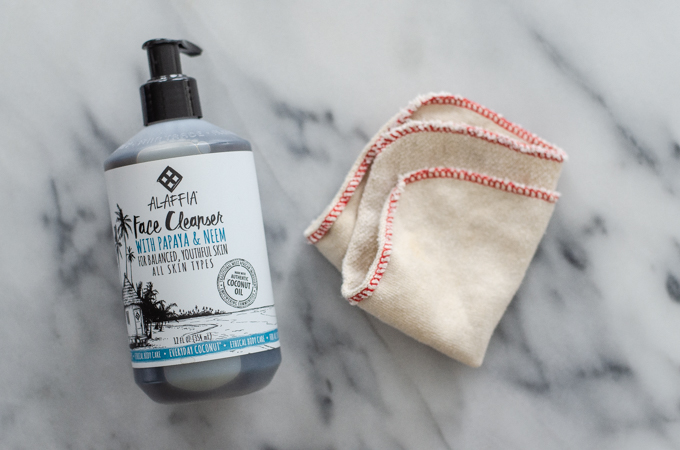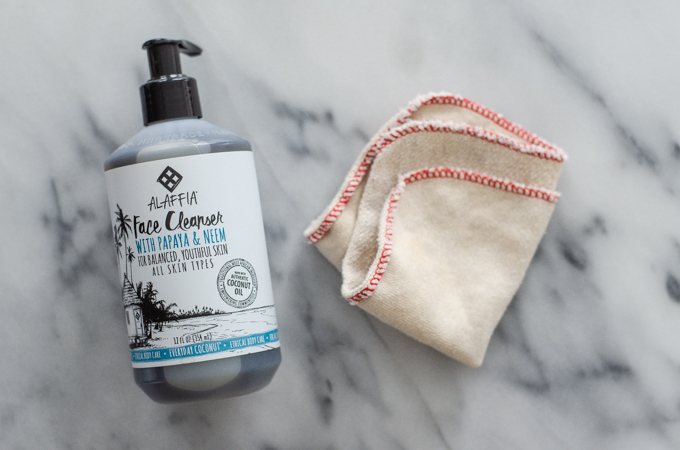 If my face is especially dirty, I use the Alaffia Papaya and Neem Face Cleanser. I try not us it often though, since it can be drying.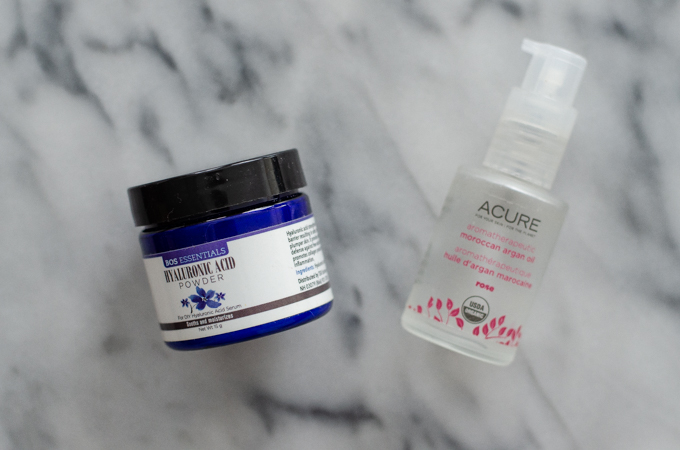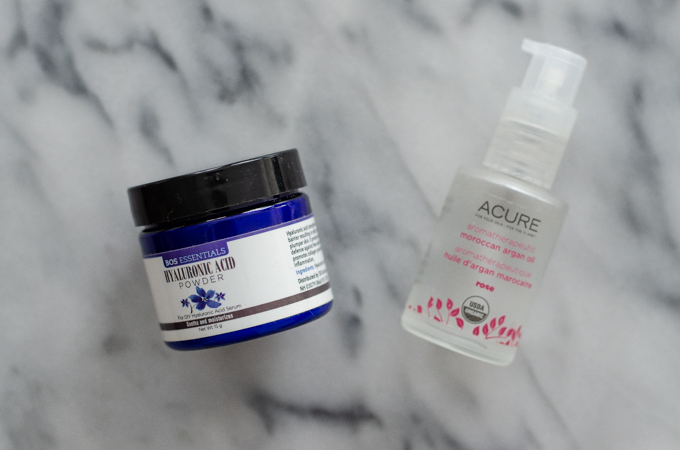 I make my own hyaluronic acid serum for a couple of reasons. First, a lot of pre-made ones have added ingredients (like preservatives) that I'd rather avoid. Second, they're usually a bit expensive. I bought this little jar of hyaluronic acid powder, and it's going to last me a loooong time. It only takes a tiny amount of the powder to make a gel. The jar has a recipe for the serum printed on it. It's just the powder + water! I put it in an old oil pump bottle for ease of application. And I store it in the refrigerator since it's water-based and it doesn't contain any preservatives.
So that's my 5-step winter skin care routine for dry skin! It has really made a difference in my skin this winter. I don't do it every single day without fail, and it's still effective!
Do you have a skin care routine? What works for your skin?