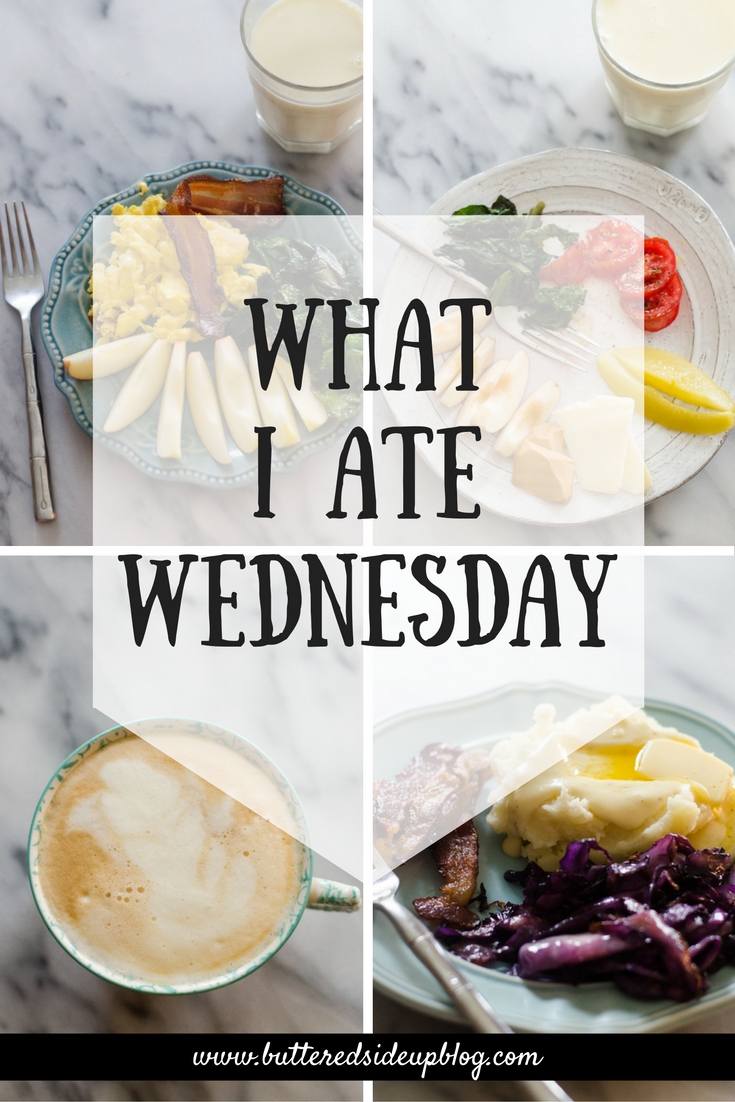 Before we begin this time, there's something I'd like to explain: These posts are meant to inspire you in your real food journey. Maybe they'll give you some ideas to help you change up your cooking routine. Or maybe they'll encourage you by showing that my diet is certainly not perfect, and that's okay!
Also, to put my meals into perspective, I am a petite woman: 5'2″ with a small frame. My meals may seem small to some of you, or they may seem huge to others! Keep in mind that I include a LOT of fat in my diet, so my portions may seem small, but they are calorie dense. Right now I am nursing a 7-month-old baby, so I'm eating more than I usually do.
Now let's dive in and see what I ate in a day: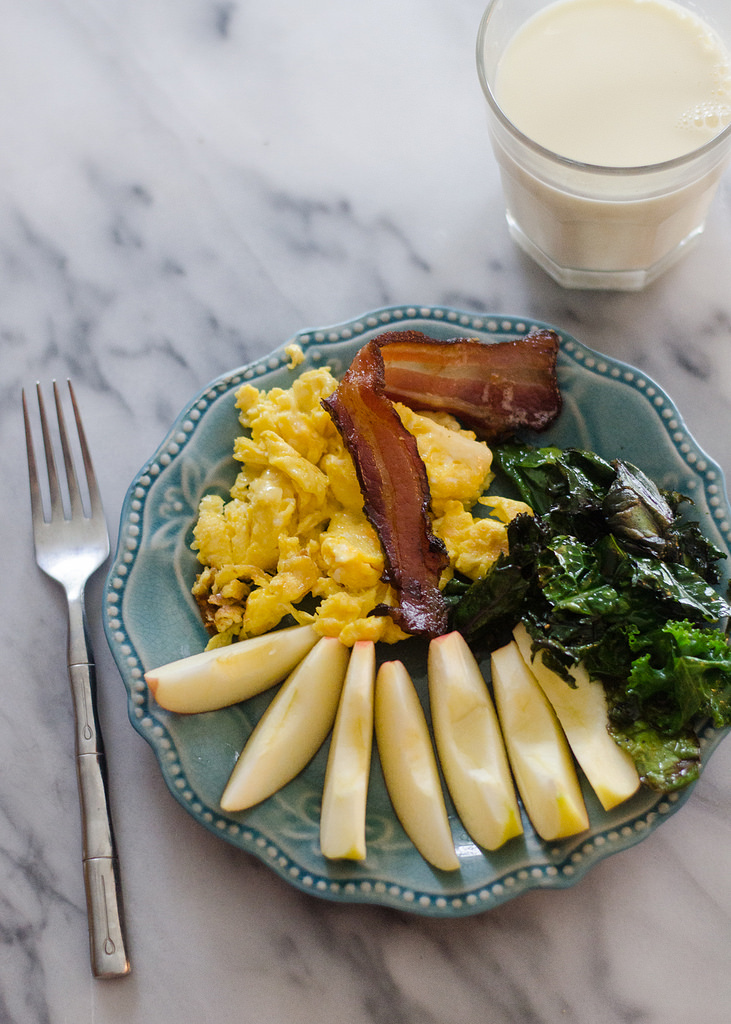 BREAKFAST:
Before I had my real breakfast, I had a bite of Reuben's cereal, and a bite of his shrimp soup (for his lunch).
For my REAL breakfast, I had scrambled eggs (made with a local
duck egg
and a
Vital Farms
chicken egg, and a few slices of sharp cheddar), local bacon, 1/2 of an organic apple, organic sauteed kale, and a glass of local whole milk. I shared a bit of my scramble with Helen.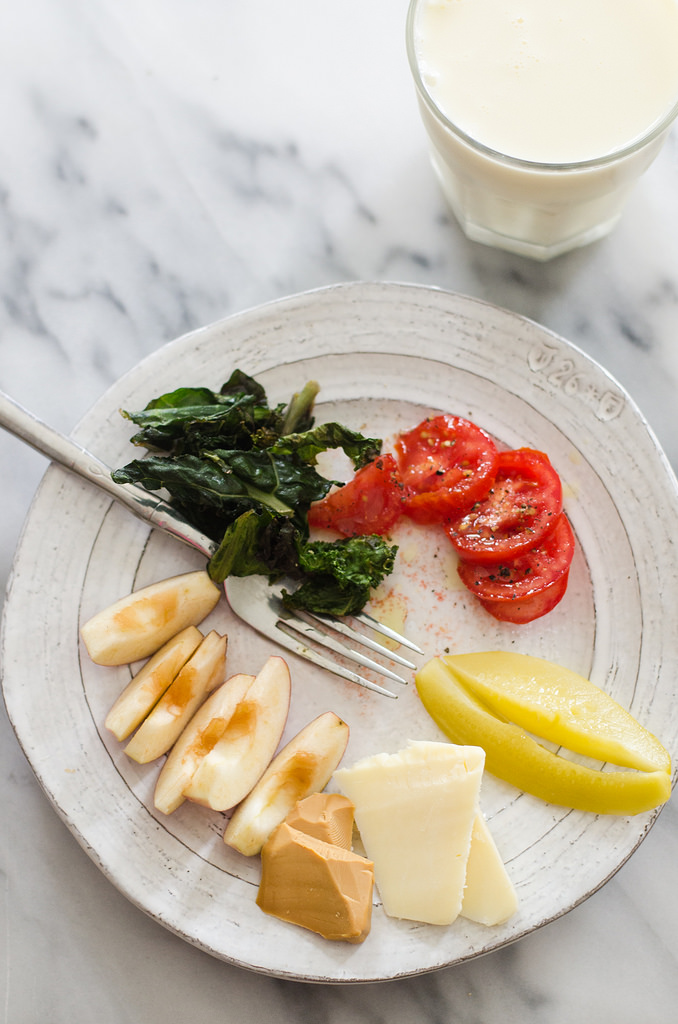 LUNCH:
Tomato with olive oil, salt and pepper, 2 lacto-fermented pickles (homemade), 1/2 a small apple (from my parents' tree), 2 slices cheddar cheese, 1 slice
gjetost cheese
, a glass of whole milk, and leftover kale from breakfast.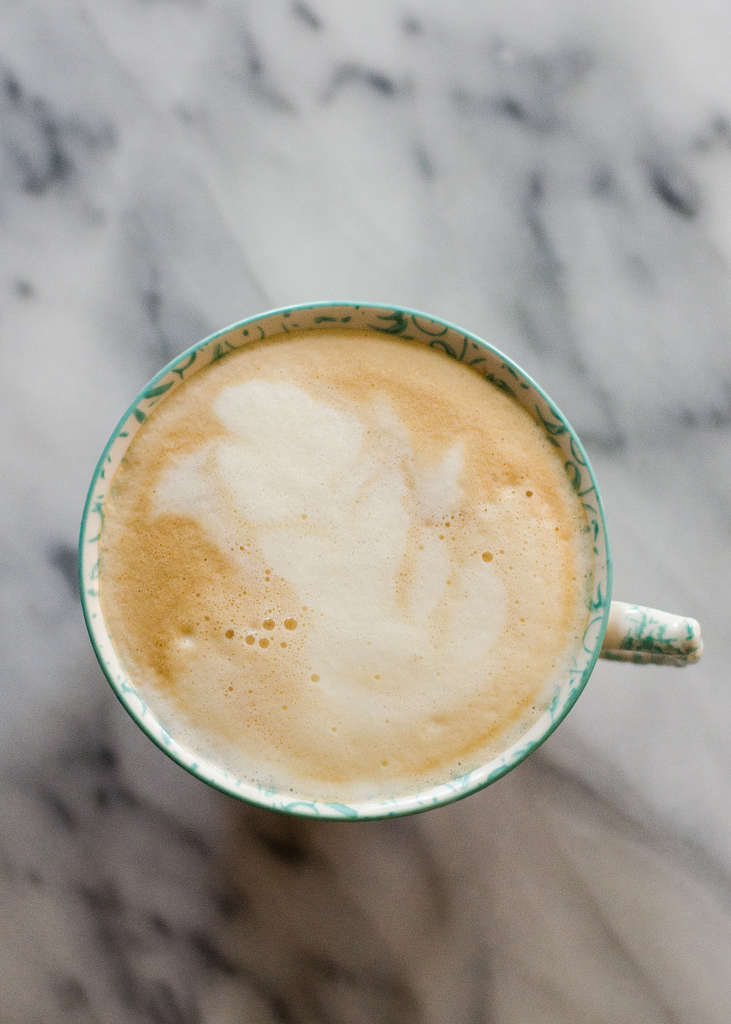 SNACK:
Latte!
I convinced my sister (who lives upstairs) to pull me a shot of espresso (I don't own an espresso machine). I made my latte (technically a breve) with organic
"No Fun Jo"
decaf, local milk and cream, organic vanilla extract, and a bit of homemade maple syrup.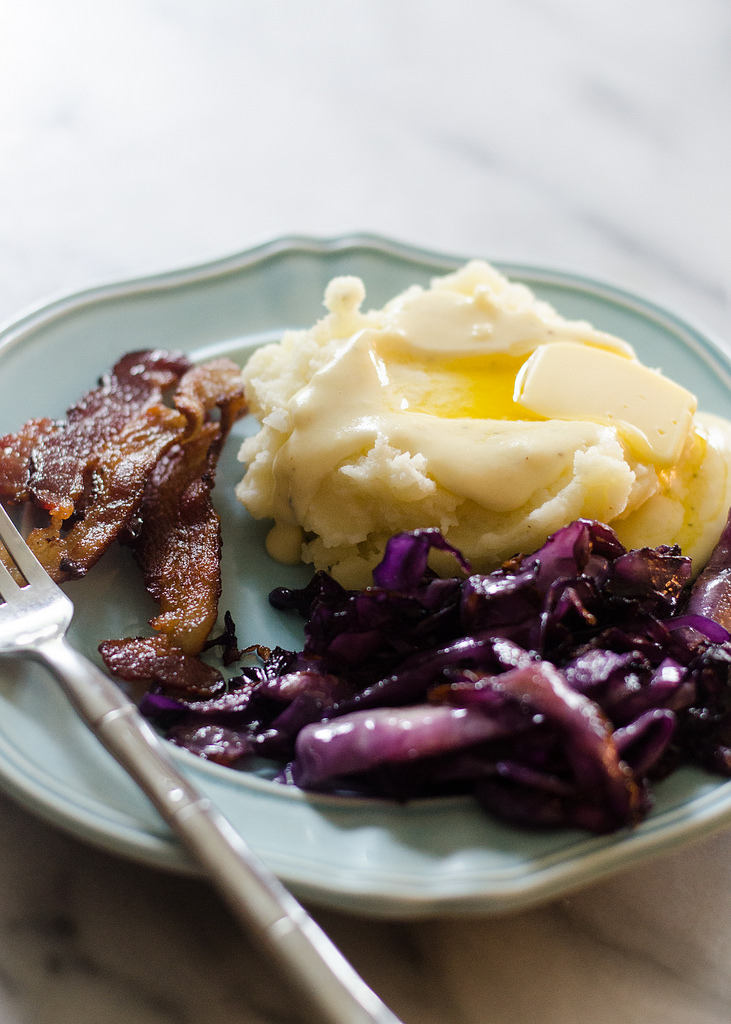 SUPPER:
Supper was a bit of a fail. I had some meatballs in the freezer that I made before James was born. Hoping they were still good, I heated them up in the oven. When I pulled them out, they had a distinct freezer burn smell. Ew. So I had bacon for my protein instead (Reuben ate the meatballs anyway).
Local bacon, organic mashed potatoes topped with butter and gravy (made with Kerrygold butter, organic flour, salt & pepper, and local milk), and organic sauteed purple cabbage with bacon.
DESSERT:
I made a batch of cookie dough to freeze for when my sisters have their babies (yes, two of my sisters are due a week apart!). Of course I had a cook up a few to test out. 😀
I had a partial cookie (Reuben had taken a bite out of it) with a glass of whole milk for dessert. Glorious.
NOT PICTURED:
I also had a tiny bite of both cookie dough and the above cookie.
So that's everything I ate in a day!