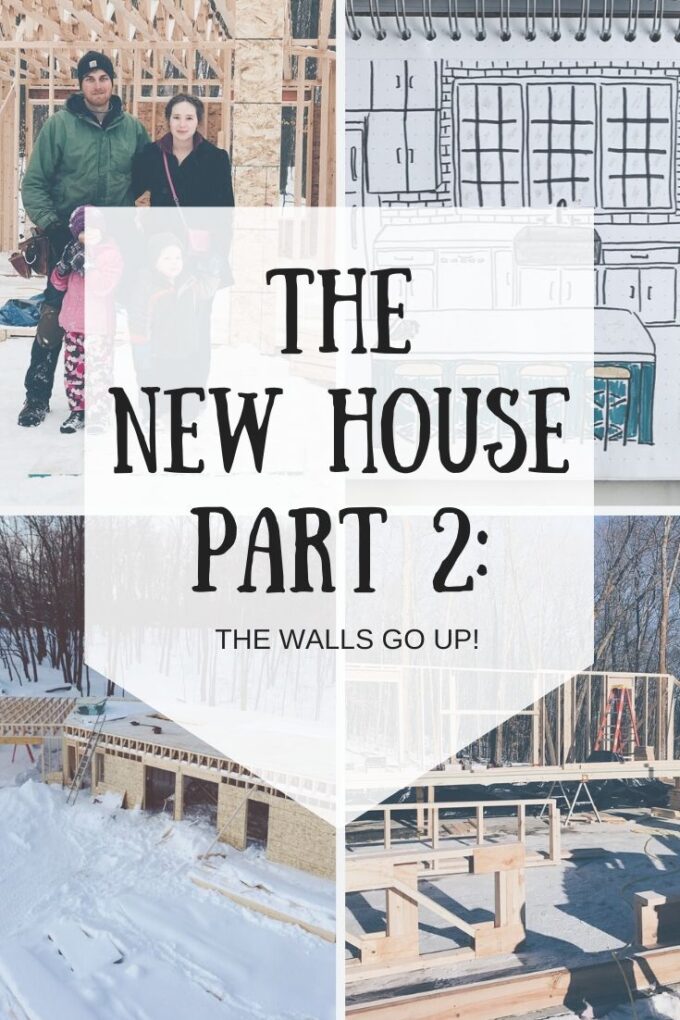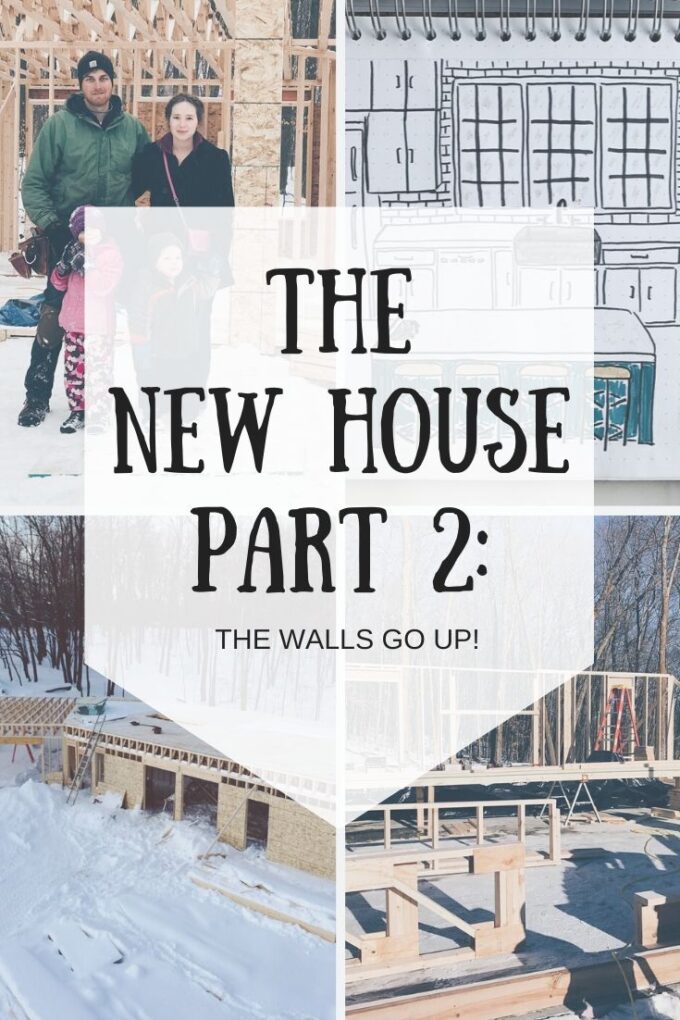 Last time we chatted about the house, we were still getting the dirt work done. You can read all about the beginning stages in Part 1 HERE.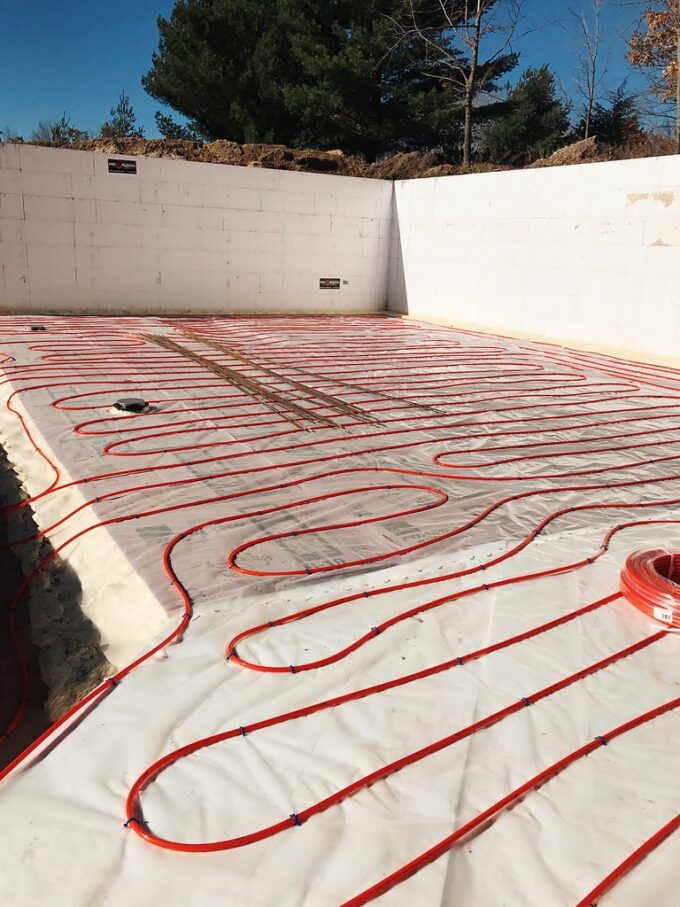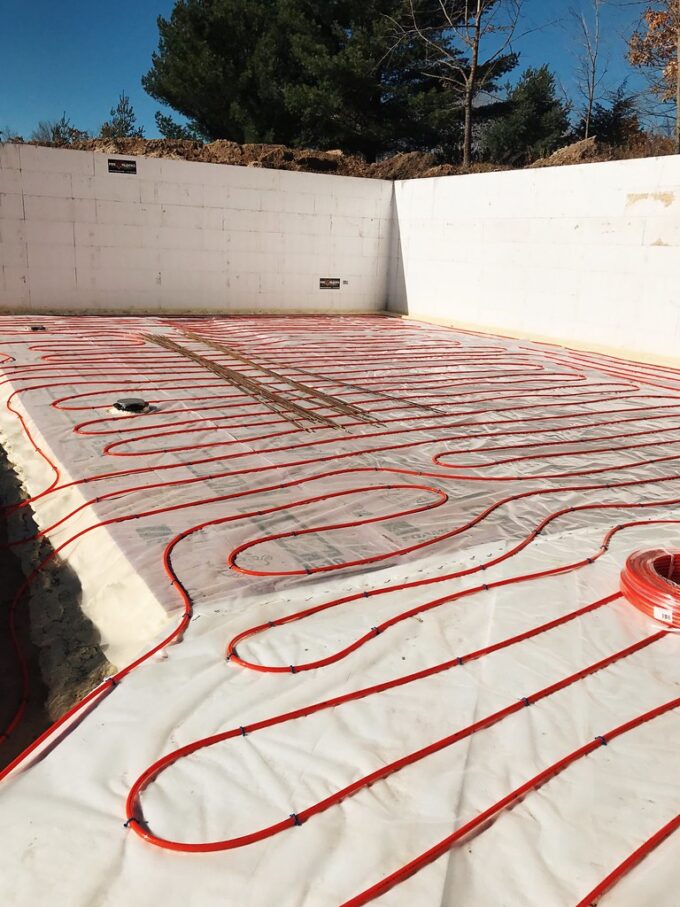 By mid-October 2018, Reuben had the framework set up for the foundation, and the ICF walls up for the garage.
One day, he asked me if I would help him lay out the PEX for our floor heat.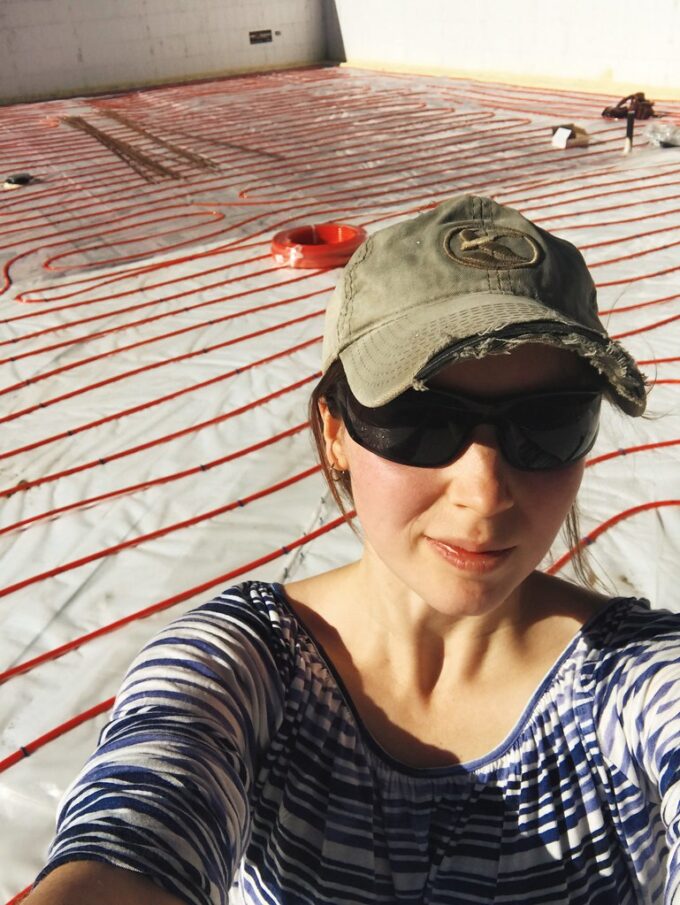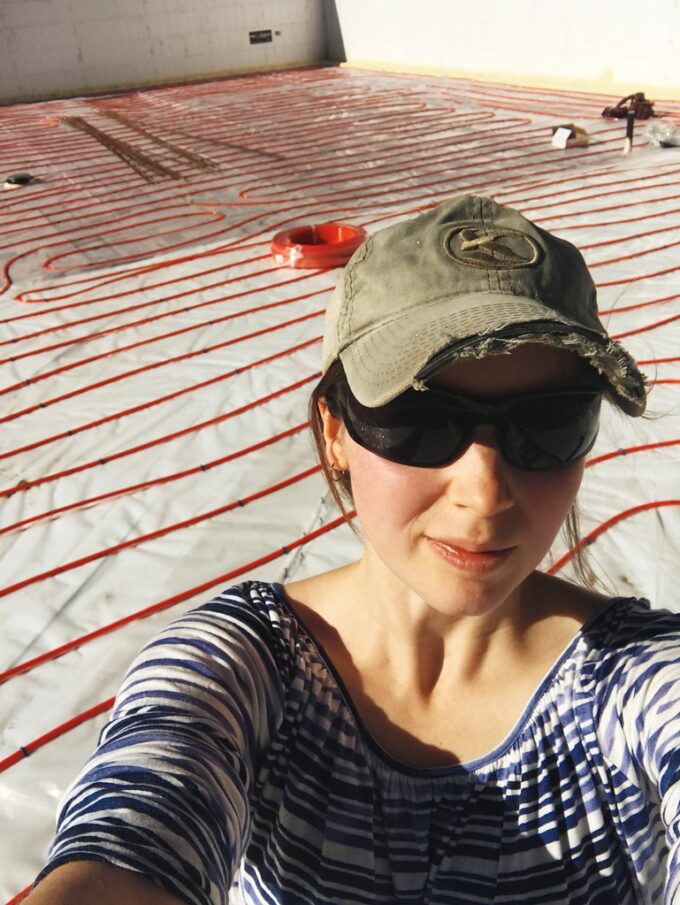 So even though I was pregnant and tired, I spent the morning/part of the afternoon stapling down PEX. Reuben rolled out the piping while I stapled.
Pouring the Concrete: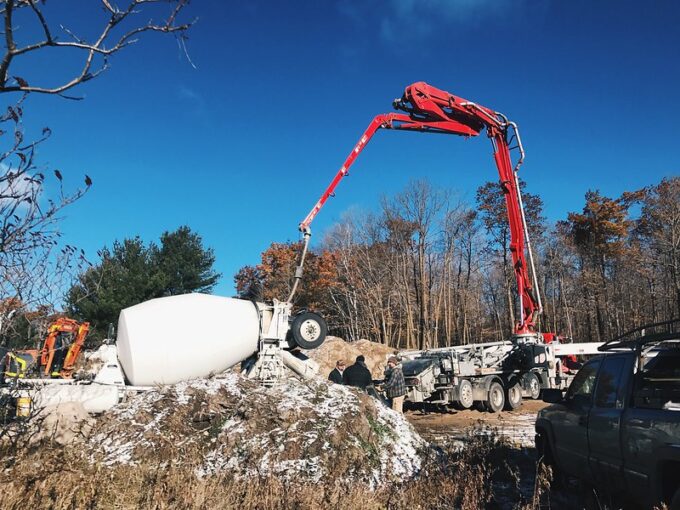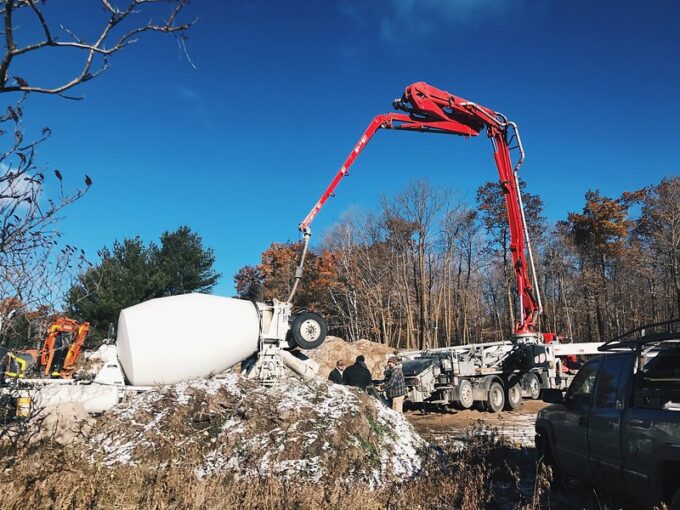 October 20th, 2018 was concrete pour day!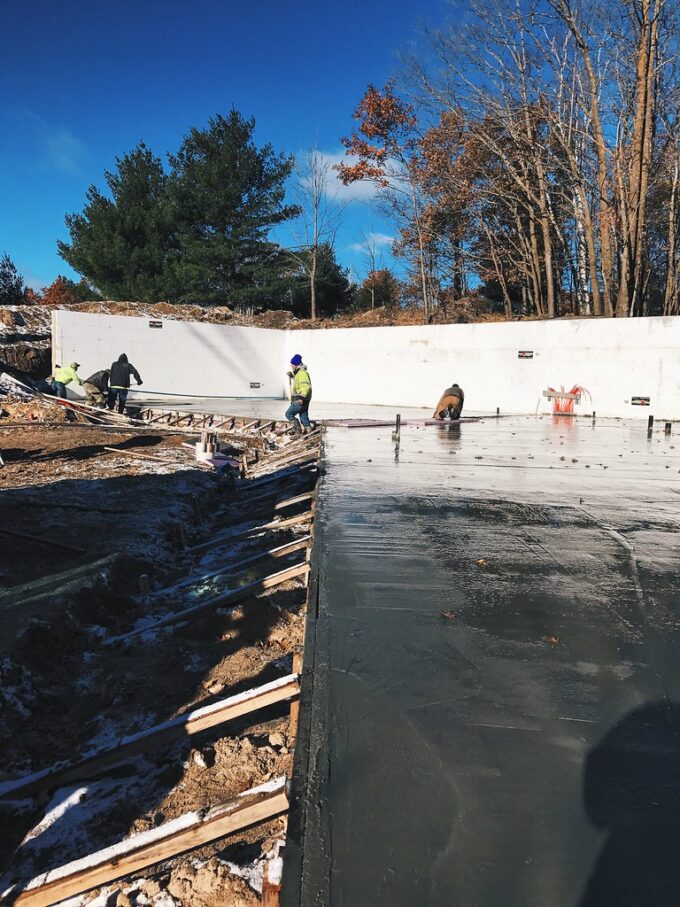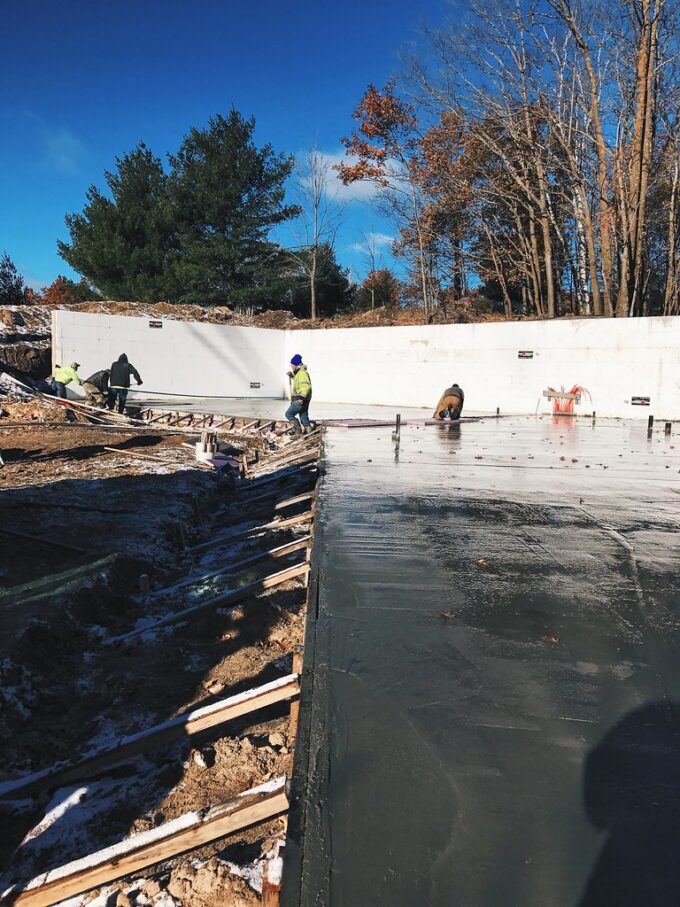 Family and friends were kind enough to help with the process. It was a little…interesting since it was a cold day which affected the concrete. They had to put foam on top of the concrete to keep it from freezing while it cured.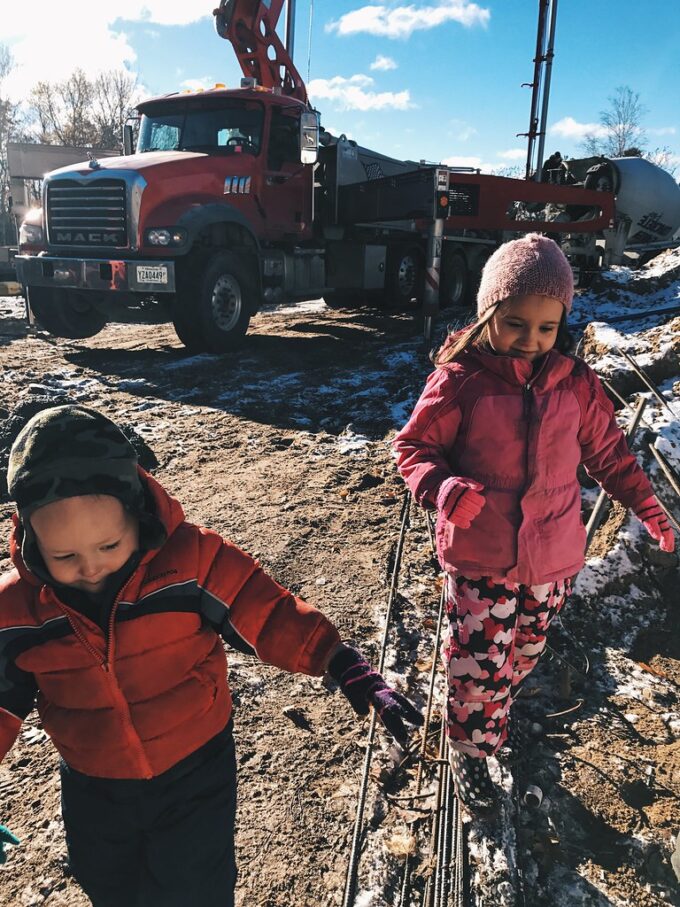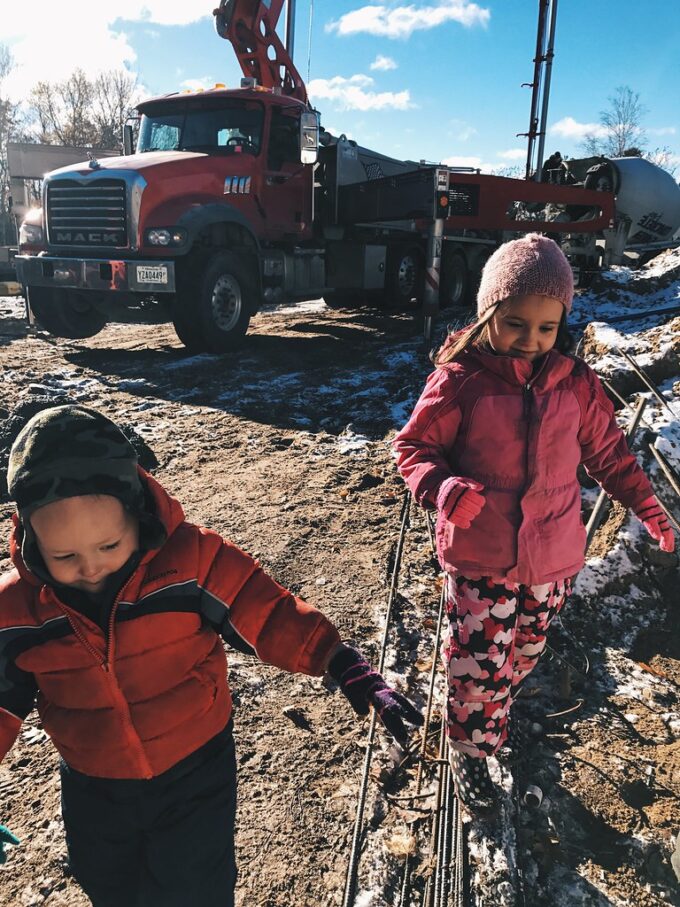 The kids enjoyed watching the work.
The Walls Go Up…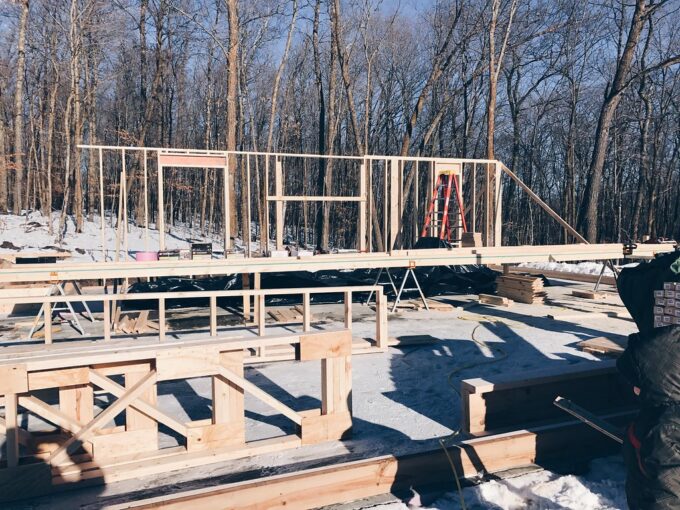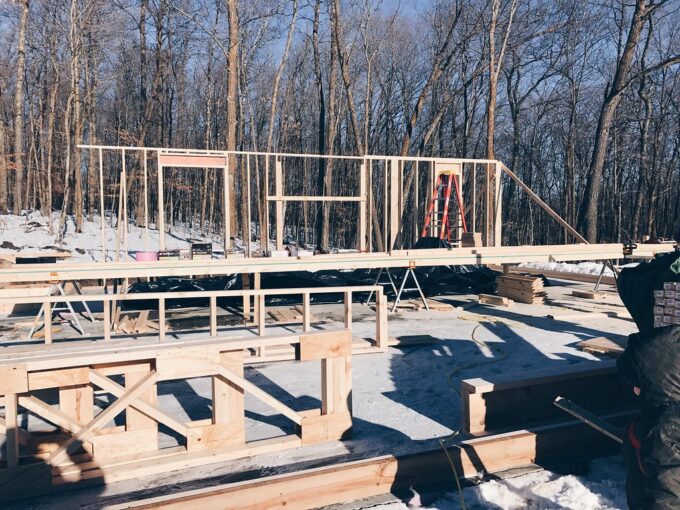 Reuben decided to build the floor trusses himself to save money. Of course the decision slowed the work down a bit since it's a lot faster to just go buy the trusses. ?
By early December the walls were going up!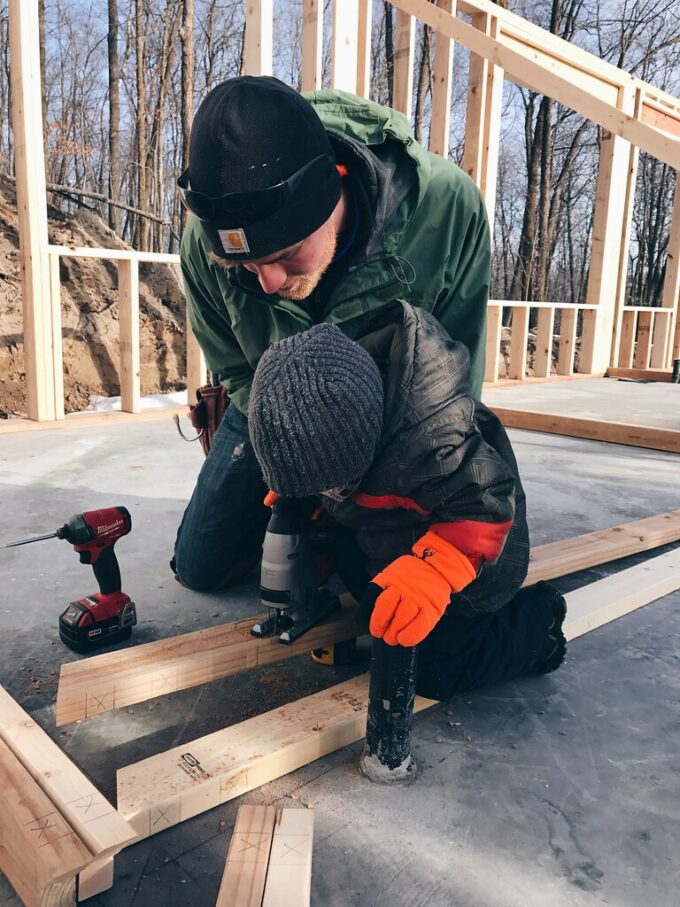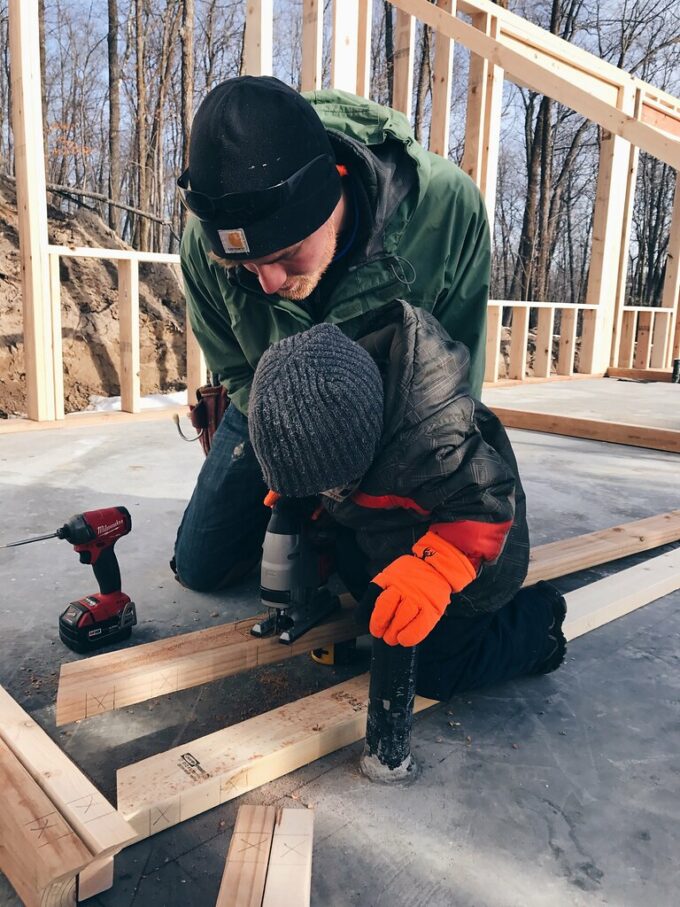 The kids and I walked over as many days as we could while the weather was still decent. Jim loved to "help" as much as he could. Helen liked to build little towers and rooms with the lumber scraps.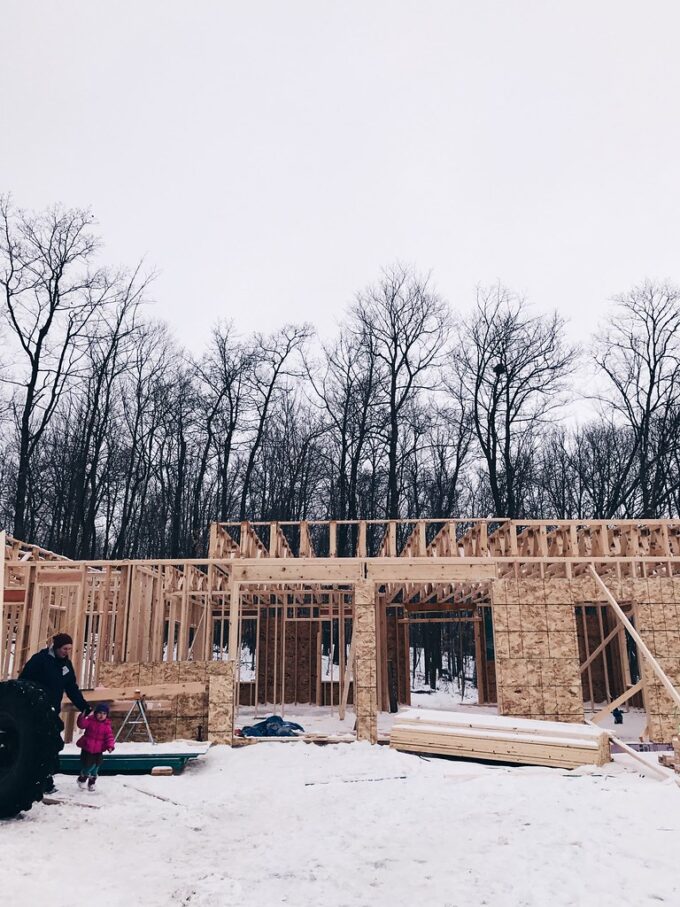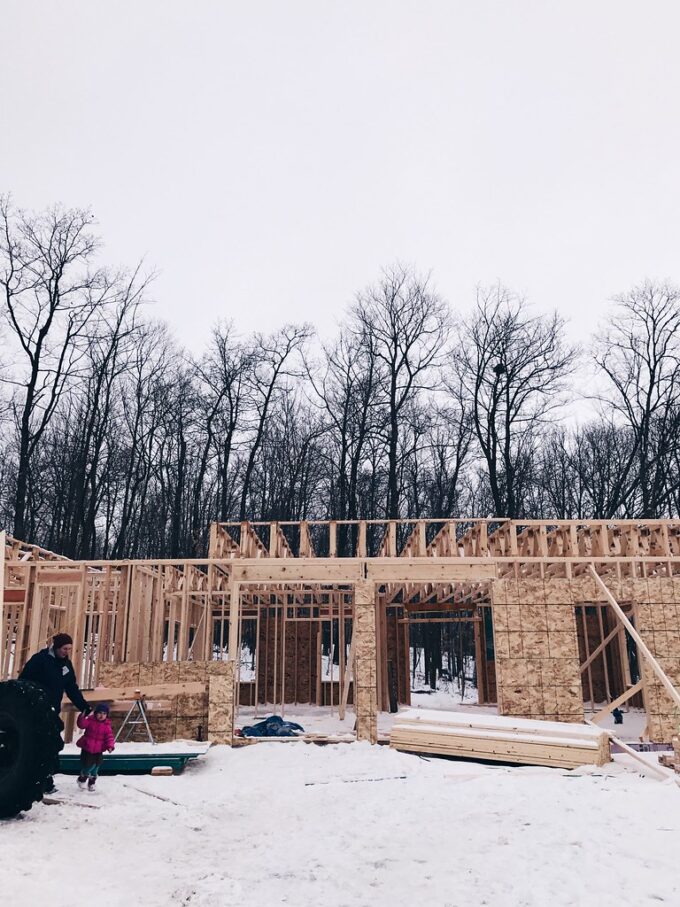 More progress! By December 22nd Reuben had some sheeting and floor trusses up.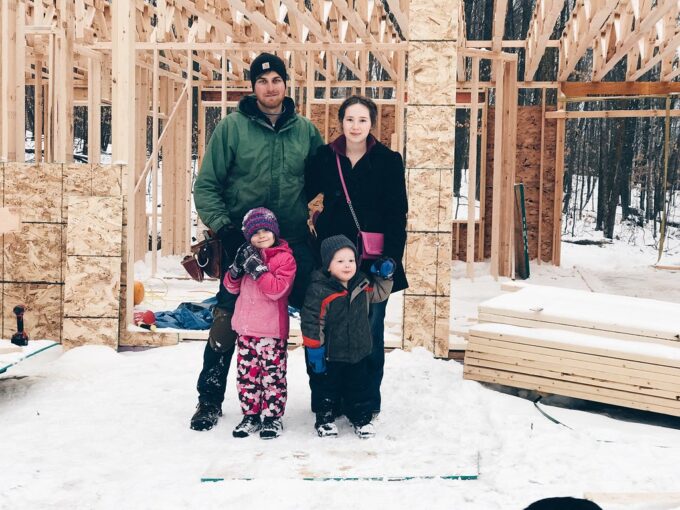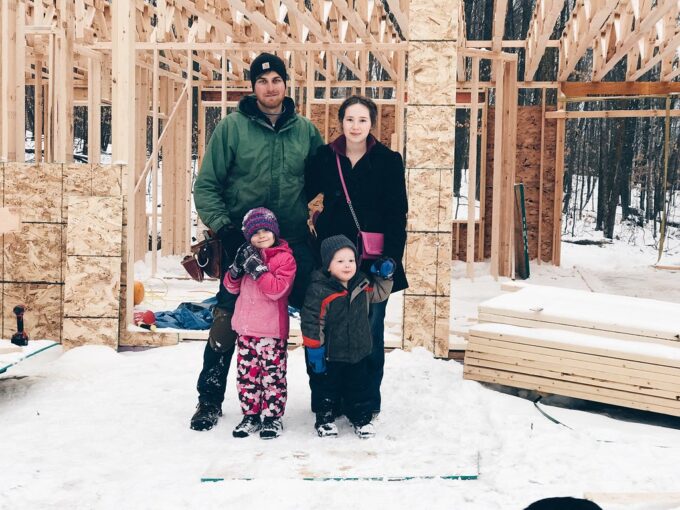 Here we are posing in front of our home-to-be. Thanks to my sister, Katelyn, for insisting that we take a family picture. 🙂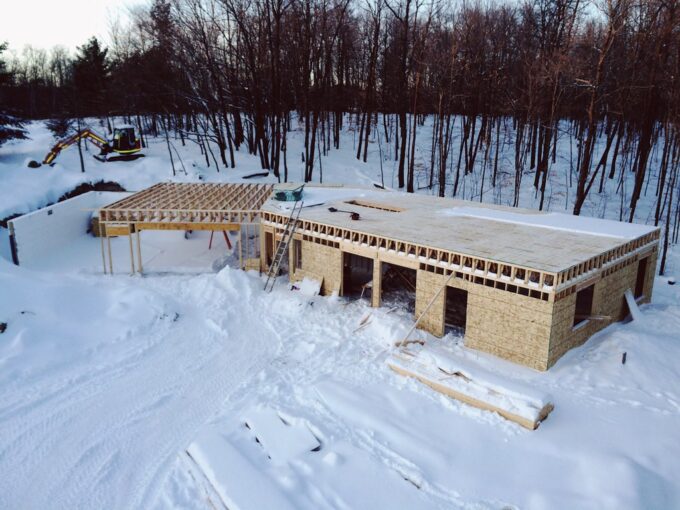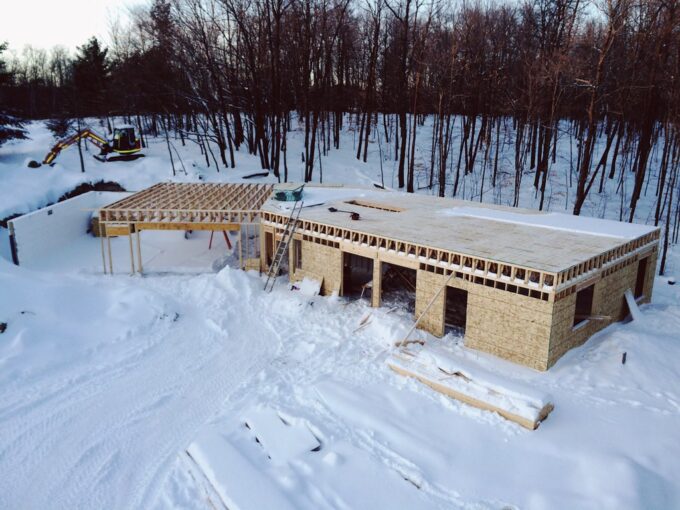 Here's a view-from-above of the progress on the house. It was so exciting to see it come together!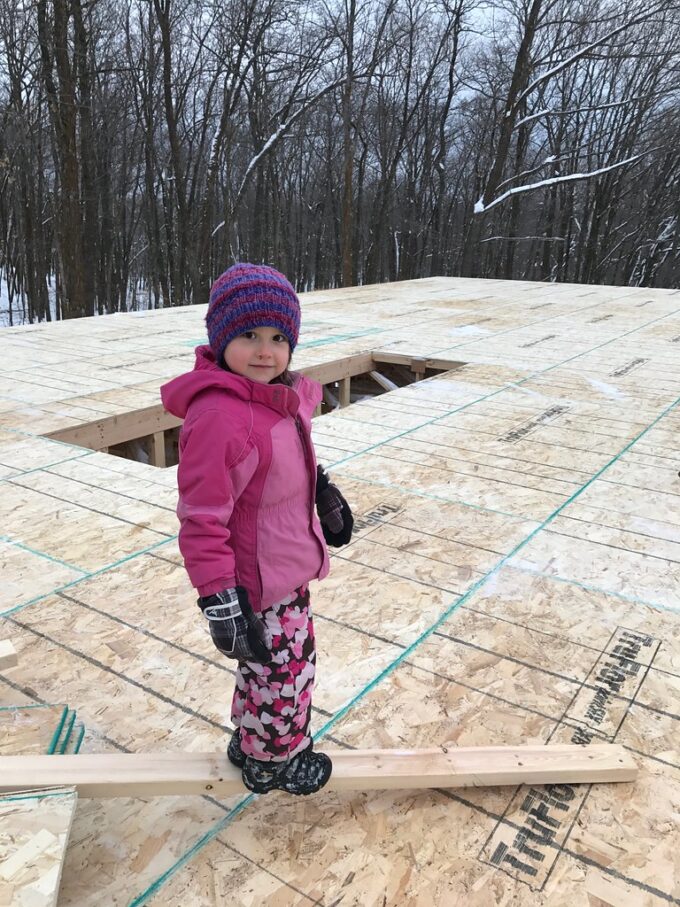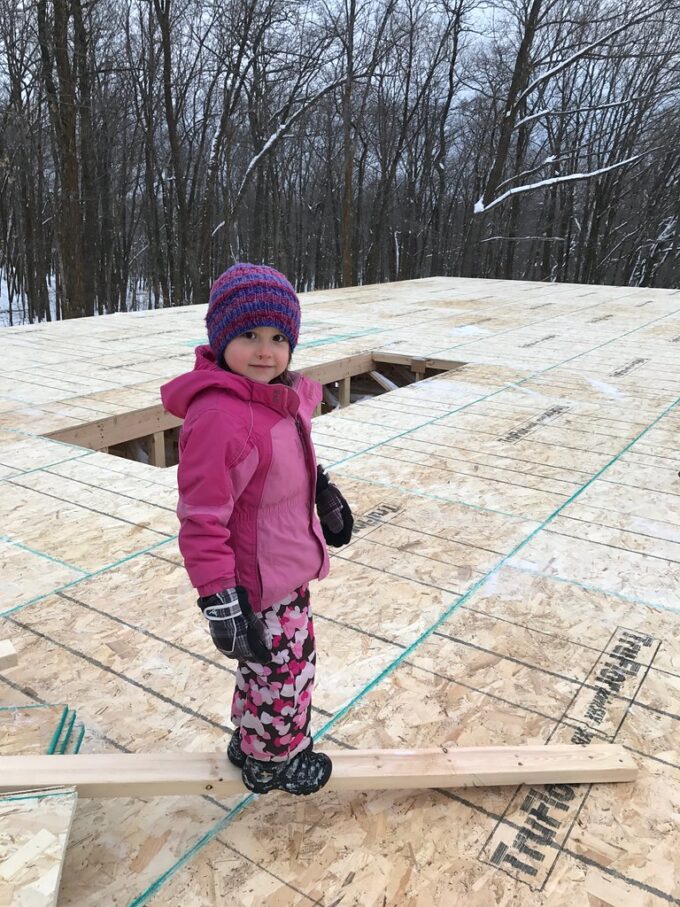 One afternoon in January, 2019 Reuben asked me to come over to the land to help Make Decisions. I hauled my pregnant self up a ladder to walk around in the future upstairs, and Reuben carried the kids up. I just about had a heart attack worrying about the kids falling down the hole where the stairs would go. ??
This is the house that I took inspiration from (photo from Young House Love). I loved the wood beams on the porch!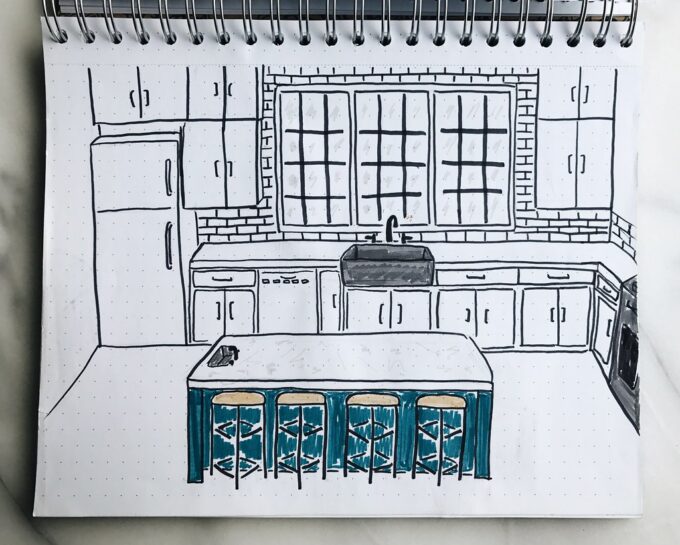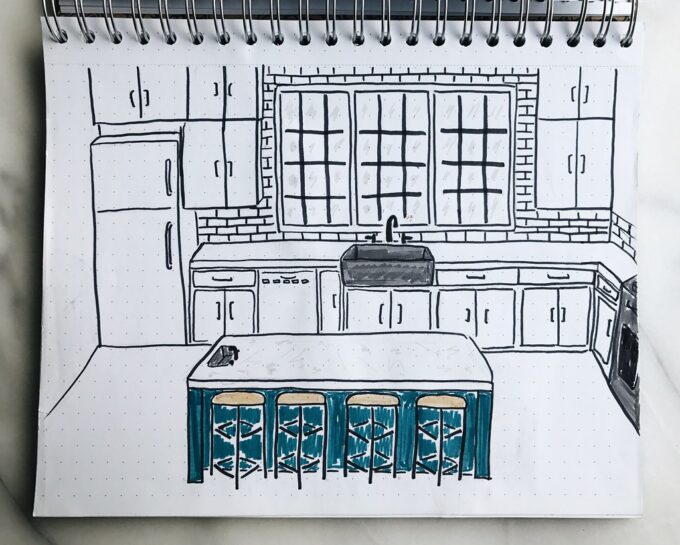 Here is a quick sketch I did of what I thought my kitchen *might* look like. I was totally sold on subway tile for the backsplash, but I still had to decide on:
Countertop materials (I knew I didn't want laminate or granite).
Cabinet colors (I wanted white uppers at the time).
Sink material (I knew I wanted an apron front sink, but wasn't sure if I wanted a white or stainless one).
Window treatment (I knew I wanted grids in the windows, but I didn't know if I should do black as an accent, or keep it white and bright).
Grout color (I wasn't sure if I should go for a clean, white grout on the subway tile, or a contrasting dark grey/black).
Here are some kitchen photos I used as inspiration:
Example of dark lowers with white uppers. Photo by Lindsay Salazar
Example of a stainless steel farmhouse/apron front sink. Photo by Traditional Home
Example of dark window grids. Photo via McGee and Co.
At this point we were still optimistic that we would be able to move into the new place in spring of 2019. Haha.
To be continued…