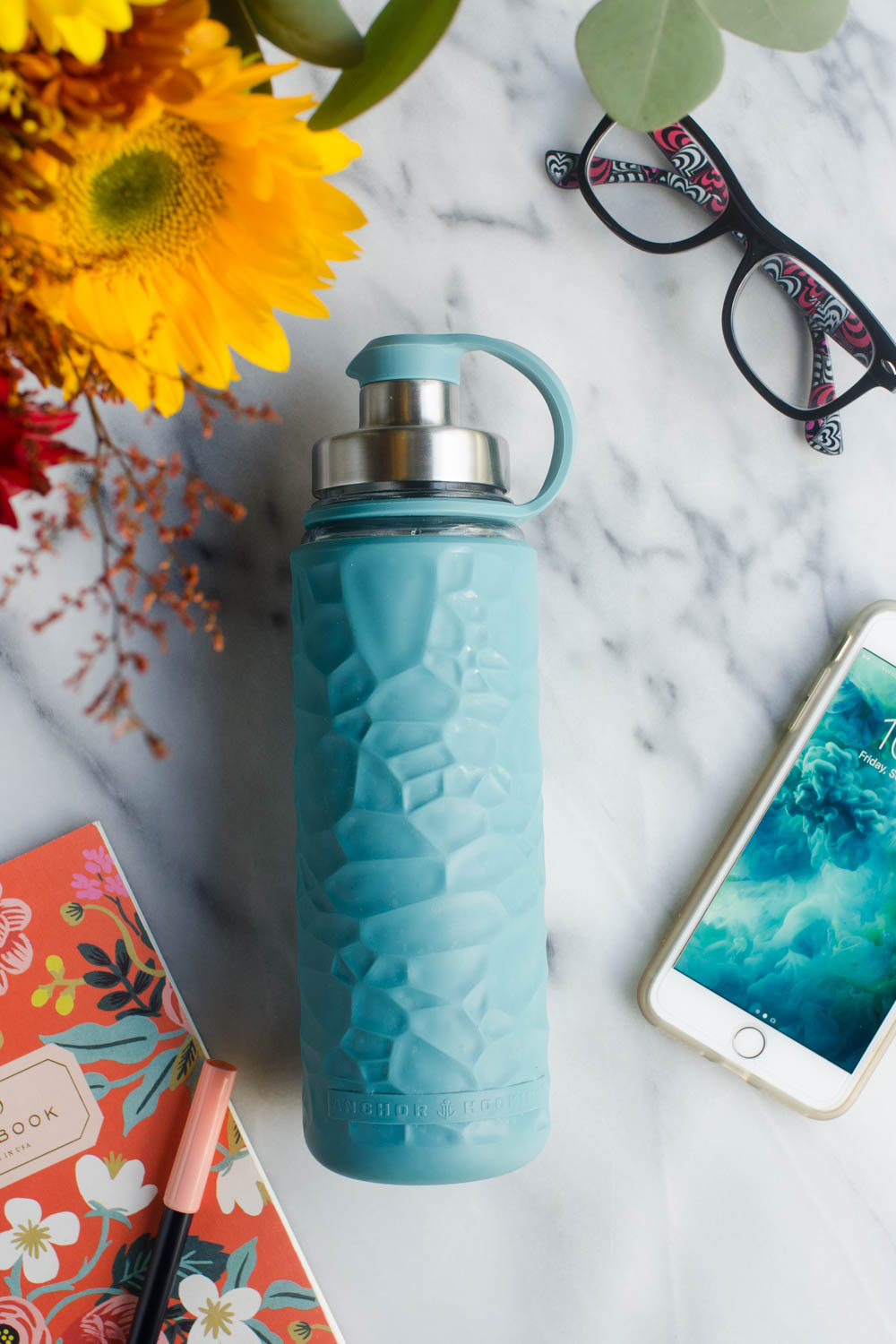 Before I had kids, my days were pretty sporadic. Fewer responsibilities meant I didn't need a game plan: I could do things when I felt like it.
These days, that just wouldn't fly. I need a routine that I stick by, otherwise nothing (or at least very little) will get done.
Here's what my daily routine looks like at the moment: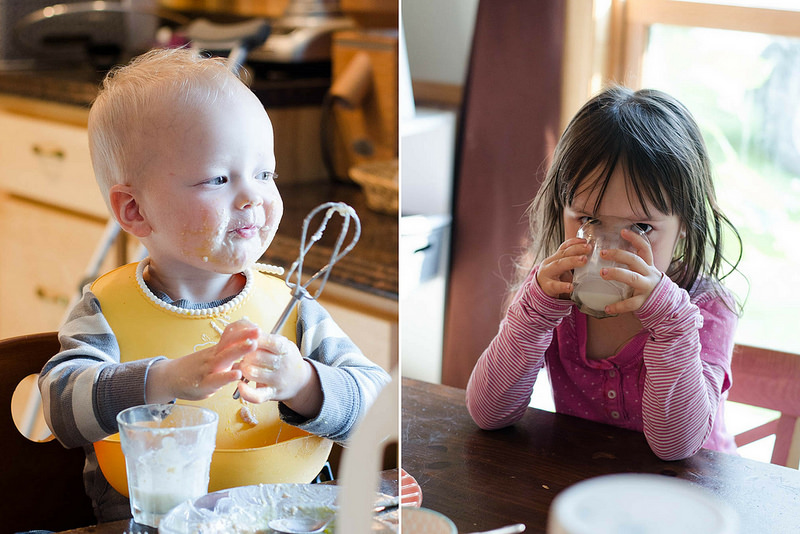 7:00-8:00 AM: My day starts with the sound of Jim waking up. I drag myself out of bed and head into the kids' bedroom. I like to greet my kids with a cheery "Good morning!" no matter how grumpy I feel about having to wake up. I pick Jim out of the crib and give the kids hugs and kisses.
The kiddos are usually hungry as soon as they wake up, so I grab a scoop of coconut oil and start swishing it while I get breakfast going.
7:30: We're finished with breakfast, so it's time to start our routine. First Helen and I get the kitchen cleaned up after breakfast. Jim will participate sometimes as well by putting the non-breakable dishes in his special drawer.
Next we get dressed, make the bed, do our hair, and brush our teeth.
I try to sneak in some time to do something I enjoy or check social media. Ha.
8:45: It's getting close to Jim's nap time, so I start our naptime tradition: Jim gets a bottle of milk while we read 2 picture books. Then I change his diaper and put him in his crib for his first nap.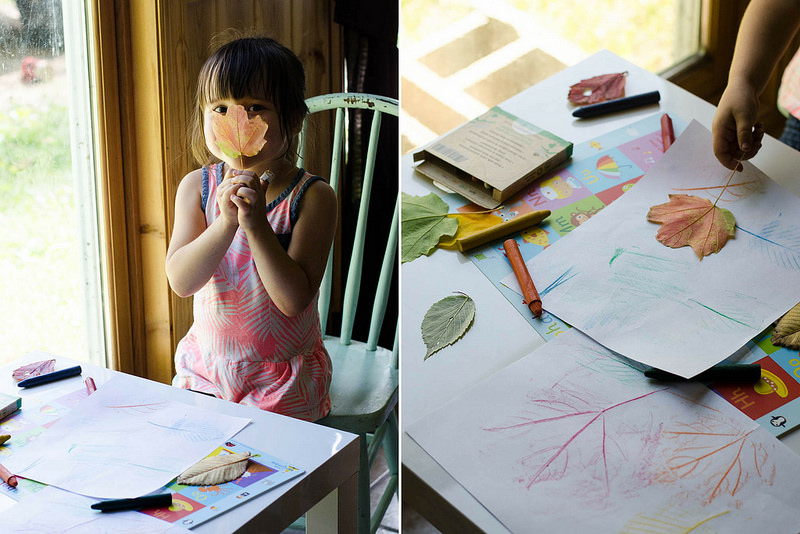 9:00: While Jim is napping, I do preschool with Helen. She has been LOVING it. If we have to skip it for some reason, she is so disappointed.
I'm *hoping* to be able to convince her that she's capable of reading by the end of the year. She is her own biggest critic.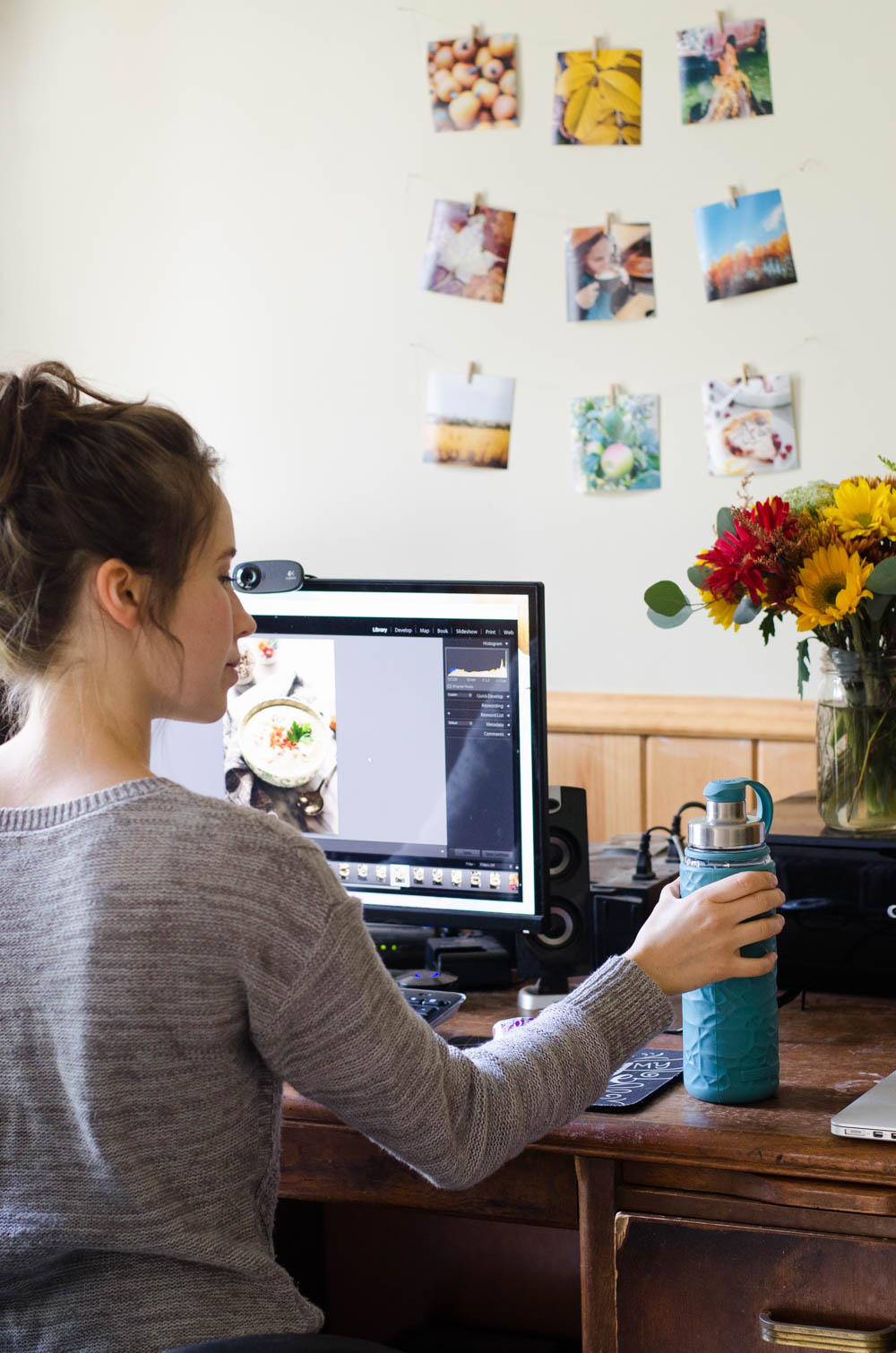 If James is still sleeping after we finish school, I try to squeeze in some computer work while Helen colors, plays outside, builds towers from duplos, watches a video, etc.
Throughout the day I try to keep hydrated. One thing that has been helping me with that is keeping a water bottle at my desk. It's a constant reminder to take a sip.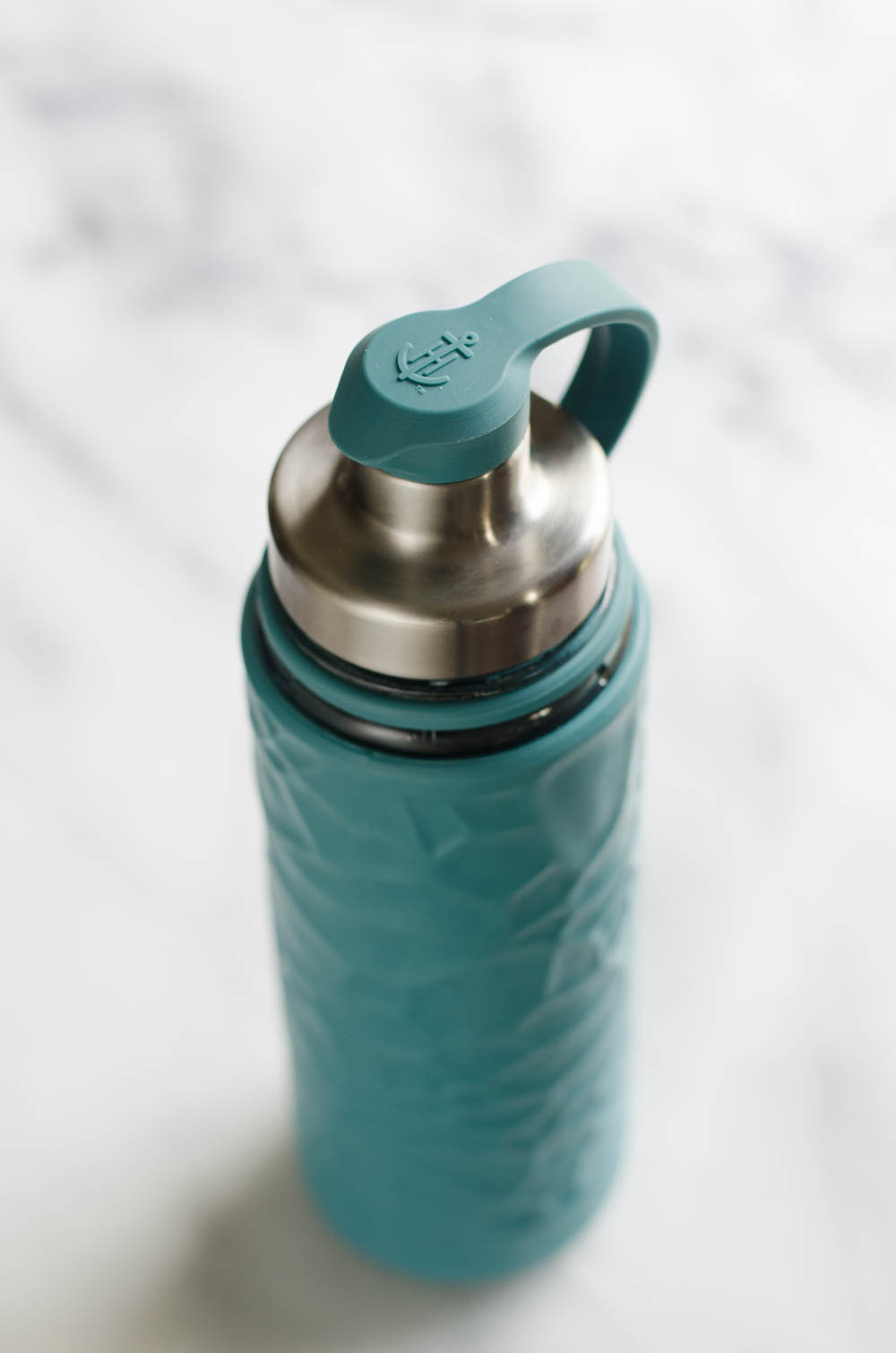 I've really been enjoying the Anchor Hocking Glass Water Bottle lately. I love that it's completely plastic free, which is so hard to find in a water bottle! The screw-off mouth piece is made from stainless steel – so cool! The glass is made in the USA – woohoo! So stoked about that.
Also, the glass is specially tempered to make it extra strong, and it's housed in a protective silicone sleeve. In fact, the bottle was tested by dropping it ON CONCRETE. You can see what happened in this video.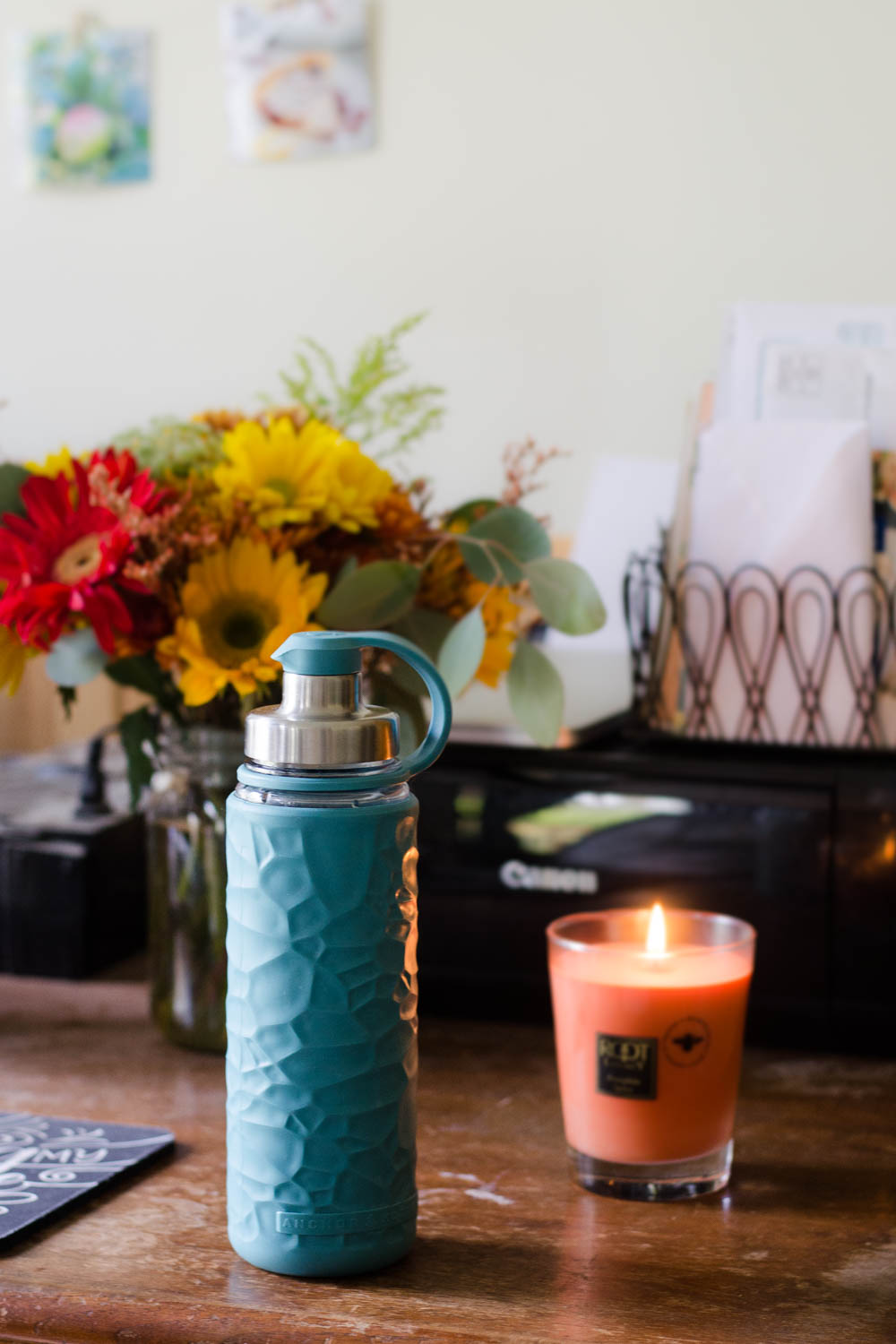 I love the design of this bottle. It's so pretty sitting on my desk. And this color fits so well with every season!
11:30 or so: James wakes up from his first nap, and the kids start to wonder when lunch will be ready. I make us a quick meal and clean up afterwards.
During this time, after Jim's first nap + lunch, I try to get some household chores done, take the kids out to play, sneak in some down time, etc.
1:15: It's almost time for Jim's second nap, so I start the naptime routine again: a bottle for Jim while we read stories.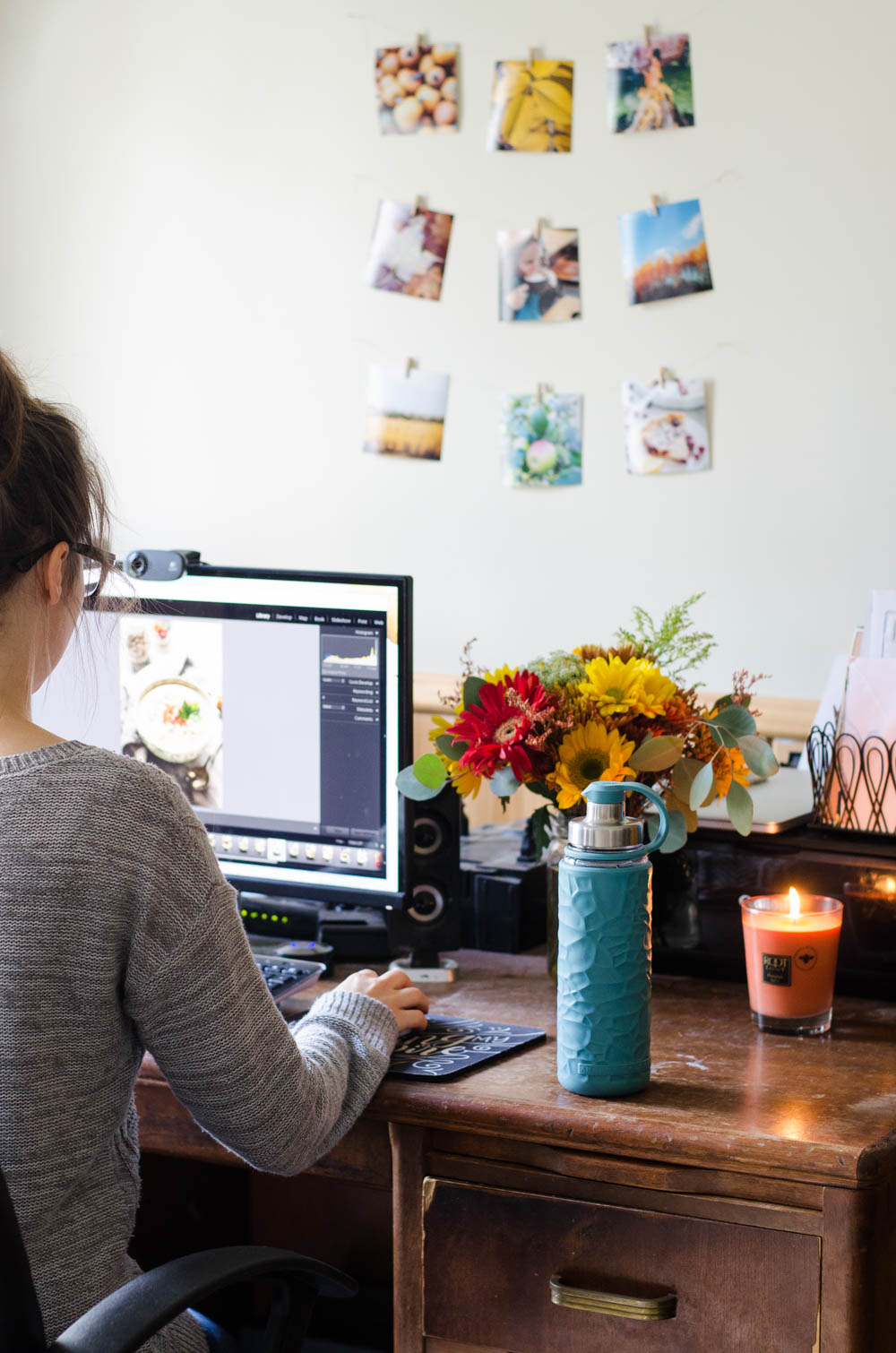 1:30: Jim is down for his nap, and Helen has quiet time. Even though she usually doesn't sleep, it seems to reset her emotions. If she skips this, she gets very cranky in the evening.
I use this time to do any computer work that I couldn't finish in the morning. Or, if I have a photo shoot scheduled, I'll try to get it done while the kids are "napping." Sometimes I'll do this in the morning if I need good light in the kitchen. We live in a walk-out basement, so the good light is limited.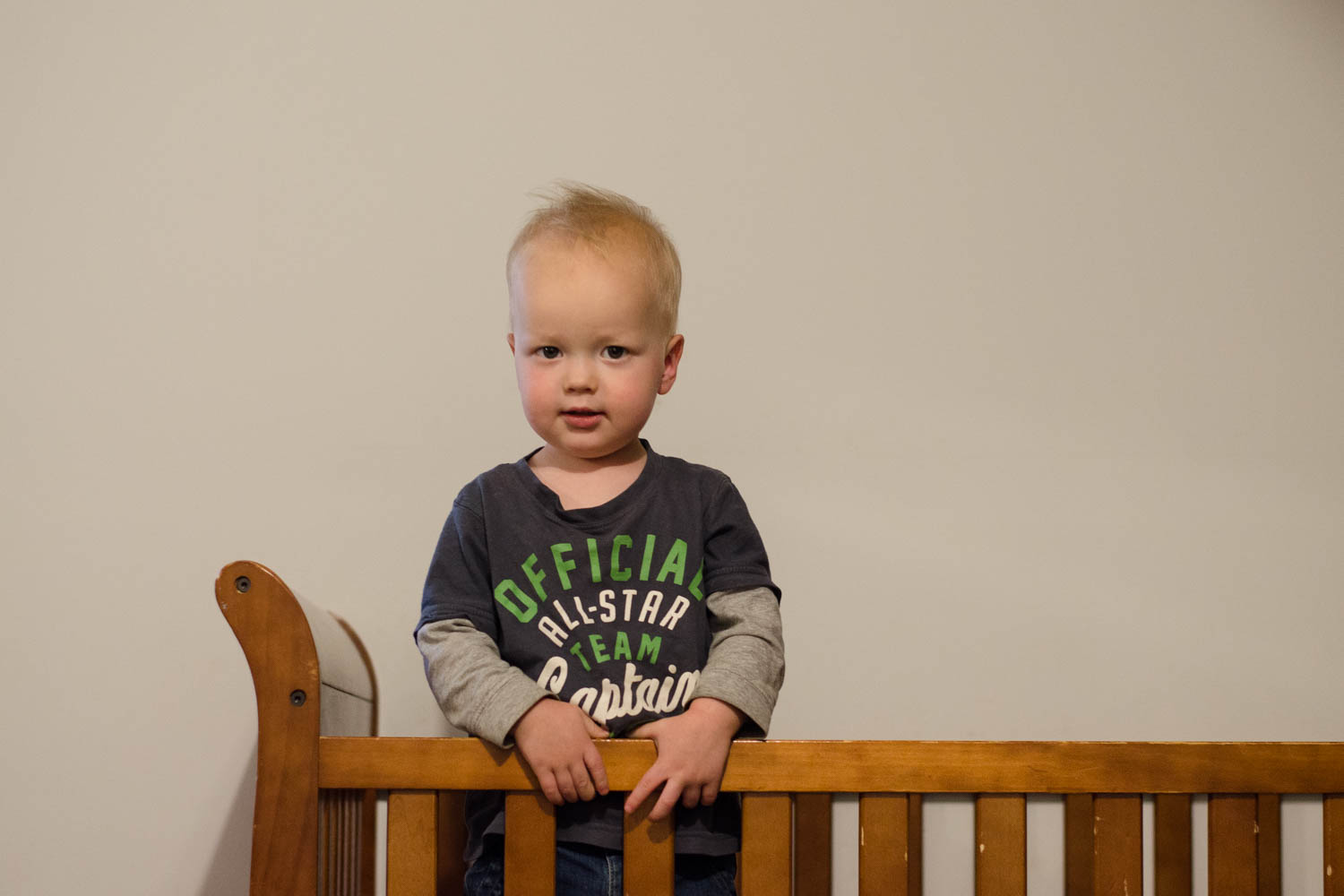 2:30-3:00: James wakes up from his nap. He usually needs a bit of cuddle time before he can play independently. Once he's happily awake I can work on some more household chores, or sometimes we'll go out to play if it's a nice day.
3:30-4:00: It's time to start thinking about getting supper started. Some days I'll have a quick supper planned, but other days it requires more time. The kids like to play outside while I cook. I can easily keep an eye on them since we have 2 big picture windows.
5:00: It's supper time! Reuben is usually home from work by now, and the kids are STARVING (or that's what they try to make me believe).
5:30: After supper, we clear away the dishes and get the kitchen clean. Some evenings we're gone after supper and I don't get a chance to do the dishes, but I try to get the kitchen in decent order whenever possible.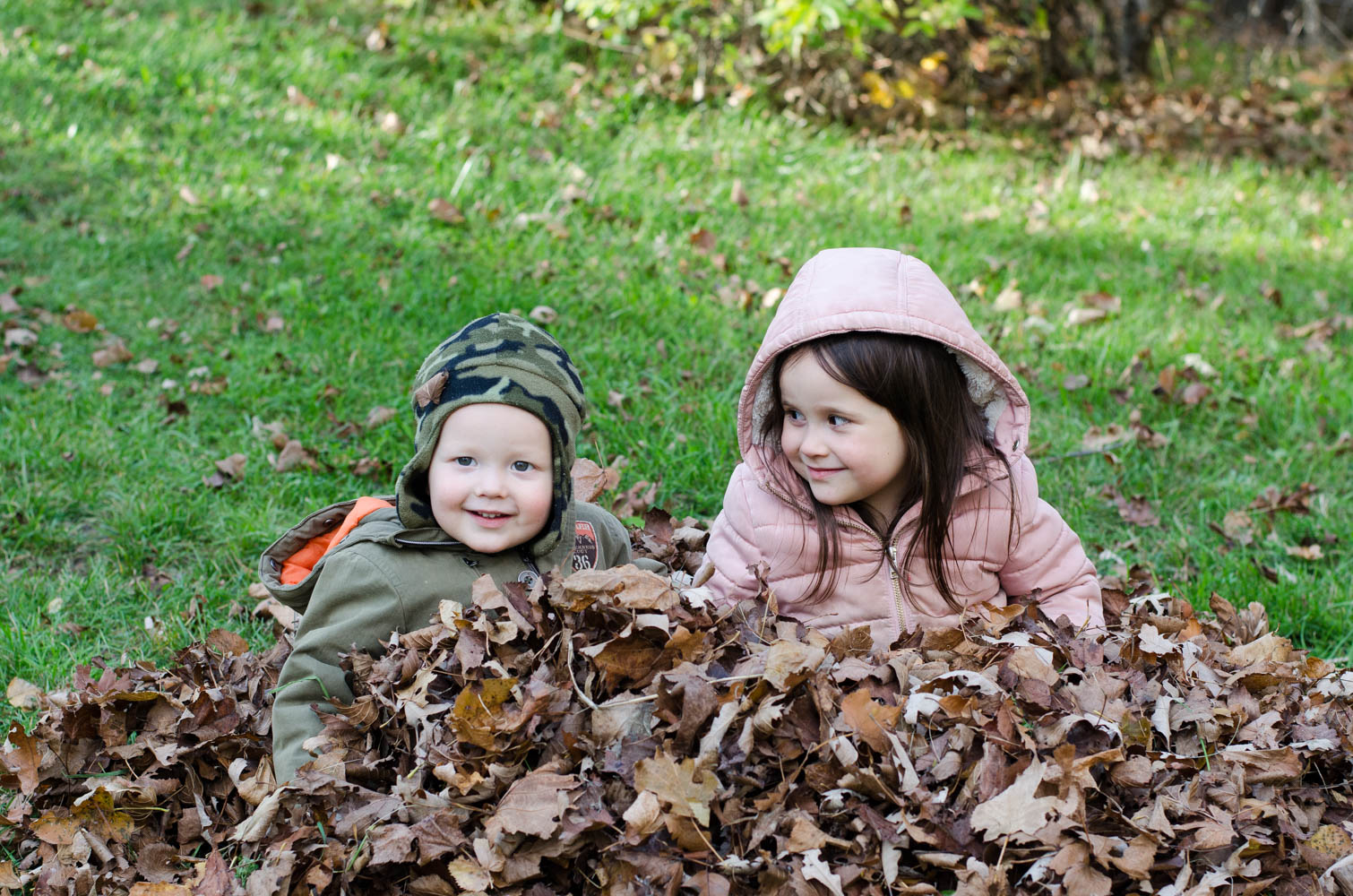 6:00: Dishes are done, and it's playtime! At this point we're basically trying to wear the kids out so they'll sleep. But we're so worn out from the day ourselves that sometimes all we can do is collapse while the kids play.
6:30: Time to start the bedtime routine! I have Helen use the bathroom and Reuben changes Jim's diaper, we brush the kids' teeth, and then we have to check the kids over for wood ticks. Deer ticks and therefore Lyme disease are a major problem in Minnesota, but if you can catch the ticks before they've been attached for 24 hours it can make a big difference in how likely you are to get a tick-borne illness. So every day that the kids play outside and the temperature is above freezing, we check them over.
Next we read 2 stories, say prayers, and sing a song. Then it's hugs and kisses and lights out!
7:00: The kids are finally in bed, and it's time for us to relax. I try to not work evenings or weekends if I can help it, but if I have a project that really needs to get done I'll work on it after hours.
10:30-11:00 (okay..sometimes it's 12:00): Before bed, Reuben reads a few chapters from the Bible out loud to me. Then it's lights out for us as well.
And the whole routine begins again the next day!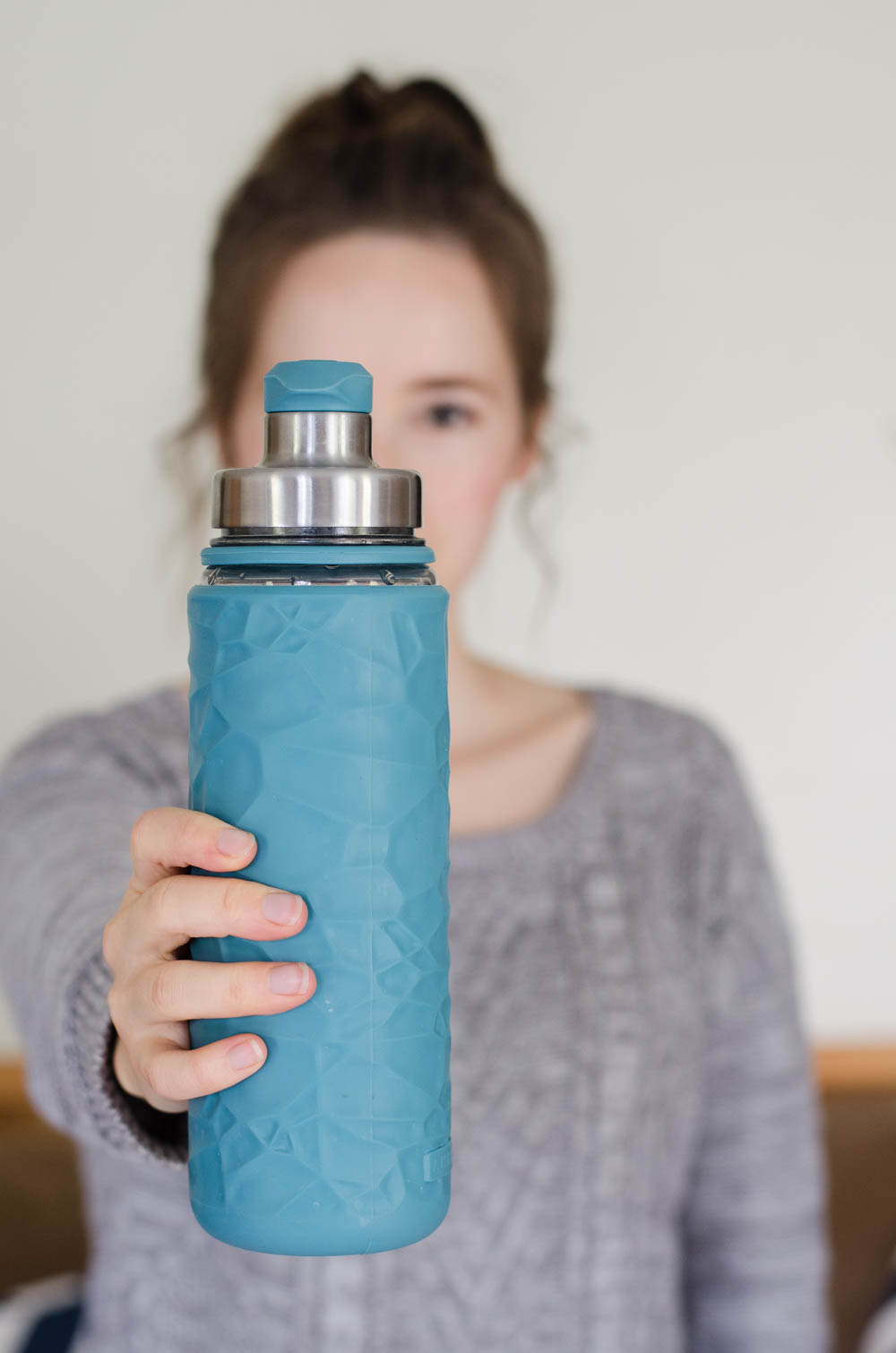 So that's a peek into what my daily life looks like. Of course there are days where we have to deviate from our routine (often sometimes I'm not dressed by lunch time), and weekends are obviously different. Some days it all starts at 6:30 AM, some days not until 9:00. But in general that's how our days are spent.
Psssst…if you're interested in getting an Anchor Hocking Glass Water Bottle for yourself (or a loved one), they're on sale right now! Not sure how long the sale will last…this is the color that I have.
Also, I'm curious: How much water do you try to drink in a day? Leave me a comment and let me know! I aim for six 8-ounce cups based on my body weight (to calculate, cut your body weight in pounds in half and divide by 8).
Many thanks to Anchor Hocking for sponsoring this post! I love my bottle.
🙂