A couple of months ago, the folks at
Pleasant Hill Grain
contacted me and asked me if I would be interested in reviewing the
Mockmill Grain Mill
for KitchenAid
(designed by Wolfgang Mock). Now that I've had a chance to give it some good use, I'd like to let you all know what I think of it!
I must admit that I was a bit skeptical of a KitchenAid attachment grain mill. I mean, could it really grind flour? But I saw that it was designed and manufactured in Germany, and that it uses ceramic grinding stones. So I decided to hold off judgement until I could test it out myself.
To my surprise, I was quite pleased with the performance of the Mockmill. I have made biscuits, cake, pancakes, and more baked goods with the flour I ground from it. I tested out both soft white and hard red wheat berries, and even my homemade sprouted (and dehydrated) wheat. You can grind other non-oily, dry grains, but I haven't given them a go yet. I'd love to grind
corn
for cornbread!
Let me give you a rundown on some of the pros and cons of this grain mill:
Pros:
* The Mockmill is quite small compared to other grain mills. When it's attached to the KitchenAid, it takes up very little extra space in your kitchen.
* It's super easy to attach, and works with all KitchenAid stand mixers.
* It's very convenient to grind just the amount of flour you need for a recipe.
* The mill has a low grinding temperature, so it doesn't damage the nutrients of the grains.
Cons:
* You must remove the grain mill when you want to use your KitchenAid for other purposes.

* The mill shakes a bit when running, but this is minimized by tightening down the attachment screw properly.

* The mill doesn't grind the flour super-super fine, but it was great for my purposes. If you bake a lot of delicate, fine pastries, this might bother you, but I didn't find that it was a problem for me.
Let me show you how it works: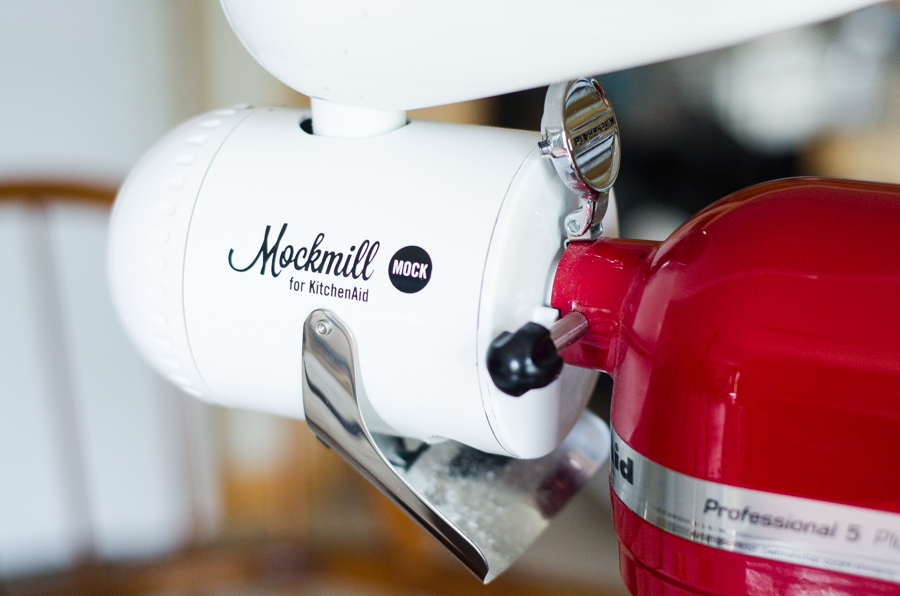 The mill attaches to KitchenAid quickly and easily.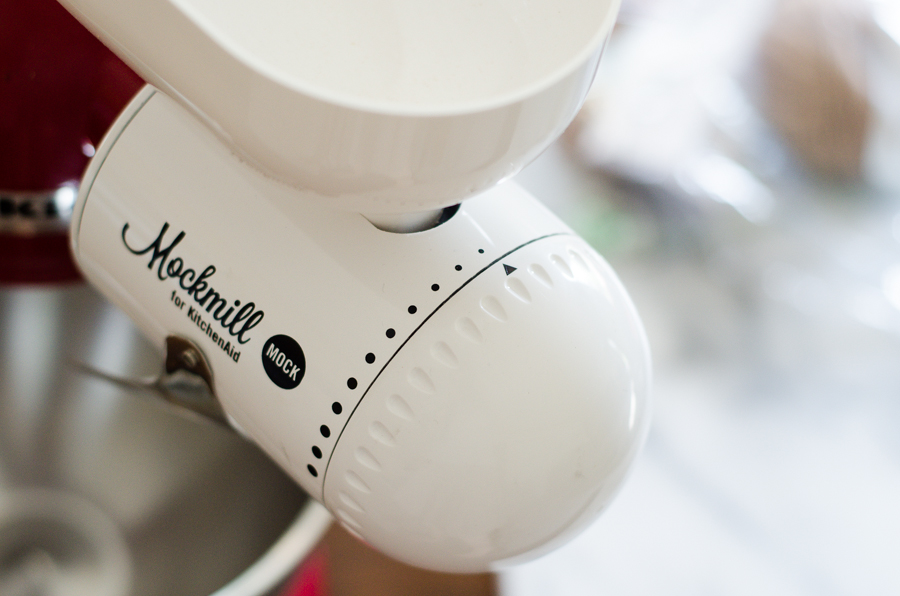 You adjust the coarseness of the grind by twisting the front of the mill.
Note: the grain mill itself is pretty quiet, but my KitchenAid is fairly noisy. If you have a quiet stand mixer, I think this would have a low noise level.
Also, a
s far as I can tell, it is only sold in white, so you can't match it to your KitchenAid if it isn't white. This doesn't bother me, but I thought I'd note it.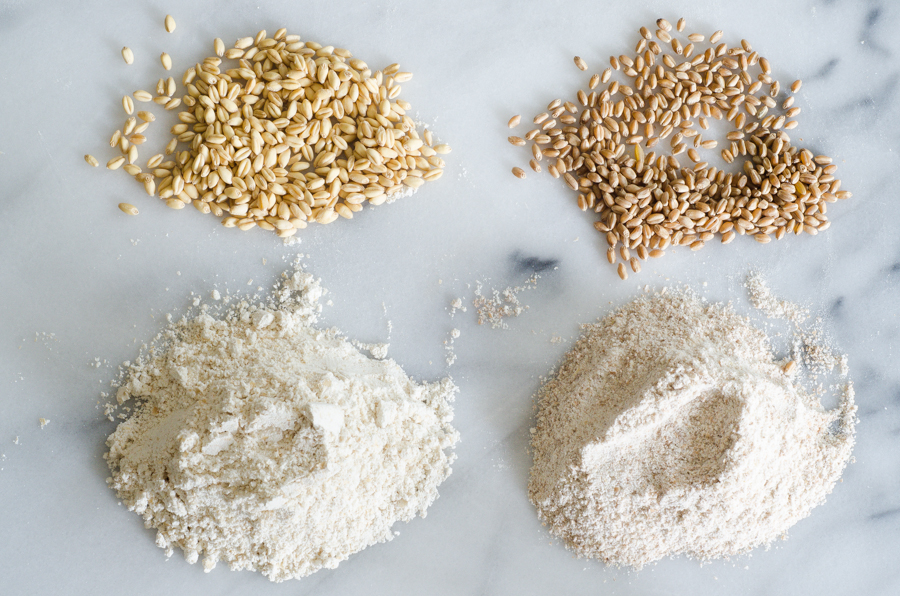 Here is an example of the flour ground from soft white and hard red wheat on the finest setting.
Here's a video demonstration of the grinding process.
In closing thoughts, would I purchase the Mockmill grain mill?
Yes, I actually would! I had been wanting my own grain mill for quite some time, but I never considered a KitchenAid attachment. Now that I've tested it out, I think this is the mill I would purchase. Of course, it's not my ultimate, dream mill (I'd have to cough up at least $500 for that), but it works great for my purposes.
If you're looking for grains and beans to grind, Pleasant Hill sells a pretty wide variety. They also carry other grain mills and kitchen tools/appliances. I want this step stool for Helen.
GIVEAWAY
The folks at Pleasant Hill Grain would like to give away a Mockmill Grain Mill to one lucky Buttered Side Up reader!
U.S. and Canadian residents only, please!
You can enter below:
GOOD LUCK!