Is this Healthy Cucumber, Tomato, and Avocado Salad from a viral video good?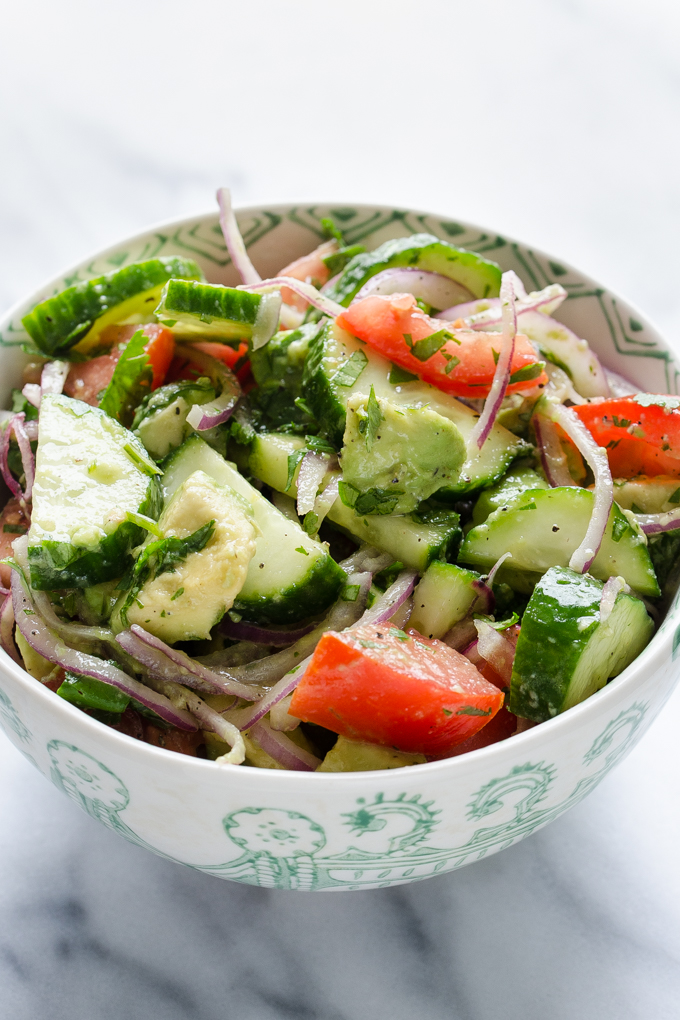 Hey, friends! So I decided to start a fun new series here on Buttered Side Up: Tasty Tested! I'll be trying out viral recipe videos and letting you know what I think about them!
First up we have this Healthy Cucumber, Tomato, and Avocado Salad recipe. The video is one of Tasty's most popular on Facebook with 176 million views as of the writing of this post. Let's see if all those views are justified…
How to Make a Healthy Cucumber, Tomato, and Avocado Salad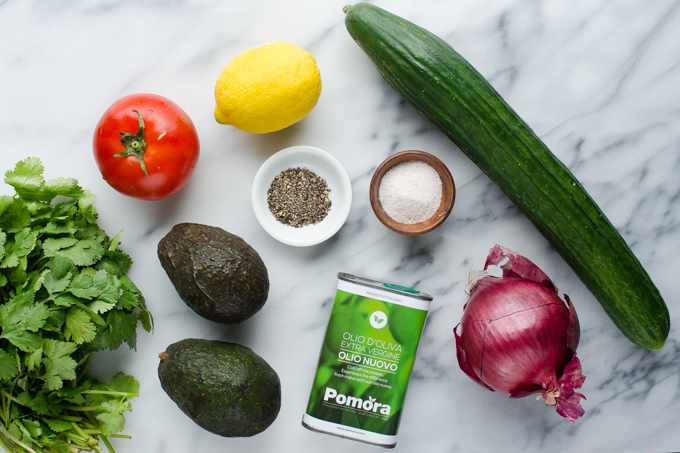 The list of of ingredients is small but colorful: English cucumber, tomato, avocado, red onion, cilantro, lemon juice, salt and pepper, and extra virgin olive oil.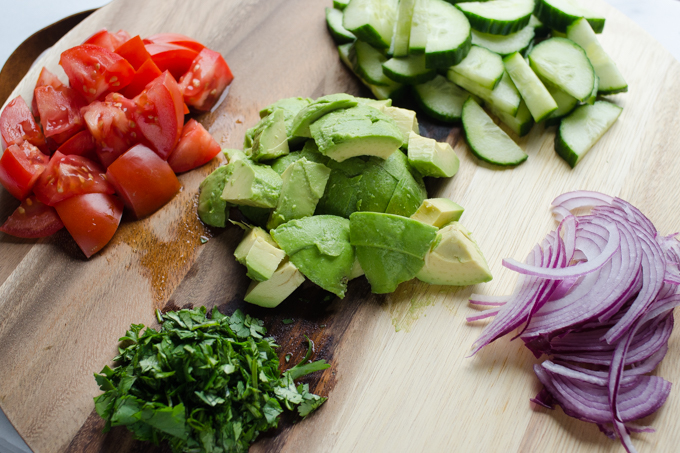 I decided to chop the veggies the way the video showed, which was pretty chunky. I sliced the red onions and thinly as I could since I'm not a huge raw onion fan.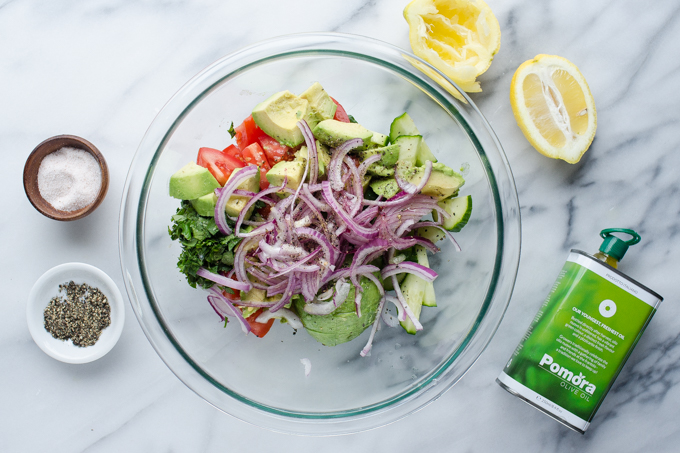 The assembly is super easy. Just throw everything into a bowl…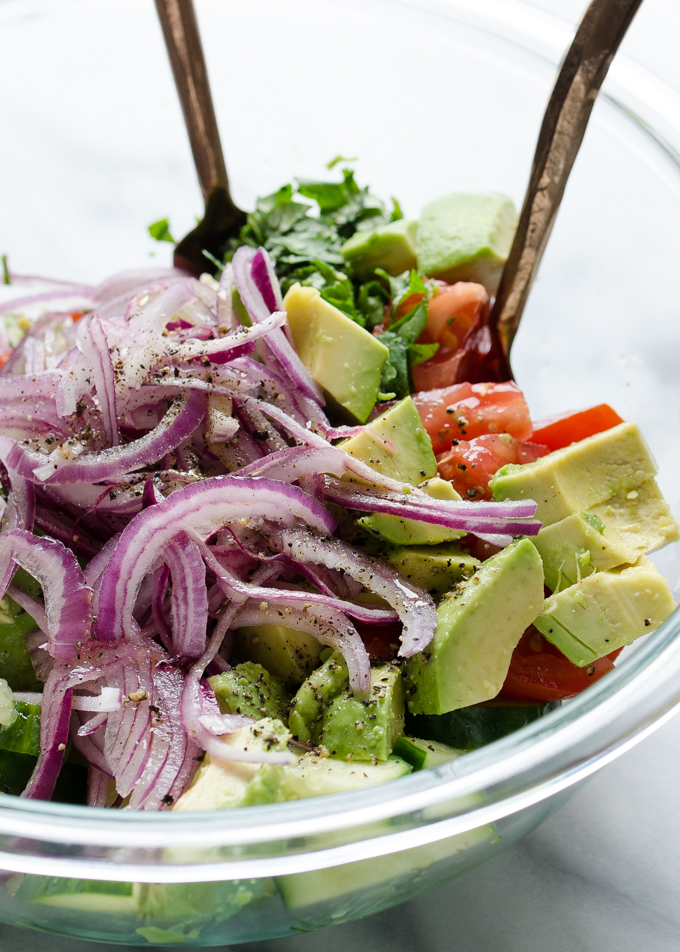 …and toss it all together!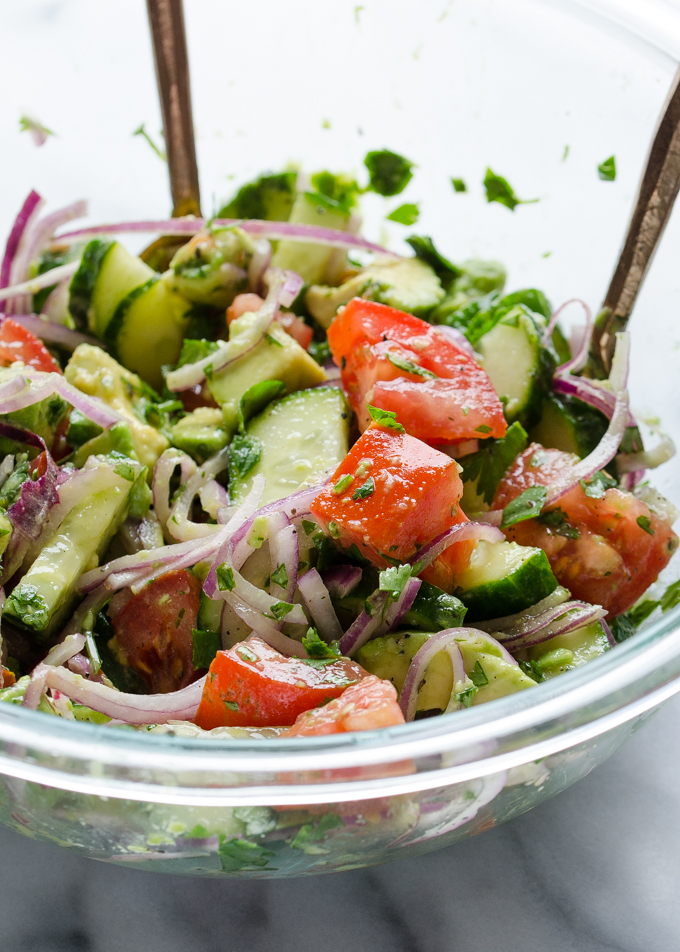 Pros:
The ingredients are simple – nothing fancy here!
The flavors are very fresh.
Cons:
I felt that there were too many onions in the recipe, but I dislike raw onions so keep that in mind.
This will only keep fresh-looking in the refrigerator for a few hours.
Other thoughts:
If I were going to serve this to a crowd, I would cut the vegetables smaller.
I would dice the onion instead of slicing it. The long strings of onion were kind of annoying (they were pretty, though!).
I think chicken or feta cheese would be great additions if you want to make a meal out of this.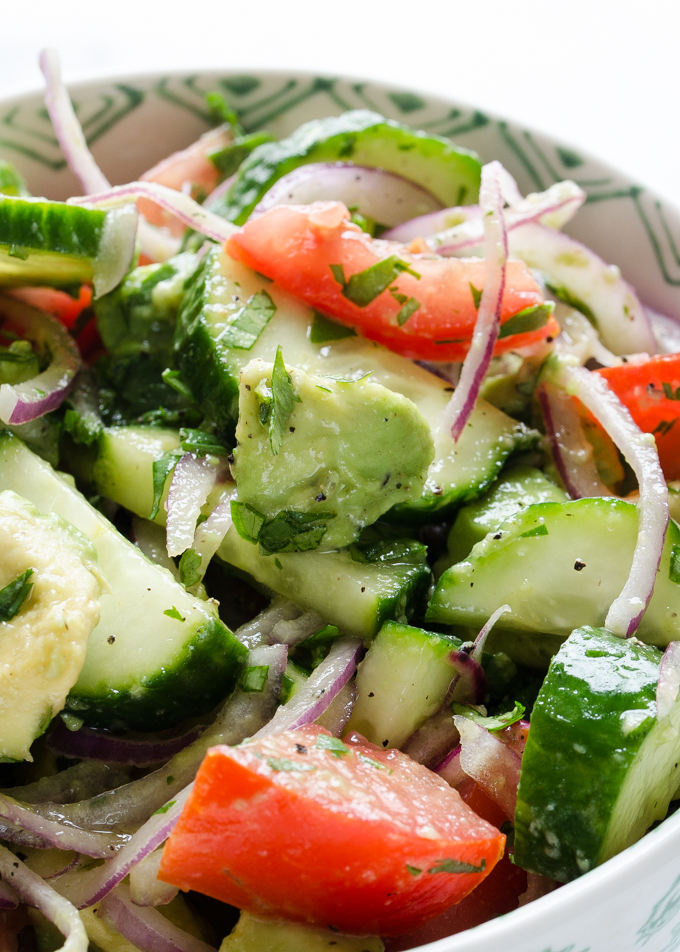 Is this recipe worth going viral?
Yes and no. Yes because it's really simple, fresh, and healthy. No because it isn't mind-blowingly delicious. Yummy, but not insanely good.
Would I Make This Salad Again?
Yes, with a few changed (as mentioned above) I would definitely make it again. I think it would be perfect to bring to summer get-togethers.
If you want to try making this Cucumber, Tomato, and Avocado Salad yourself, you can head over to the Tasty website.
Also, which recipe video would you like me to test out next? My stipulation is that it must be somewhat healthy (no processed convenient foods or loads of sugar) and have over 1 million views.
P.S. – Check out my Salad section for more inspiration!