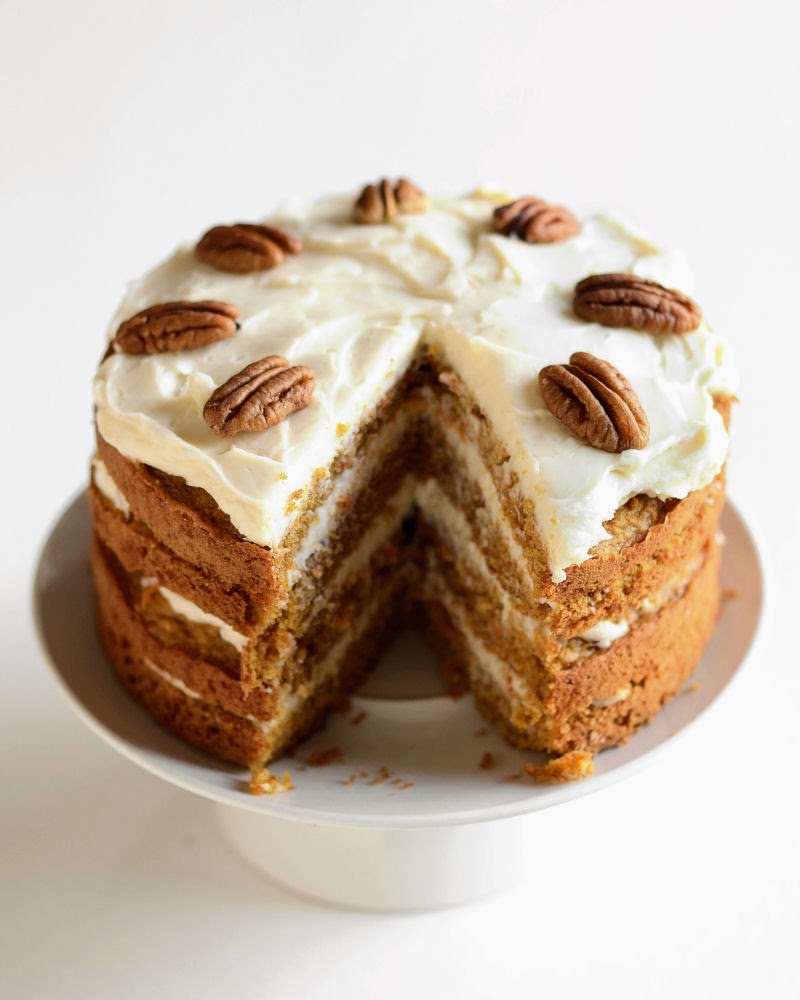 This post originally appeared on Cooking for Seven on April 9, 2012. Carrot cake is one of my favorite cakes and maple cream cheese is the best frosting, so I'm re-posting it here. Enjoy!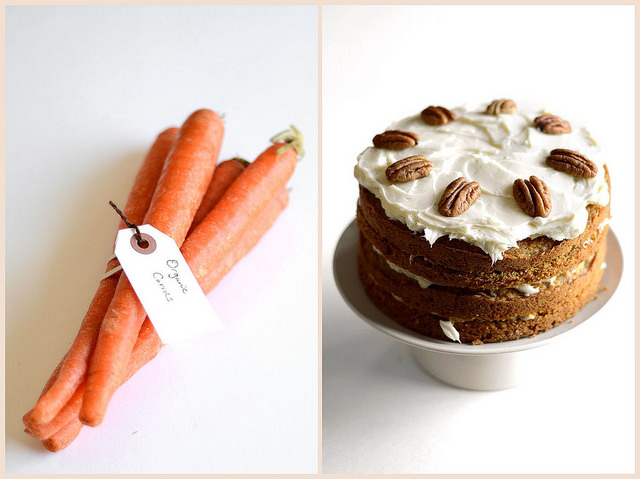 Super-sweet cakes are definitely not my cup of tea. Ever since I was a little girl I have disliked overly sugary desserts. Often times I would refuse birthday cake and opt for plain ice cream. Of course these days I'm a little more polite. I'll eat my share of sickly-sweet treats; but give me a perfectly sweetened dessert and I'm much happier.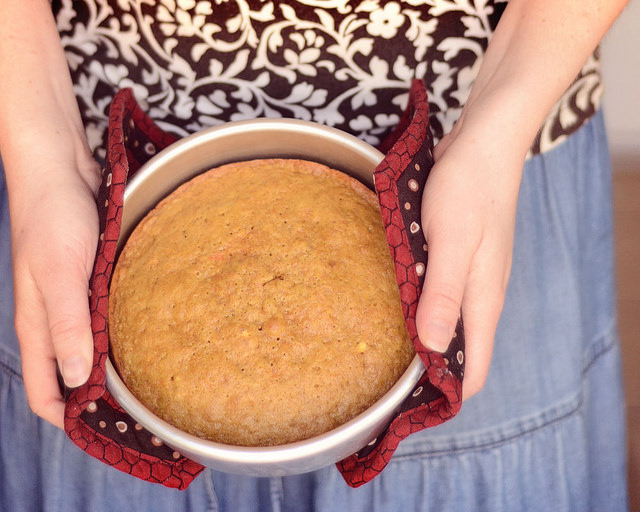 The frosting is another hang-up. Gobs of powdered sugar + only a tiny bit of butter = disgusting, in my book. To balance out the sweetness, frosting needs a good measure of fat, whether it be in the form of butter, cream cheese, cream or peanut butter.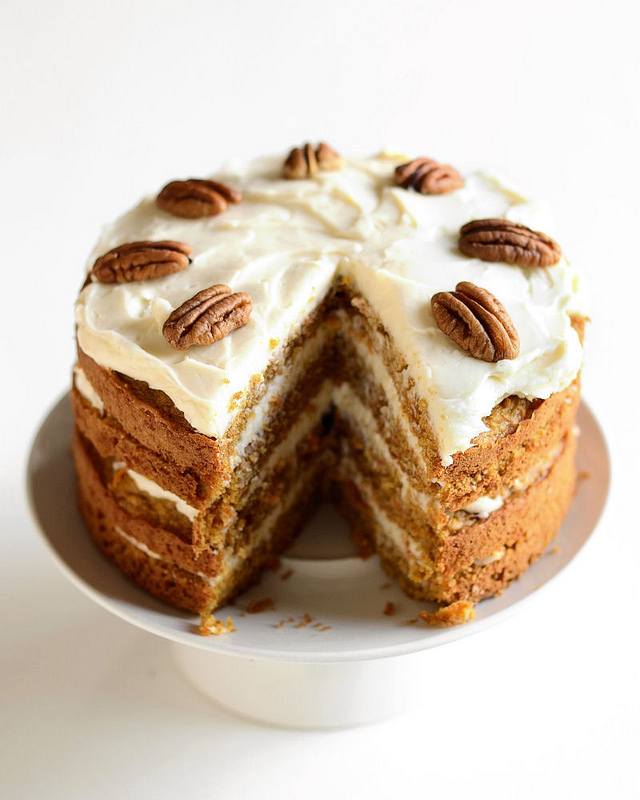 Here I give you (what I consider to be) one of the best types of cakes: Carrot Cake with Maple Cream Cheese Frosting. The actual cake doesn't taste like sugar fluff; it has flavor and a bit of spice and it's nice and moist. The cream cheese in the frosting makes it pleasantly tangy and the maple syrup and vanilla give it a lovely flavor.
What do you think? Do you prefer your desserts with less sugar, or do you have a major sweet tooth?
Notes:
In keeping with my lower sugar preference, I cut out some of the sugar both in the cake and the frosting. If you have more of a sweet tooth than I do, you can go ahead and put in the full amount of sugar.
Of course I had to use half whole-wheat flour.
The original recipe called for nuts, but since Reuben prefers his desserts without them, I only put them on top.
Because I have always wanted to try it, I halved the recipe and baked the cakes in two 6-inch pans. I have provided the full-sized recipe below, but if you want to make a cute cake, just cut everything in half and bake in smaller pans.



Carrot Cake with Maple Cream Cheese Frosting
|
Printable Page
| Makes 10-12 servings
For the Cake:
3/4 pound raw carrots (preferably organic), peeled and finely grated (about 2 1/2 cups)
1 cup all-purpose flour
1 cup whole wheat flour (preferably ww pastry flour)
1 teaspoon baking soda
1 teaspoon baking powder
1/2 teaspoon salt
1 1/2 teaspoons ground cinnamon
4 large eggs
1 1/4 cups granulated sugar
1 cup coconut oil, melted and cooled, or any other flavorless oil
2 teaspoons pure vanilla extract
For the Maple Cream Cheese Frosting:
2 (8 oz.) packages cream cheese, room temperature
1 stick butter, room temperature
1 cup organic confectioners' sugar
1/4 cup pure maple syrup
1/4 teaspoon pure vanilla extract
For the Cake:
1) Preheat oven to 350° F. Butter two 9-inch cake pans and line the bottoms with circles of parchment paper.
2) In a medium bowl, whisk together the flour, baking soda, baking powder, salt, and cinnamon.
3) Using a stand mixer or a hand mixer, beat the eggs until frothy, about a minute. Slowly add the sugar & beat until thick and light colored, about 3-4 minutes. Add the oil in a slow steady stream. Beat in the vanilla. Add the flour mixture and mix just until incorporated. Fold in the grated carrots.
4) Equally divide the batter between the two prepared pans (I weighed the batter for precise measurement). Bake in preheated oven for 25-30 minutes, or until a toothpick inserted near the center comes out clean.
5) Remove from oven and allow the cake to cool, in the pan on a wire rack, for about 5-10 minutes. Turn the cakes out of the pans onto a cooling rack and allow to cool completely before frosting.
For the Maple Cream Cheese Frosting:
1) Beat the cream cheese and butter together until fluffy.
2) Sift the powdered sugar over the cream cheese/butter mixture and mix until well combined. Add the maple syrup and vanilla extract and beat until combined.