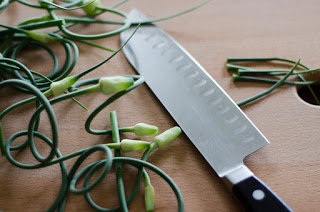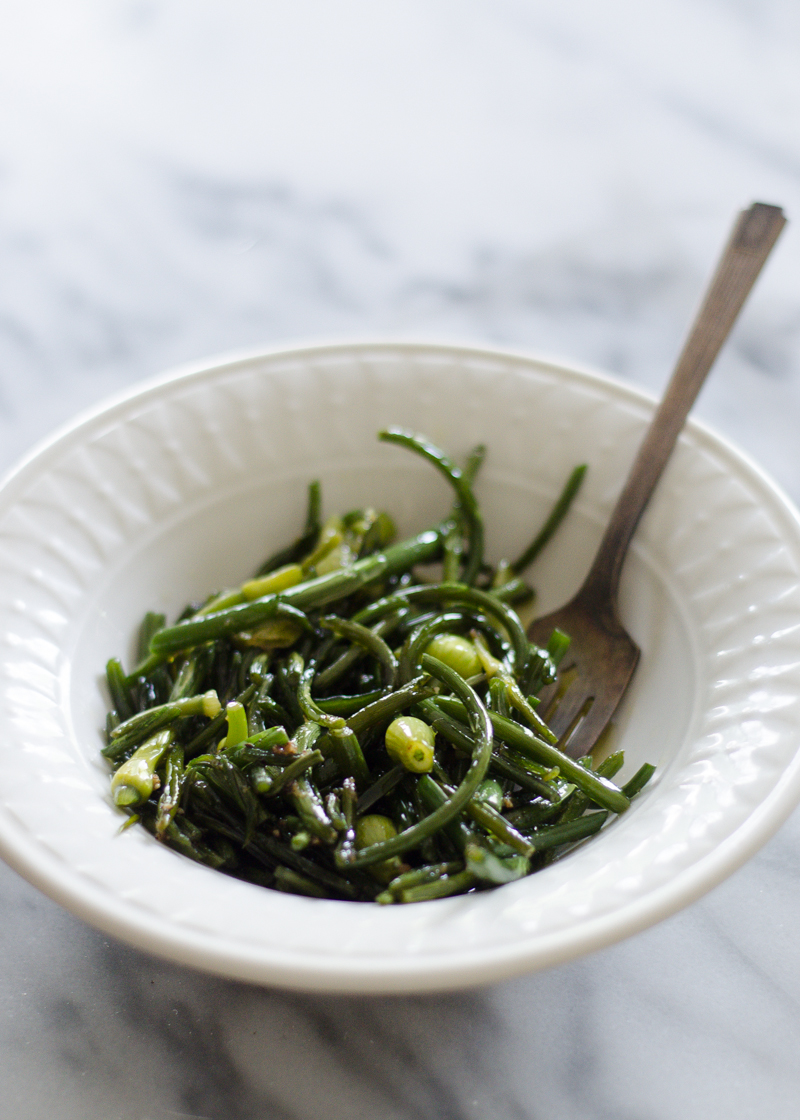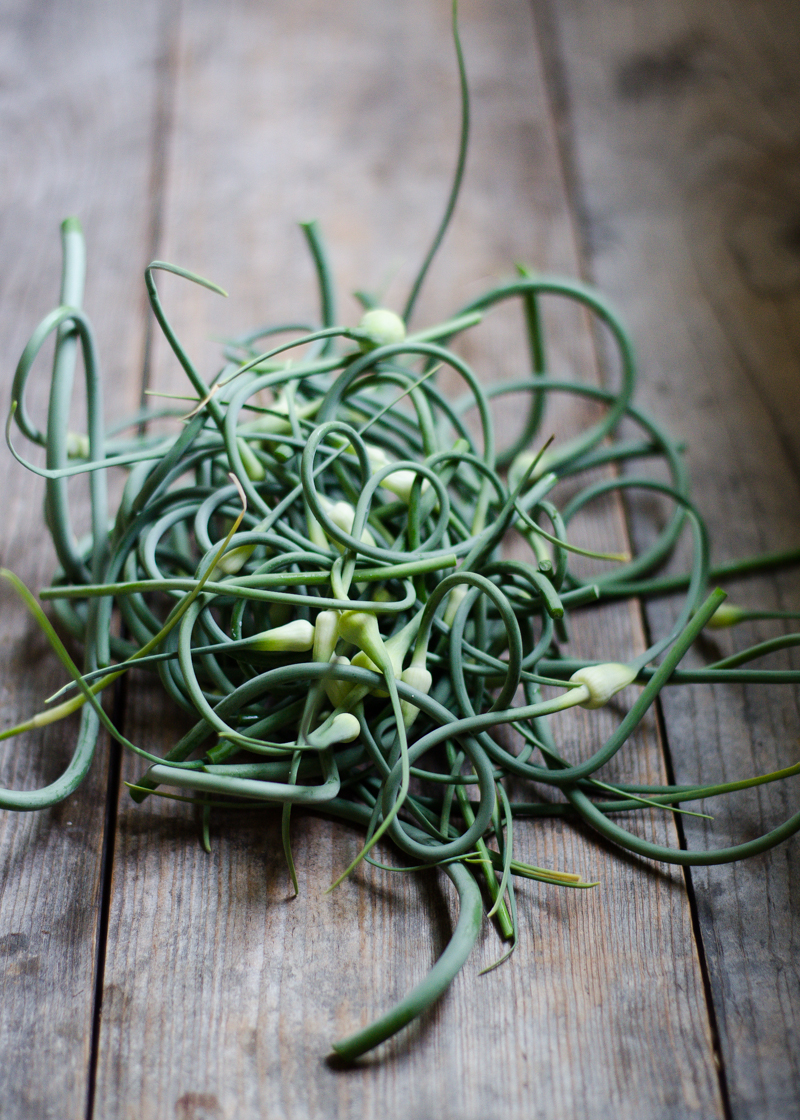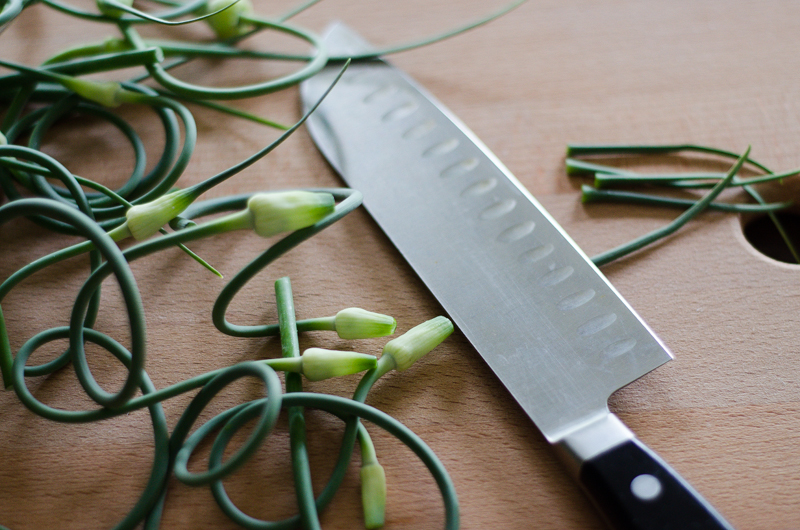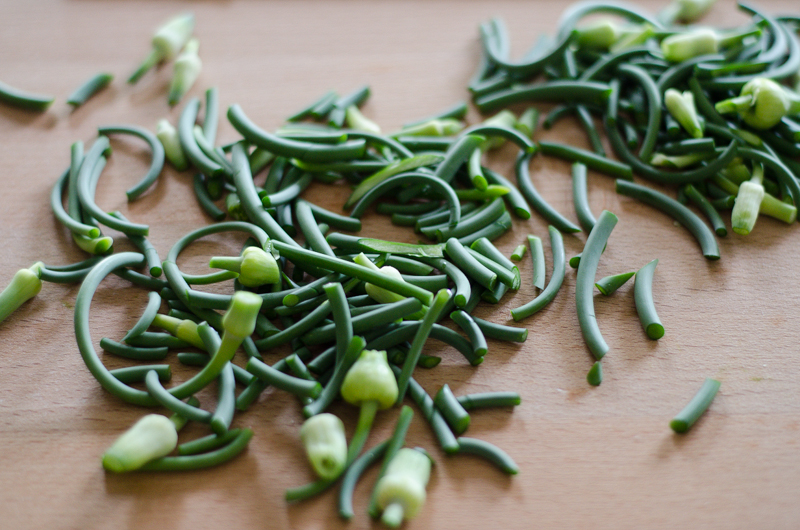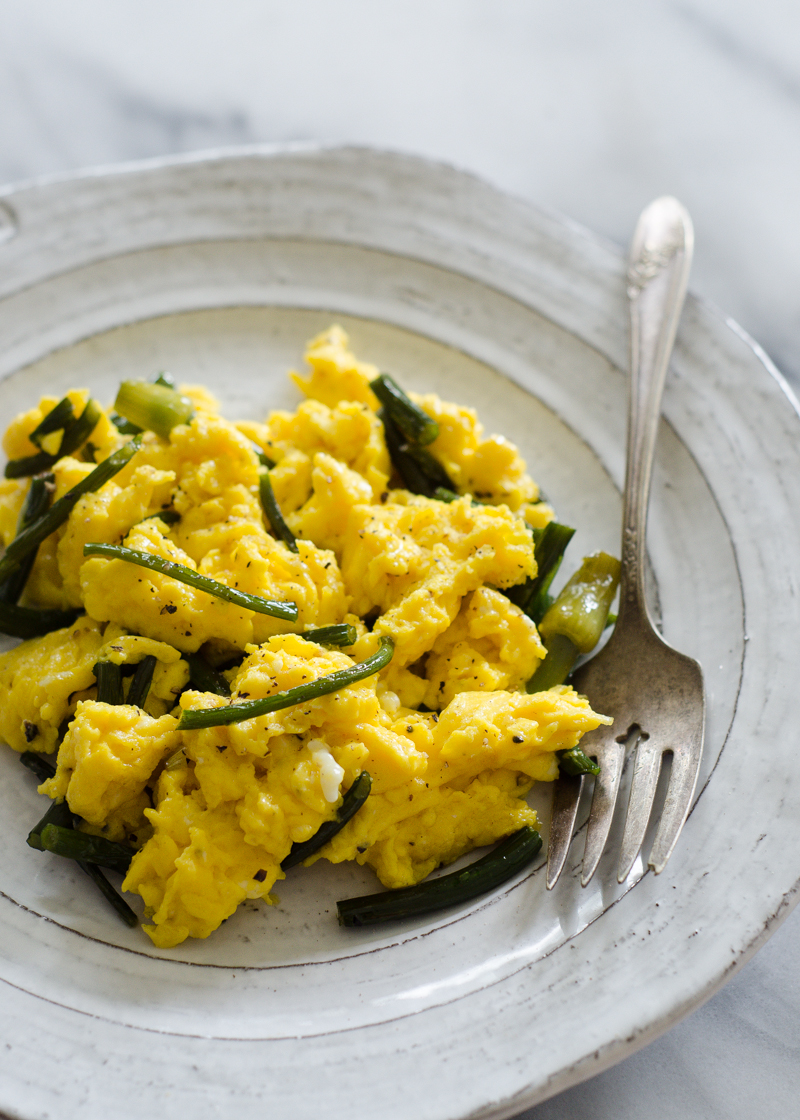 Before this week, I had never cooked or eaten garlic scapes. I overheard some relatives talking about how delicious they were, and of course I wanted to taste them. So when Reuben's family offered us some fresh from their garlic plants, I accepted them readily.
I knew I wanted to keep things simple and just fry them in some butter and season them with salt and pepper.
I did a bit of digging on the old internet because I was confused as to how to prepare the scapes. Some places advocate cutting off the entire bulb, and others say you should just cut off the stringy portion above the bulb. I opted to save the bulb, and I'm glad I did.
They were a lovely, mild side dish. Don't worry about the garlic flavor being too powerful – it's quite subtle.
The leftovers were amazing in softly scrambled eggs. It was so good that I ate two whole eggs. Which is a big deal for me – I'm not a huge egg fan (though
Whole 30
helped a bit).
The recipes I'm sharing below are super simple, but sometimes it's nice to see how someone else cooks with an ingredient that I've never used before. I've also heard that garlic scapes are great made into a pesto.
How to Saute Garlic Scapes | PRINT
Ingredients:
butter
garlic scapes, trimmed just above the bulb and a bit off the cut end, cut into 2-inch pieces
salt & pepper to taste
Directions:
Heat a skillet over medium heat. Add some butter. When it's melted, add you garlic scapes. Saute on medium to medium-low for 5 minutes, or until tender crisp. Season to taste with salt and pepper. Serve immediately.
Soft Scrambled Eggs with Garlic Scapes
Ingredients:
2 eggs
2 tablespoons whole milk
salt and pepper
butter
leftover sauteed garlic scapes
Directions:
Whisk the eggs with the milk until very uniform. Season with a couple of pinches each of salt and pepper.
Heat a skillet over medium-high heat. Add about a tablespoon of butter (you need more for a stainless-steel skillet, less for a cast iron skillet). Once it's melted, pour in the eggs. Immediately start pushing the eggs around in the skillet with a metal spatula.
When the eggs are nearly set, push them to one side and add the garlic scapes. Let them warm up a bit, then mix in the eggs and cook just until set. Serve with extra salt and pepper if needed.