Print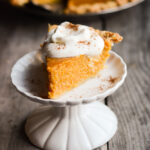 Perfect Pumpkin Pie
This pumpkin pie is perfectly smooth, rich, and sweet.
Total Time
1
hour
10
minutes
1) Roll out your pie crust and place it in a 9-inch pie pan. Crimp the edges or decorate as desired. Place in the refrigerator while you prepare the filling. Preheat your oven to 425 degrees F (220 C).

2) Place all of the filling ingredients in a large bowl and whisk until nice and smooth. Pour into the prepared pie crust and slip into your preheated oven.

3) Bake for 15 minutes at 425, then lower the oven temperature to 350 degrees F (175 C). Bake for an additional 40-50 minutes, or until the filling isn't wet, but still moves a bit in the middle when jiggled. If the crust is getting too brown for your liking you can always cover it with tin foil or a pie crust shield.

4) Cool the pie and serve cold or at room temperature, whichever you prefer. Whipped cream is a MUST.