Print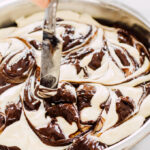 Flourless Chocolate Marbled Cheesecake
A decadent gluten-free cheesecake. Perfect for impressing guests!
For the cheesecake batter:
- 8 oz organic cream cheese

softened

- 1/3 cup organic cane sugar

- 1 large egg

- 1 teaspoon organic vanilla extract

- a pinch of real salt
For the chocolate batter:
- 10 ounces bittersweet

60%-85% cacao chocolate, chopped

- 5 ounces

10 tablespoons butter, chopped

- 3 large eggs

- 1/3 cup organic cane sugar

- 1 tablespoon espresso or very strong coffee

- 1 teaspoon organic vanilla extract

- a pinch of real salt
Preheat oven to 300 degrees F (149 C). Butter a 9-inch cake pan and line the bottom with a round of unbleached parchment paper.
To make the cheesecake batter:
In a medium-large mixing bowl, beat the cream cheese with a hand mixer until it doesn't have any lumps. Add the sugar, egg, vanilla, and salt and mix just until incorporated (if you beat too long the cheesecake will be too airy).
To make the chocolate batter:
In a double boiler (or a heat-proof bowl set over a bowl of simmering water), melt the chocolate and butter. Remove from heat and allow to cool a bit.

Place the eggs, sugar, espresso, vanilla and salt in the bowl of a stand mixer fitted with the whisk attachment. Beat on high until the eggs are pale and thick, about 3-4 minutes. Turn the mixer down to low and slowly drizzle in the melted chocolate and butter. Mix just until well combined.

Pour a little over half of the chocolate batter into the prepared cake pan. Alternated between dolloping spoonfuls of the cheesecake batter and the remaining chocolate batter. Gingerly swirl the cake batters together with a knife. Tap the cake pan on the counter to even out the surface.

Bake in preheated oven until a toothpick inserted about 2 inches from the edge comes out with moist pieces of the cake sticking to it. You don't want the cake to still be liquid, but you definitely don't want to over-bake it and dry it out. The edges will start to peel away from the side of the pan. This should take about 40-45 minutes. Start checking at 35 minutes. DON'T BAKE IT TOO LONG.

Remove from oven and allow to cool to room temp on a wire cooling rack. Run a knife around the edge of pan and flip the cake out onto a plate. Flip it back over onto your serving plate. You can serve it room-temperature or chilled.

You can freeze this cake, well-wrapped, for up to a month.
NOTE: I cut the sugar in the cheesecake batter in half. It was the perfect amount of sweetness for me, but if you have a sweet tooth you might want to increase it slightly (the original recipe called for 1/2 cup).
Adapted from Fine Cooking