Print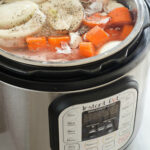 HOW TO MAKE CHICKEN BROTH IN THE INSTANT POT
Make chicken bone broth at home in a few hours with this Instant Pot recipe!
Total Time
2
hours
5
minutes
– 1 chicken carcass/chicken bones

– cold water

– 1 large onion

chopped

– 2 carrots

roughly chopped

– 2 cloves garlic

skin still on

– a splash of vinegar or lemon juice

or anything acidic, optional

– salt and pepper
Place your chicken bones in the bowl of the Instant Pot, add some veggies (I like onion, garlic, carrots, and celery), and a bit of salt and pepper (don't go overboard!).

Add enough water to cover the chicken bones, but don't fill past the "Max" line on the Instant Pot.

Put the lid on the Instant Pot to the closed position, turn the valve to "sealing", and place on the "Soup" setting for 120 minutes. Once done cooking, allow to vent naturally.

Remove lid and allow the broth to cool until warm. Strain into storage containers. Refrigerate for up to a week or freeze.
Adapted from Mommypotamus