Print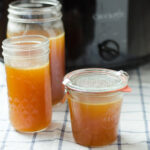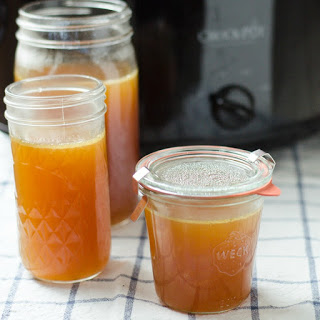 How to Make Chicken Broth in the Crockpot/Slow Cooker
A care-free way to make chicken bone broth at home.
Total Time
6
hours
5
minutes
- 1 chicken carcass/chicken bones

- cold water

- 1 large onion

chopped

- 3-4 carrots

roughly chopped

- 3 stalks celery

chopped

- 1/4 cup vinegar or lemon juice

or anything acidic

- 2 teaspoons real salt

- a bunch of parsley or other herbs
Place the chicken carcass in your slow cooker and add just enough cold water to cover. Add the onions, carrots, celery and vinegar and stir. Let sit for 30 minutes.

Add the salt and turn the crockpot to LOW. Simmer the broth for at least 6 and up to 48 hours. 10 minutes before the cooking time is up, add a bunch of parsley. Taste and adjust salt if necessary.

Allow the broth to cool until warm. Strain into storage containers. Refrigerate for up to a week or freeze.
Adapted from Weston A. Price Foundation and Mommypotamus